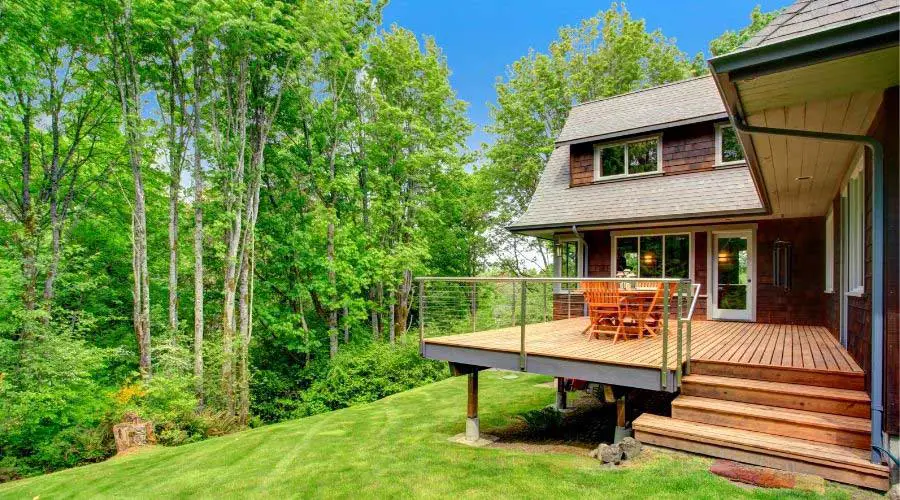 You've decided to build a floating deck, but now you're not sure how you want it to look. Formulating a plan for your deck design is the hard part, but it's also fun. Few things are better than having the opportunity to put your unique spin on the part of your home. 
There's no right or wrong way to go about it when designing your floating deck. The way you create your patio is entirely up to you, and it's your opportunity to put your personal touch on your house. You can build it at whatever height you want and paint whatever color makes you happy. 
If you're planning to build a floating deck and some creative ideas to get started, then you've come to the right place. The article below will look at some dos and don'ts about floating decks. Let's get the creative juices flowing! 
Floating Deck Design Ideas
Here are 20 floating deck ideas: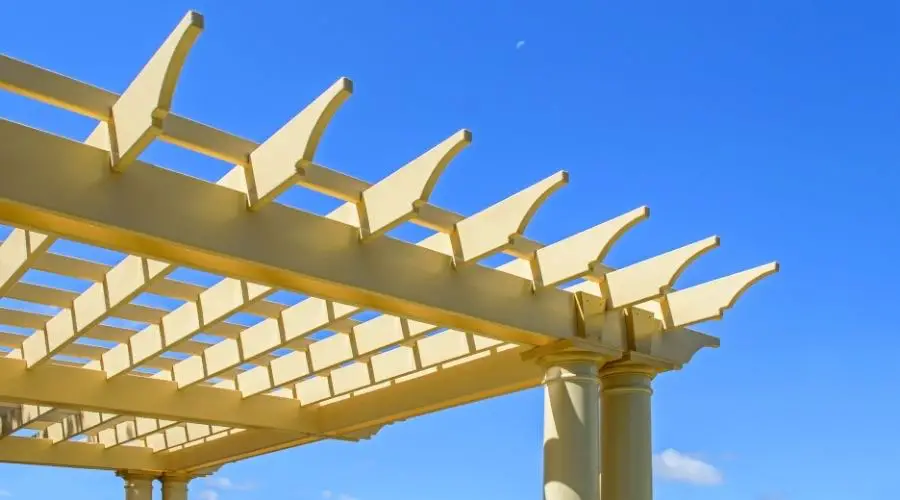 1. Add a Pergola or Gazebo
Pergola and gazebo are terms that get used interchangeably. Although they both provide roofing to your deck, they are different.
Pergolas provide a structured covering to your deck through beams. These beams lessen the harsh effects of UV rays while still allowing an amount of sunlight to pass through, creating a well-lit space.
On the other hand, Gazebos have a solid structure that provides full coverage from the sun.
Adding a pergola or gazebo not only adds shelter in case of rain but also gives your floating deck a more homey feel. Gazebos and pergolas will also add some extra weight, so make sure you consider that when designing your deck.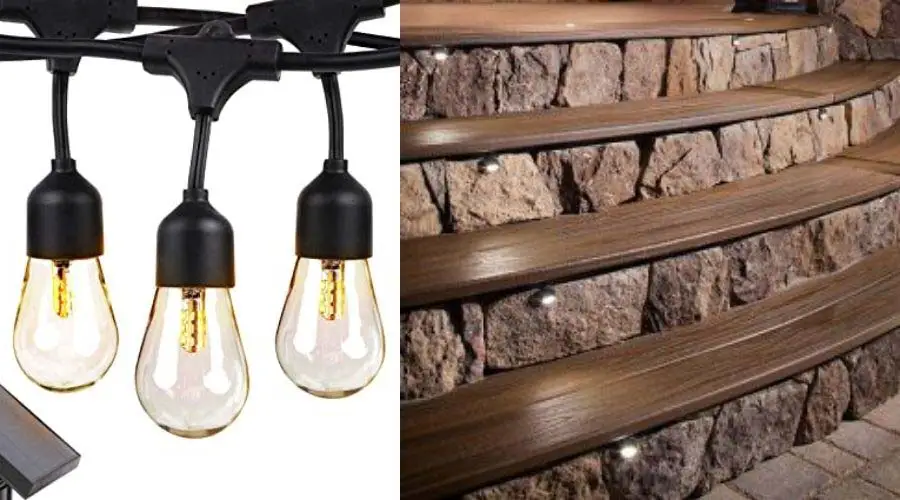 2. String Lights 
A great way to light up the night and give your deck a cozy feel is to string hanging lights around and across your deck.
These lights are similar to Christmas lights but are in single bulb form and are an easy way to illuminate your deck for evening use. 
Pole Lights
Pole lights are slightly more challenging to install because they typically require digging a trench to bury your electrical wire.
However, with a bit of sweat and hard work, pole lights can quickly make your deck the highlight of the neighborhood. 
Step Lights
Like the ones pictured below, step lights are not only beautiful, but they're also convenient. A floating deck with steps can be hazardous at night, but you can stay safe while showcasing your handiwork with step lights.
Rail Lights 
Rail lights are similar to pole lights, but instead of digging extra holes for poles, you use the railing feature that's already available.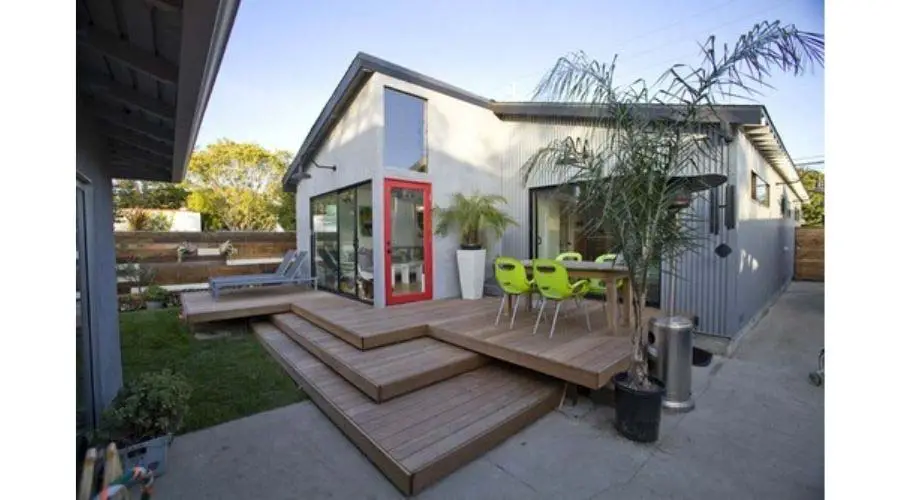 3. Add Levels Instead of Steps
If your deck is 2 to 3 feet off the ground, you'll likely need steps to descend from the deck to the floor. By adding multiple levels of decking, you eliminate the need for stairs which can sometimes be an eyesore.

On top of that, a leveled deck also provides the following benefits:
Provides more space
Additional design options
Makes the deck look larger
Helps with drainage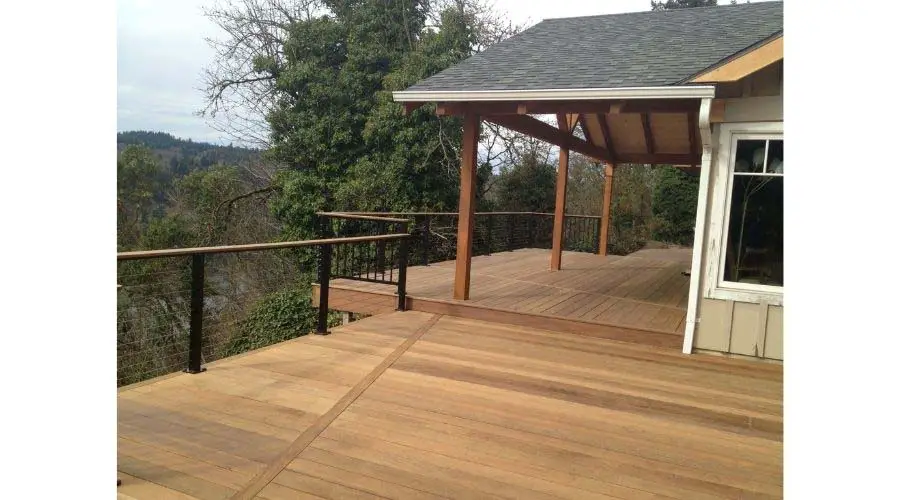 4. Turn Your Deck Into a Shelter 
If you're a person who enjoys taking in the summer rain without getting wet, then adding a roof or overhang to your deck is a great idea.
This feature allows you to sit under the sun when you want and get into the shade if need be. A little sun is great, but too much can be burdensome.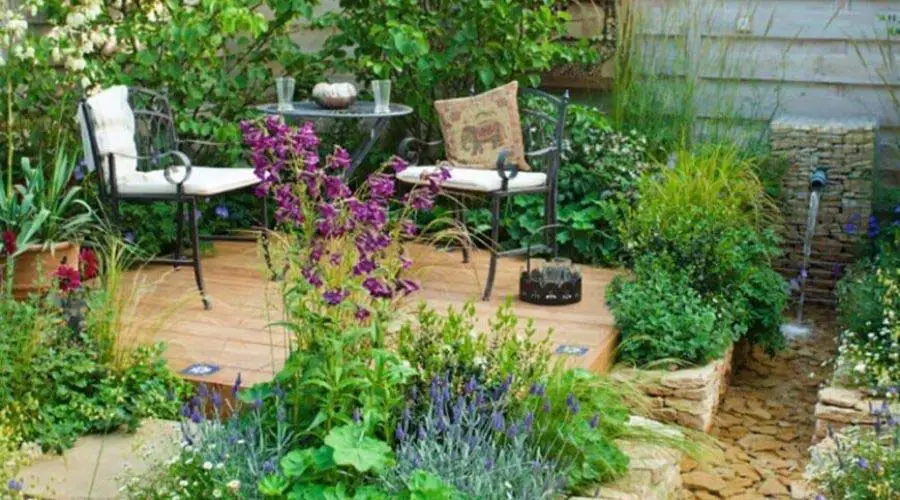 5. Turn it into a Cozy Corner
Depending on the location of your house and the size of your yard, you may only have room for a small deck. If that's the case, picking the right location is critical to enjoying your time outside.

To turn your deck into a cozy corner, think about the things that make you feel relaxed. If you love afternoon tea while peacefully sitting on your deck, it would be nice to add 1-3 chairs and a table to sit around.
Decks are a lot of work too, and some people don't want the hassle of maintaining a large one. A smaller deck can be just the ticket by utilizing your space and making the most of it.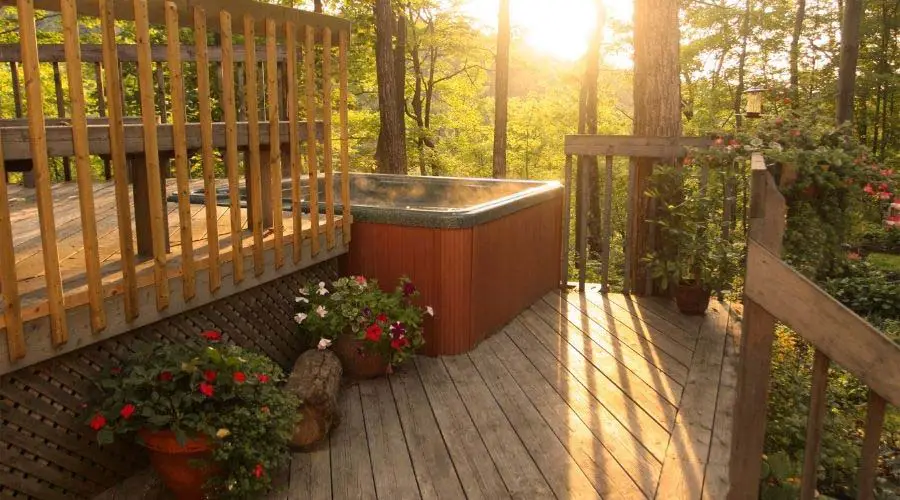 6. Everything's Better With a Hot Tub
No matter where you live in the world, a hot tub is never a bad idea if you ask me. It's a great feature if you decide to turn your house into an Air BNB, and it's something that you can enjoy year-round. 
There are several options when it comes to hot tubs as well. You can go the traditional route and have a standing hot tub on the surface of your deck, or you can build one into your deck.
The latter option takes a lot more planning and construction experience. The first hot tub option is usually cheaper, but you must take measures to reinforce the area under which your hot tub will be sitting.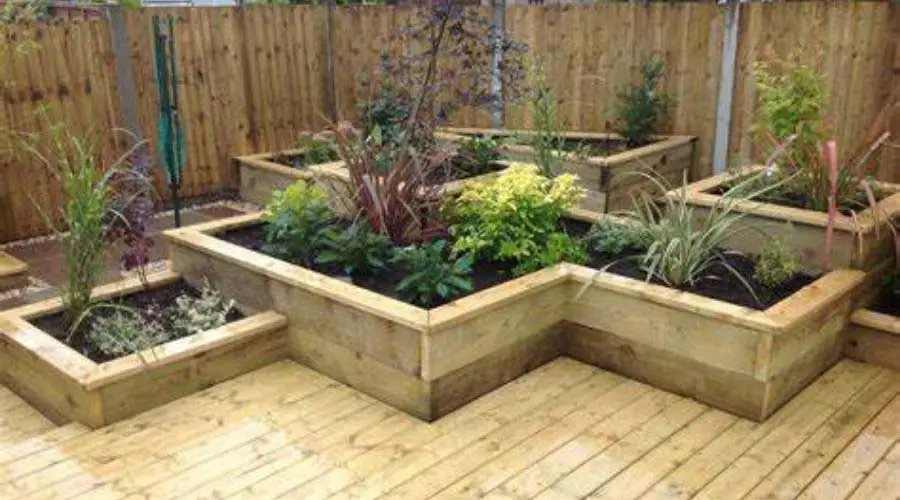 7. Build Your Deck Into or Around a Garden
Incorporating a garden into your deck is a must for those of us who have a green thumb. There are several shrubbery ideas you can try:
Have raised gardens on or surrounding your deck. 
Have raised gardens and planters on the surface of your deck. 
These are just a few of the options for gardens and decks together. The possibilities are endless depending on how much you like gardening. You can even build your deck to make gardening the feature.
8. Incorporate Pallets Into Your Design
Pallets are your friend for all DIYers out there.
Pallets are usually low-cost or even free, depending on where you go, which can save you some serious cash. You can use pallets for decorative purposes, flooring, or as part of your railing. 
If you want to, you can even build your entire deck out of pallets, from the floors to the rails and steps. You can do this as long as you still take the proper precautions to support and maintain your floating deck. 
9. A Deck of Meditation
Creating a deck on which to meditate and refocus your mind is relatively easy if you put a little thought into it. The best place to feel at peace and zen is outside for many people, which is where your floating deck will be.
From there, paint it whatever color makes you feel at ease, and add a water piece to set the mood for meditation.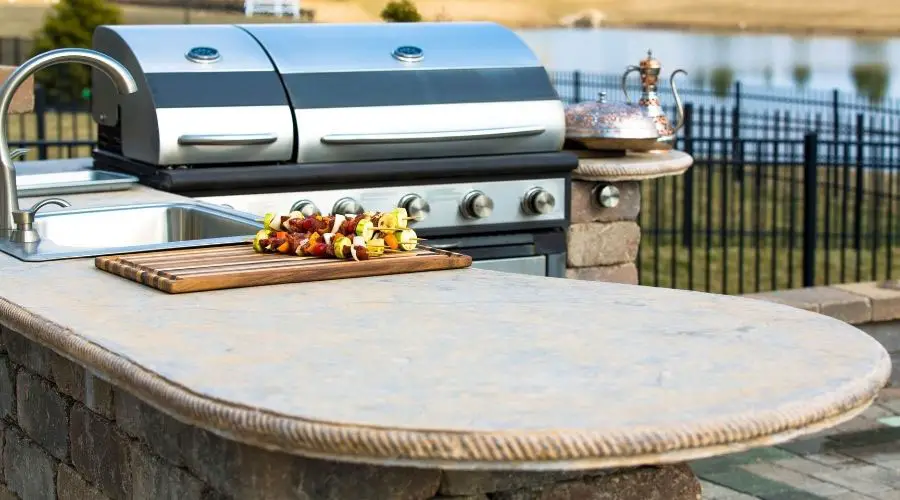 10. Outdoor Kitchen Addition
If you want to have all the comforts of home right out on your deck, then add an outdoor kitchen. Outdoor kitchens are trendy right now, especially for those who enjoy cooking and the great outdoors. It combines those two activities with perfection.
Here are a few ideas for outdoor kitchens on your floating deck:
Brick Pizza Oven 
If you enjoy creating and eating pizza, an oven capable of producing brick oven pizzas is necessary. These are unique pizza ovens because they typically won't be found in kitchens due to the smoke they make and how big they are.
If you plan this feature before starting construction of your deck and accommodate the weight, then a brick pizza oven will make for some tasty memories. 
Concrete Counter & Countertops
Concrete counters and countertops are plentiful because they're very durable and relatively low maintenance. If you have a pizza oven or grill of any sort, then you'll want a spot to prepare and serve the food you're making. 
Deep Sink to Wash Your Dishes
When entertaining guests, it's always better to leave the mess outside than drag it indoors when entertaining guests. By planning for a sink to wash your dishes in, you can avoid the headache and hassle of hauling dirty dishes back and forth. 
Dishwasher
Better yet, add a dishwasher to your outdoor kitchen! Eliminate the hassle of washing dishes altogether so that you can keep hanging out with your friends and family. 
Adding a Grill or Smoker
Investing some money into a grill or smoker is also a great idea if you enjoy cooking. Few things equal a relaxing barbeque or a lazy Sunday afternoon on a Saturday night. 
Dining Area
Take your outdoor kitchen by adding a dining table with chairs and a dining area. TVs are also an excellent idea for watching the game under the stars or entertaining large groups of people that wouldn't fit inside your house. 
Drinking Bar
No kitchen is complete without a bar area to serve and prepare drinks for you and your guests. Take your kitchen to the next level by adding one of these nifty features. 
11. Make Your Floating Deck a Wrap-Around
If you want a big deck and have sufficient space in your yard, then a deck that wraps around your house will be a hit.
Using the wrap-around idea, you can build a deck that goes around two or even three sides of your home. This makes for a great entertainment area and fun for kids to run around and play on. 
The bigger your deck is, the more possibilities you have. You can place a pergola on one side, an outdoor kitchen on another side, and a hot tub on yet another side. The wrap-around deck idea truly gives you the most options when it comes to your deck.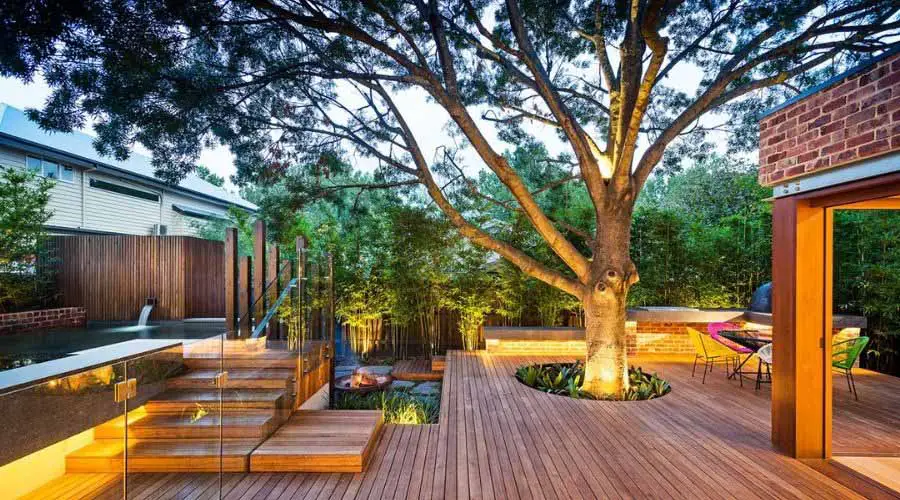 12. Build Around a Special Tree or Landmark
Growing up, we had a giant tree in our backyard. Rather than cutting it down, we constructed a deck around the tree to accommodate it.
Trees are extraordinary things, and it's a shame to see them cut down. Just because you want to build a fabulous deck doesn't mean that you have to get trees out of the way. 
You can even go so far as to make them the feature of the deck. By designing your deck not only to accommodate but to accentuate a unique or beautiful tree or bush, you can turn it into the highlight of your backyard. 
13. Personalize Your Deck with Paint
If you want to make your deck your own, get creative with paint and stain colors. If you love a particular sports team or like some symbol on your deck, then paint on or build your deck in that shape. 
When it comes to adding personality to your deck, the sky's the limit. As long as you don't have an HOA or other community group to answer to, you can do whatever you want. 
14. Floating Deck/Lounge
Turning your floating deck into a hangout where people want to spend time together is easy. All it requires is adding the right furniture, setting the right mood, and adding whatever accessories you enjoy using. Here are a few ideas:
TVs
Surround sound system
Comfortable lounge chairs
For your deck to be an area where people want to spend time and hang out, comfortable furniture is a must. Your guests will never want to leave with the correct lounge chairs or patio furniture.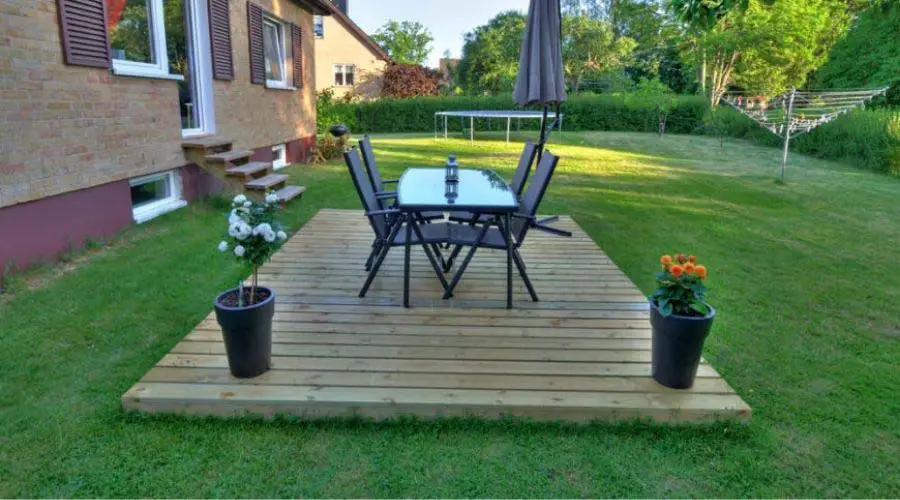 15. A Floating Deck Expansion
It's common for people to build a relatively small floating deck with plans to expand later. That's one of the beautiful things about floating decks.
You can create them anywhere on your property, so picking a spot where you can add on later would make for wise planning. 
You can do expansion with a floating deck next to your house or in the middle of your yard. The only thing about the location that matters is room to add on later. 
16. Make Your Floating Deck Accessible to Everyone
A nice feature to add to any floating deck is ramps and handrails to make your deck accessible to everyone. This isn't quite as important, depending on how high your deck is.
However, if your deck is more than a foot off the ground, making them handicapped and child-friendly is a good and considerate idea.
Aside from being a beautiful addition, handrails are also an additional safety measure during seasons when the deck's surface tends to get more slippery.
17. Add or Incorporate a Water Feature 
Water features can be challenging to maintain at times, but they're well worth the trouble. Water features provide a serene vibe to decks. If you're fond of birds, it's also a great way to invite them.
Whether it's a fountain, a koi pond, or a trickling stream, finding a way to incorporate water into your floating deck will make for some relaxing times outdoors.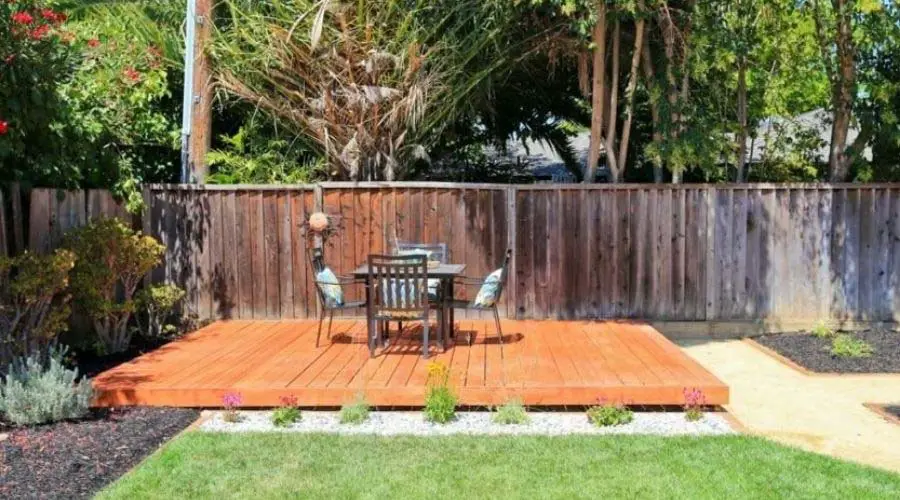 18. Simple is Sometimes Better
When it comes to floating decks, sometimes all you want is a quiet area to sit and read your book. There are many simplistic yet elegant floating deck ideas if that's the case.
Bigger isn't always better when it comes to decks. A simple, charming space can be all you need to take in a sunset or relax with a cup of morning coffee.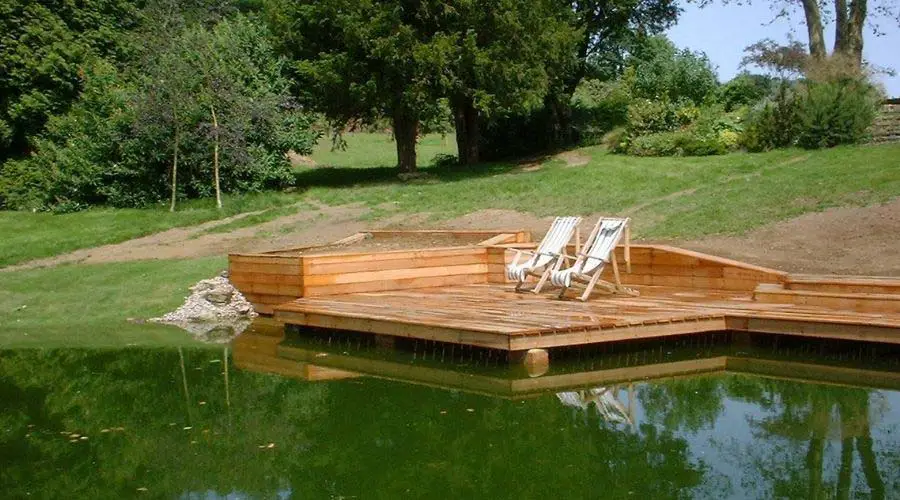 19. Floating Deck with Pond
Making so that your floating deck utilizes your property's unique features is a great idea. Building your floating deck on or near the water could be an excellent idea if you live close to a pond, lake, or river. 
If this idea is too radical, but you still want to incorporate a small pond into your floating deck, then there are ways to do that as well.
By digging and sealing a tiny pond or pool area and building your deck around it, your deck/pond combo will be all the rage. 
20. Outdoor Fireplace Deck
Usually, people who enjoy staying outdoors also love hanging out around a campfire. You can either build a fireplace into your floating deck or install fire rings. There are a lot of affordable fire rings you can purchase online.
High fireplaces are even available where they run on propane, eliminating the need for firewood. 
Final Thoughts
Floating decks are great in many different ways, but they shine by bringing people together and offering a relaxing place to spend time.
No matter what you're looking for in a deck or what you want to use it for, a floating deck offers you the flexibility that you need to make your dreams come true. 
Sources