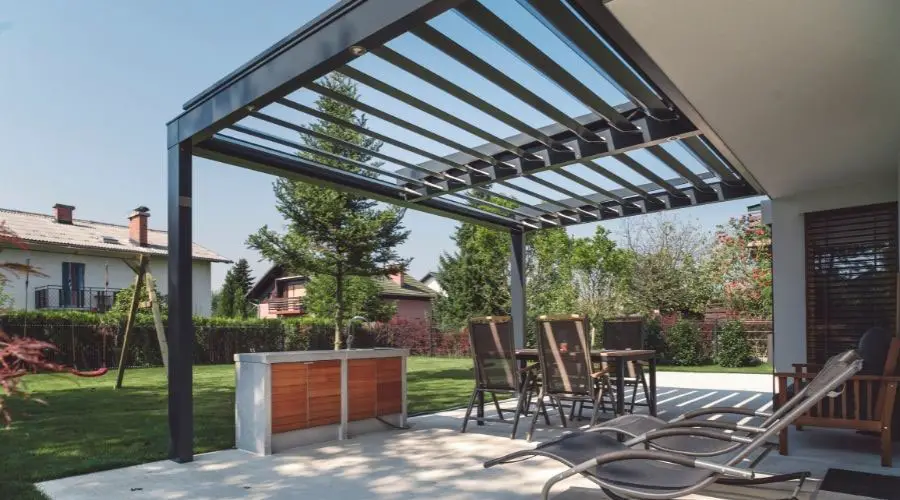 For centuries, the pergola has enhanced outdoor living areas with a stylish and functional design. If you want to add some extra charm to your home, these structures are an excellent choice. Typically made from wood or vinyl, a pergola provides shade while giving you an open view of nature. 
Pergolas are very elegant, but they can also help protect you from the sun. Depending on the size of the cross-beams, you can determine how much shade you need for the area. The open lattice ceiling of the structure will provide shade but also makes the place feel more spacious. 
However, due to the design of the pergola, it isn't fully shaded like a standard overhead awning. A pergola has gaps between each material, allowing the sun to shine through.
This design feature leads many to wonder, "do pergolas provide enough shade?" If this sounds like you, this article will help you make the correct choice if a pergola is suitable for your home.
How Much Shade Does a Pergola Actually Provide?
One of the main concerns of installing a pergola for your home is that it won't provide enough shade for the area. You likely want a stylish structure for your backyard and provides adequate shade for you and your family. While a standard pergola won't offer a similar shade to a covered awning, it still offers a degree of protection.
Depending on the type of design you have for your pergola, you can expect between 25-30% shade coverage. The coverage only accounts for the standard pergola design with no additional modifications. More extensive wood lattice coverings provide the least amount of shade. 
When you relax under a pergola, rays of sunlight will peek through the top of the covering. Many people compare this level of the sun to sitting under a tree.
While you won't get complete protection from the sun, it is enough to keep you comfortable and provide a level of cooling in warm weather. 
It Depends on the Time of Day
However, due to the open design, the level of coverage also depends on the time of day. In the afternoon, the sun will be overhead, and a pergola will provide proper shade for you to relax. When the sun lowers, an open pergola does not have a screen or cover that can protect you from the sun as well. 
If you are a homeowner who doesn't mind the weather in your area but wants a little added sun protection—a pergola is an excellent choice.
You will get a complete view of your backyard, air circulation, and shade coverage. You also will have the freedom to design the pergola to match your home. 
Why Does a Pergola Provide Shade?
As a homeowner, you may be wondering how a pergola provides shade for your outdoor space and what material provides the most shade.
The designs of a pergola can vary greatly, with lots of different options to pick from. The most significant factor of a pergola is how close the boards are together on the roof. 
1. The Open Lattice Design
A pergola provides shade with its open lattice design, with multiple wood boards shielding you from the sun. Some homeowners have tight-knit boards, while others have a pergola with significant gaps in the roof's materials.
When the sun shines, the structure will provide shade and give you a place to relax. Also, if you have a pergola, it makes warm weather more tolerable but doesn't shade the area entirely.
2. Most Common Pergola Materials
Additionally, the level of protection you receive from a pergola can also depend on its material. Some of the most common materials that you can build a pergola from is: 
These materials are durable enough not to degrade when exposed to the consistent sun and block the harsh sun rays.
While there are many different materials to make a pergola, all pergolas have the same basic design. The sturdy vertical pillars and cross-beam roof is what make a pergola unique. 
What Pergola Material Should You Choose? 
With so many different materials to choose from, a pergola is highly customizable depending on your preferences and home style.
When choosing a material, you should pick one that best fits your home and is functional. Some materials will offer more shade coverage and be more durable. 
Pergolas will be subject to constant UV rays, which can damage the material. If you want to stay safe and have a durable structure, consider a few things for the materials.
1. Wood
Example one would be wood, which is the most popular material for a pergola. It offers an affordable and protective design option. 
Wood also absorbs UV rays efficiently with the help of a material called Lignin. This material absorbs up to 95% of the UV light of wood, offering a good level of protection from the sun. You can also stack layers of wood, improving your outdoor area's overall security and shade coverage. 
2. Vinyl
The second example here would be vinyl, which is similar to wood in its coverage. However, vinyl is less durable and can crack in extreme temperatures.
3. Fiberglass & Metal
Lastly, both fiberglass and metal pergolas offer a more modern design while keeping you shaded. These materials also match well with pergola shades, which is one of the ways to improve the protection.
Price Differences 
We should also consider the price difference that each of these materials has when constructing a pergola structure.
On the low-end, building a pergola with vinyl or aluminum is the better cost-effective choice. When you choose lumber like cedarwood or redwood, you will be paying more for better durability. 
According to HomeAdvisor, here is a table of the average 100 square foot pergola cost based on the material it was built from: 
| Material | Cost |
| --- | --- |
| Cedar Wood | $2,500-$3,000 |
| Vinyl | $1,000-$3,000 |
| Aluminum | $1,000-$3,000 |
| Fiberglass | $3,500-$8,000 |
How Do You Add More Shade to a Pergola?
While a pergola in its base form will not provide complete protection from the sun, it doesn't mean it's not possible.
There are numerous modifications you can do to add more sun protection for you and your family. Adding more shade to your pergola is where you can get creative and use your design preferences.
Some of the best ways that you can add more shade to your pergola are:
Install a fabric shade
Add foliage and live plants
Use a retractable cloth canopy
Install lattice wood panels
Add fabric walls for complete sun protection
These methods will help increase the shade coverage of your pergola and add your unique style to the space. To help you decide which method is best for your home, here is a detailed breakdown of the ways to add more shade.
1. Installing a Fabric Shade
One of the most common ways to add more shade to their pergola is with a fabric shade. The fabric will fill the gaps between the boards, providing a drastic increase in overall sun protection.
There are numerous fabric shades designed exclusively for pergolas and will withstand harsh weather conditions.
Choose a fabric that is made for outdoor applications and will not degrade when exposed to sunlight. Outdoor substances will absorb most of the UV rays from the sun, allowing you to relax with minimal exposure. A fabric shade is the easiest option for adding more shade to your home's pergola. 
If you live in a location that frequently has rain, we recommend breaking up your fabric shade into strips. In some cases, a fabric shade will accumulate water and collect in the center of the pergola. The water can run off when the fabric cuts and no flooding affects the structural integrity. 
2. Add Foliage or Live Plants
Live foliage or plants is an excellent option for homeowners who want extra shade but don't need rain protection. Having a lush foliage collection for your pergola will enhance the style while also adding a bit of sun protection.
The possibilities are endless with this method, with dozens of plant options. If you want to add foliage to your pergola, here are some of the best options for coverage and appearance: 
Trumpet Vine
Clematis
Chinese Jasmine
Bougainvillea
Wisteria
Vines are the best plant to run across the top of the pergola, creating a shade for relaxation. Along with vines, you can add plants to the pillars or even hang potted plants for a complete garden design.
However, it's important to note that the fallen leaves or flower petals will require more cleaning than the other methods on this list. 
3. Retractable Cloth Canopies
If you want to pick when you have additional shade or a standard pergola, you can install a retractable cloth canopy.
These canopies have a track that adjusts the shade where you need it. Depending on your budget, you can have a motorized system or a hand-crank retraction system. 
This method of shade is the most costly and has an extensive installation process. However, a retractable canopy is an excellent option that will get the most out of your outdoor spaces.
Whether you want a space that fully protects you from the sun or wants an open space to tan, you can have it with a retractable canopy. 
4. Lattice Wood Panels
When you want a more permanent shade for your pergola, lattice wood paneling is a good choice. Pressure-treated wood paneling is strong enough to withstand most climates, giving you added protection on a standard arbor. The level of security is up to you, as lattice comes in different styles.
The downside to this method is that wood paneling will affect the appearance of the pergola, making it more of an awning.
In this case, you should consider choosing a more suitable option, like an outdoor canopy shade. Pergolas have a greater emphasis on style compared to a standard awning. 
5. Add Fabric Walls
Add fabric walls or cloth curtains to protect against the sun in warm climates to complete your pergola. Fabric walls are optional, but they help when you want to relax and not affect the sun. There are specialized curtains for pergolas, including a curtain rod to open and close the fabric. 
Depending on your preferences, you can purchase see-through curtains or buy solid color curtains for peak protection and privacy. By pairing a proper shade for your pergolas ceiling and adding curtains, you can stay comfortable in any season. 
What Size Pergola Should You Have For Your Home? 
Homeowners install pergolas in numerous locations, from gardens to backyard patios. Whatever the area, the primary purpose of a pergola is to extend the living space of your home.
It can be an inviting place where you and guests can relax with patio furniture or lounge chairs when done correctly. 
The construction of a pergola is simple, making it easy to modify the design to fit your home's unique needs. The structure can be small, allowing only two lounge chairs to work underneath it. You can also have a large pergola that covers multiple pieces of patio furniture, lounge chairs, and a grill.
When deciding on a pergola design, you can pick from a large selection of premade pergola kits or have a custom-built one.
The premade kits will be easier to install because the materials are cut for you and require only a few hand tools. However, the kits typically come in smaller sizes and are not for large spaces.
If you need a standard pergola, the most common type is between 10ft x 10ft to 12ft x 12ft. This sized pergola is an excellent choice for backyards or smaller gardens on your property. If you need a drastically larger pergola, you will need to hire a contractor or design and build it yourself. 
The key to sizing your pergola is determining your patio, garden, or deck space. A pergola should cover the entire area, placing the vertical pillars on the edges of the site.
There is no one-size-fits-all approach to finding a pergola for your home, so you will need to use your best judgment. 
Do Pergolas Provide Enough Privacy? 
For many homeowners, privacy is a big concern. If you want to feel more secluded in your backyard but don't want to build a fence, a pergola can be a great solution. While a standard pergola has no privacy screens, the process of installing fabric walls or screens is straightforward to do at home. 
To create more privacy surrounding your pergola, you can add the following materials to the walls:
Lattice wood paneling
Fiberglass screening
Fabric curtains
Horizontal wood deck boards
If you want to go a step further, you can also build wood walls that add a level of privacy to your pergola. Many homeowners create a pattern similar to the ceiling of the pergola for a harmonious design. Leave small gaps between the wallboards, allowing proper ventilation and privacy. 
Conclusion
Adding a pergola to your home's backyard can improve the style and functionality of your property. While the shade coverage of a standard pergola is not better than an awning, you can improve the range with numerous modifications.
Whether it's adding live foliage or putting up curtain walls, a pergola has the potential to offer however much shade you desire. 
Sources