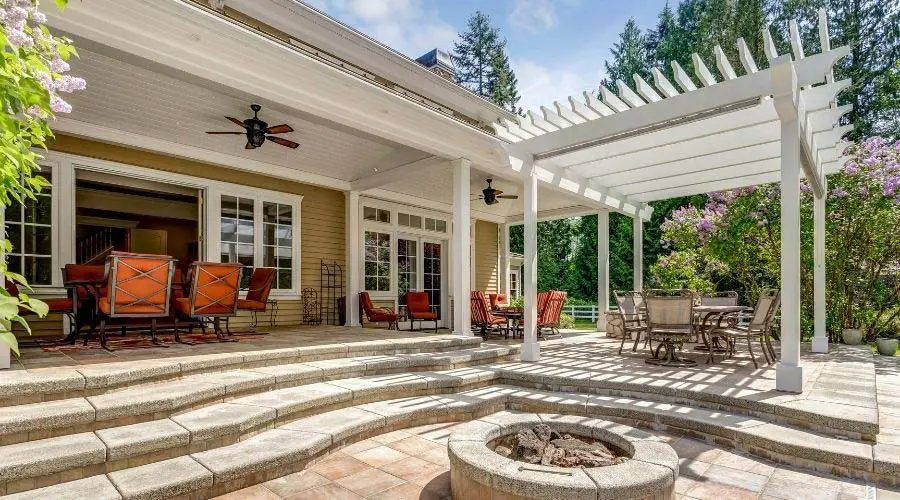 Are you exploring the idea of building a pergola on your property? It would help if you weighed the advantages and disadvantages to determine if it would work for you.
When weighing the pros and cons of a pergola, you should consider:
The installation costs
The visual impact it has on your outdoor space
The financial value it adds to your property
How it impacts the environment
The extent to which it protects from the elements
How much maintenance it will require
For this article, we will analyze the challenges of building a pergola, the benefits it brings, and the disadvantages. The details should help you decide on a suitable pergola for your needs.
The Installation Costs (Pros & Cons)
It would be wise for you to consider the pergola's installation costs before you choose to build.  These costs will largely depend on:
Location
Size
Design complexity
Materials
Labor
It is worth noting that landscaping and irrigation are among most American homeowners' most popular home improvement projects.
A typical outdoor space will cost anywhere from $4,150 and $11,185, which translates to an average of about $7,670.
But that should not be surprising. After all, Americans love to spend time in the outdoors. Therefore, building a pergola makes a lot of sense. The question is where it all fits financially.
The Advantage
If you would like to build a functional and straightforward pergola, you could afford to do so. It will cost you an average of $3,936. That happens to be on the lower end of what it would cost to create a functional yet beautiful outdoor space.
Generally, the smaller your pergola, the less money you will spend building it. For most outdoor structures of this kind, the cost ranges from $30 to $60 per square foot.
Another way to reduce the building costs is to select a structural material that is cheaper. For example, if you are on a limited budget, you could opt for vinyl or aluminum, which costs $10 to $30 per square foot.
It would also be wise to opt for simpler pergola designs, which cost about $30 to $60 per square foot. To create the shade you need, you can plant creepers. Also, you will pay much less for pergola kits than for building customized structures.

In addition, if you opt to do some of the construction work, you could save more money. DIY will require you to put in some sweat equity, but it will also ensure you get to keep $500 to $1,000 or even more in your pocket.
The Disadvantage
The most significant disadvantage of pergolas in terms of cost is that the larger and more complex they are, the more money you should expect to pay.
Also, the higher the quality of materials you use and the more skilled the labor, the higher your building costs will be.

So, if you prefer using high-end materials to create an intelligent or retractable large pergola that makes a statement, prepare to pay more.

With the cost ranging from $30 to $60 per square foot, a larger pergola of about 200 square feet could cost you anywhere from $6,000 to $12,000. That is far more than the cost of typical outdoor spaces.
Your choice of materials can be pretty costly too. More expensive woods, such as cedar or redwood, could cost you anywhere from $25 to $50 per square foot. And those made from Trex could be as high as $50 to $60 per square foot.

But fiberglass can blow other materials out of the water in terms of cost. Expect to pay upwards of $60 per square foot to use it for your pergola. Wrought iron is not cheap either. It usually prices per linear foot. And the standard cost is about $24 to $34 per linear foot for materials only.

If you want a retractable pergola roof instead of the standard pergola, expect to pay $800 to $3,000. Also, if you opt for a custom build or intricately designed wrought-iron features, you will be out $10,000 or more by the end of the installation process.
Does Adding a Pergola Increase Home Value? (Pros & Cons)
Like any other outdoor structure, a pergola will impact the environment around it. But is that a good thing or not?
Generally, a pergola is a good thing as far as curb appeal is concerned. But you may have to put in some effort in maintaining it, so it looks attractive all the time.
The Advantage
When you own a property that you could sell or rent, it helps to consider its curb appeal. That refers to how attractive your property is when people look at it from the street.

It provides the first impression on those who look at it. So, the kind of features you install in your outdoor space will determine your home's curb appeal.
When you install a pergola correctly, it enhances the outdoor space. It is one of those structures that stand out. And whether it has a retractable roof or creepers, it will make your property more beautiful to look at and spend time in.
The Disadvantage
Some of the materials you use to construct a pergola may require maintenance. If you have creepers, these two may need love and care to continue growing well and looking attractive.

However, if you have no gardening skills, do not like cleaning, or fail to maintain your pergola structure regularly, it will become worn out and unattractive with time.
Some of the columns and overhead beams may become unstable and dangerous, and they will also look very unattractive. So, instead of improving the curb appeal, the pergola may end up reducing your property's aesthetic value.
Is a Pergola a Good Investment? (Pros & Cons)
Not only does a pergola improve your curb appeal when you install and maintain it correctly, but it also improves your property's financial value.
However, if your pergola is a mess, the reverse may happen. And instead of your property increasing in value, it may end up being less financially attractive.
The Advantage
A home with a high curb appeal experiences an improvement in value from 7% to 14%. That is quite significant, especially if you consider the price increase in terms of the dollar value.
For example, a typical home for sale in America has a median price of about $340,000. If you build a beautiful pergola to improve your curb appeal, you could end up getting $23,800 to $47,600 more for your home. That amount is pretty significant and could go toward paying for a down payment of your next home.
The Disadvantage
So long as your pergola is structurally sound and attractive, it will not negatively affect the overall value of your property. However, you cannot say the same thing if it forms part of lousy landscaping.
Because bad landscaping affects the first impression that buyers or renters get when they look at your home, it negatively affects your property's financial value.
Research shows that lousy landscaping can devalue your property by anywhere from 5% to15%. For that reason, you may end up losing anywhere from $17,000 to $51,000 when selling a home with the median sale price.
After putting so much time and effort into building your pergola, that is not something you want to deal with. For that reason, you should be careful to choose the right design and robust materials when constructing that particular outdoor feature.
How the Pergola Impacts the Environment (Pros & Cons)
As we learn more about the human impact on the environment, it makes sense to consider how our home improvement projects contribute to or solve the problem. That way, you can determine the eco-friendliness of any project you undertake.
It is safe to assume that you can build a pergola without taking steps that degrade the environment directly or indirectly in some way.
However, you can do your best to make the pergola as eco-friendly as possible while adding features that help offset your actions.
The Advantage
A standard pergola made of natural or eco-friendly materials, such as cedar and trex, and includes creeping plants within its design, can be pretty eco-friendly.

The creeping plants will absorb the excess sun rays and provide natural shade during the hot summer months. They will also help channel a cool breeze within your entire property.
Furthermore, vines can help snow accumulate and reflect the light in snowy conditions, thus, providing radiant heating. So, their heat-regulating ability can help you keep your home cooler or warmer and reduce your energy bills by as much as 25%.
If you use edible creeping plants such as passion fruits, you will have something to eat after harvest. In addition, you could prune the creepers regularly and use the pruned parts to create compost for the rest of your garden.
Also, if you opt for colorful and sweet-smelling plants like trumpet vine and honeysuckle, you will attract bees and birds, improving pollination and making your garden more productive. If your garden is large enough, you could keep a beehive and help save the world's bee population.
The Disadvantage
While the size and design of the pergola do not have much negative impact on the environment, the materials you use to build and construct it could.

For starters, if you have wood none-sustainabe, you cannot consider your pergola eco-friendly.

For example, Western red cedar is popular for pergola construction due to its rot and insect damage resistance. It is also beautiful, strong, and durable. But it is currently endangered.

Unless you have some form of assurance that it is sourced from a sustainable forest, you should build using it, knowing you are contributing to the degradation of the environment.
Another issue to consider is the negative impact of wood stains on your environment, which helps in sealing and preserving your pergola.

They tend to produce volatile organic compounds (VOCs) while drying, which causes air pollution and can harm your health.
In addition, these products are usually created through methods that substantially negatively impact the environment. Generally, water-based stains tend to have the least amount of VOCs.

Metal pergolas are not exempt from environmental issues either. To keep metal from rusting, you may need to paint or coat it to safeguard its surface.

However, those primers, paints, and coatings tend to be made from non-eco-friendly manufacturing methods. In addition, some of these products also produce VOCs.

Thankfully, technological advances have helped create VOC-free and low-VOC wood and metal finishes. However, you should expect to pay more and look harder to find them.
Do Pergolas Block Sun? (Pros & Cons)
A pergola is typically a partially open-roof structure. However, some have designs to provide a solid roof over your head while outdoors.
The Advantage
Suppose you have a louvered, innovative, or retractable pergola. In that case, you can open and close the overhead cover manually or automatically to provide various levels of protection, depending on the elements you are dealing with.
So, these designs can provide solid roofing should the necessity arise. That means you can stay safe in the outdoors if there is rain, snow, sleet, or excess sunlight.
The Disadvantage
Unfortunately, the non-standard pergolas, which regulate the extent to which you can get protection from the elements and adapt them for your convenience, tend to be more expensive. That is because they offer additional design features to improve your comfort.
Of course, you can cut costs by installing a standard partially open pergola, whose functionality could improve by using creepers.
However, these pergolas tend to remain partially open throughout. No matter how thick the vines you include are, they will still let in some snow or rain. That means you cannot use this outdoor feature throughout the year.
Pergola Maintenance (Pros & Cons)
What will it take to maintain your pergola to keep it in good condition structurally and aesthetically? It would help select the building materials based on how much work you intend to put in to maintain the pergola you construct. That is because the level of care you show will determine the lifespan and appearance of your pergola.
The Advantage
Some materials require low maintenance to continue looking attractive while resisting wear and tear over time. If you hate doing a lot of work to maintain the outdoors, it helps to select such construction materials.
Trex has a decent lifespan and usually has a limited warranty of about 25 years. It is also pretty low maintenance and only needs periodic cleaning and inspection to fix any structural issues. For the best results, you can opt for bi-annual maintenance.
Vinyl is low maintenance, and does not rot or decay. But it is also weaker, making it more vulnerable to wear and tear, especially when exposed to heavy snow or lots of sunshine.
As a result, it has a shorter lifespan of about 15-20 years. But cleaning it is usually pretty straightforward and can be done once or twice each year.
Aluminum is also low maintenance. It would be best if you mostly had a mild cleaner and a brush to get rid of the dirt and debris and get it looking new again. In addition, it is pretty durable and withstands wear and tear well.
And providing it has a protecting powder-coating, it can last a long time without rusting. You can enjoy an aluminum pergola for up to 60 years so long as you reapply the coating about twice a year.
Fiberglass does not decay or rot. It also does not rust. In addition, it resists pressure and temperature changes very well and can, thus, span longer distances.
And with reasonable care, they can last about 15 to 20 years on average. But when you need to do repairs, your patch-ups will not look similar to the rest of the structure and can compromise its overall aesthetic value. So, it has an intermediate-level maintenance requirement.
The Disadvantage
High maintenance is always a disadvantage for anyone that does not like putting in a lot of effort. Unfortunately, some pergolas will require extra care.
Nothing beats wood when it comes to providing a natural feel in the outdoors. But most wood tends to rot and decay due to water damage, which makes it relatively high maintenance.
So, to prolong its lifespan, you may have to stain or paint it often to seal it. Usually, that takes place every one to three years.
Even so, most wood pergolas will only last for 5 to 12 years. And it is the tougher woods, such as cedar, which will be the most durable.
However, you could also opt for redwood, which will last up to 40 years if you reseal it regularly because it is more rigid and more resistant to insects and decay.
But do remember, the more complex and more durable the wood, the more expensive it may be.
Wrought iron is excellent for creating intricately designed pergolas. But its design versatility comes with a heavy price to pay concerning maintenance. You not only have to clean it regularly but also work hard to keep the rust away.
For that reason, you would need to repaint it regularly to help protect its surface and use automotive wax to maintain its shine.
You can do that every two or three years for the best results. And if you take care of wrought iron correctly, you could extend its standard lifespan from 10 years to about 60 years or more.
Final Thoughts
People build pergolas to create an additional functional and attractive outdoor space to spend time with their loved ones. Such a feature is suitable for your needs if its advantages outweigh the disadvantages.
For that reason, you should ensure you build a pergola that is within your budget, requires minimal maintenance, and improves your property's curb appeal while raising its value.
In addition, you should enjoy the pergola when you need it, so it should provide adequate protection from the elements. It would also help to build a pergola that is as eco-friendly as you can make it.
If you build a pergola that meets your criteria, you can use it to create great memories you and your loved ones can enjoy for a lifetime.
References