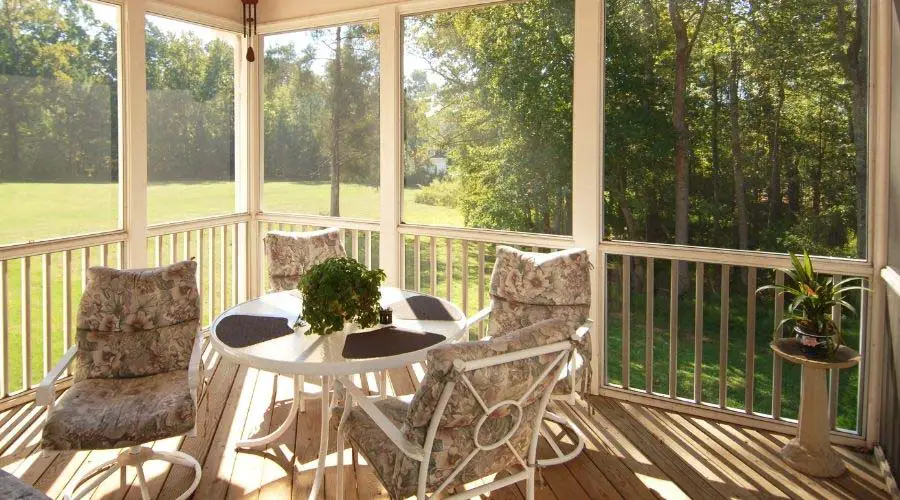 Nothing ruins a perfect sunset cocktail on your deck more than mosquitoes and other bugs. Without a screen, these tiny insects will have you running back inside no matter how much bug spray you apply or bug coils you burn. 
It is possible to screen in an uncovered deck. Options include stand-alone tents or gazebos, large enclosures, or pergolas.
Uncovered decks can be purchased or constructed by yourself. All will need to be maintained and cleaned periodically. If you live in an area with snow, the screen needs to be down for winter. 
It is easiest to add a screen to a covered deck. But don't despair if yours has no roof. There are still options you can use.
We will cover a range of ideas to fit your budget and preferences to help you get the most out of your outdoor space without all the bug bites. 
Can You Screen in an Existing Deck?
Just because the architect and builder of your home didn't screen in the deck doesn't mean you are stuck hanging out with bugs. You can screen an existing deck, and you have many options to do so. 
The option that you choose will depend on many factors, including:
Size and shape of your deck.
The climate where you live.
Your budget.
HOA restrictions.
Other wanted features, like lights, TV, speakers, etc.
We will want to keep these factors in mind as we discuss the various solutions for screening your deck.
The size and shape of your deck will determine the cost and difficulty of adding a screen. For a small patio, you might decide just to set up a screened tent over it. But for larger decks, this may be awkward to use. 
For medium-sized decks, you may decide to add a simple structure to hold the screen. But, if you live in an area that gets snow, you will have to take this down each fall and reassemble in the spring. 
A steel-framed pool enclosure can be an attractive and long-lasting option if you have the financial means. But, many HOA's will not allow them.
If you plan to add other appliances like lighting and speakers, you will also need electric cables. In this case, adding a roof may be the best route. 
Design Ideas to Screen in a Deck Without a Roof
Here, we will explore some considerations to help you find the best solution for your deck. 
1. Buy a Patio Umbrella Screen
Before we get into screening off large areas of your deck, we wanted to mention umbrella screens. These are cheap and may work with the deck furniture you already have.
A patio umbrella screen could be a good solution if you don't spend much time on the deck during seasons where bugs are out or don't have many people.
2. Get a Pop-Up Screened Tent for Your Uncovered Deck
The cheapest and most straightforward solution to adding a screen to a deck without a roof is to get a screened tent. 
These are generally inexpensive and are easy to set up. Most tents are made with rain-proof canopy tops and screened walls. Even the ones designed for camping or picnics are suitable to use on your deck. 
The ones specially for decks and backyards come with many convenient features, such as zippers or magnetic fasteners, vented rooks, and even lighting.
They are very affordable and come in a range of sizes. Below we have created a helpful table for you to compare some popular options:
While these are cheap and easy to use, they also have drawbacks. 
The first issue is wind. It would be best to take down all these tents on windy days. Most should not be left out all the time but set up when needed.
Tents are usually not suitable for someone who wants the convenience to step out and enjoy a quick sunset cocktail on the deck. 
The second issue is size. Tents are great for a small family wanting to eat outside but get cramped very quickly as you add more people.
Another drawback is the roof or canopy on all these models. While it does protect from rain, it also blocks your view of the stars, which is one of the reasons why your deck might not have a roof in the first place. 
Another issue was for people who wanted a screened deck for their cats or other animals to go outside at their leisure. Since these tents don't connect to the house, you cannot leave your door open and let your animals go in and out. 
3. Install a Wooden Gazebo on an Uncovered Deck
The screen tents described above are great for people who don't need to use them often or face restrictions about adding anything permanent to their deck. 
They are a great compromise when adding a roof or pergola is not an option. But there is also a middle ground here, in the form of a wooden gazebo. These can be placed or secured to your deck to provide a more permanent option.
Like the tent, they are perfect for adding shade and screens to decks built without them and don't require any significant changes, tools, or professional help. 
They come in a wide range of styles and prices. Below we have created a table to help you compare some popular products and price ranges.
| Product Description | Size | Price |
| --- | --- | --- |
| Yardistry Meridian Gazebo $ Screen kit | 12 x 14 feet | $2,699 + $419 for screen kit |
| Apollo Hard-top Gazebo | 12 x 20 feet | $3,299 |
| Amish Rectangle Wooden Gazebo Kit | 8 x 8 feet | $4,853 |
| Paragon Outdoor Siena Gazebo | 12 x 16 feet | $3,797 |
All of these can be assembled without professional help and removed when necessary. Gazebos can be left up year-round and hold up to wind and storms. 
Gazebos are a great option if you do not want to build something yourself or cannot add to your house or deck. 
The issues with these are the high prices and limited sizes. Like the tents, they also won't allow you to enjoy the sun or stars and can't easily be connected to your house to provide seamless entry. 
4. Use a Screened Pool Enclosure Over Your Deck
If seeing the stars at night and having your screened room attached to your house is essential, a screen pool enclosure may be the right option. 
These are very popular in the American south, especially in Florida. They are large, aluminum or steel-framed structures with screen panels throughout. 
Some of the best features of these screen over tents include:
Open to the sky to allow sun and starlight through
Robust enough to withstand winds and storms
Do not need to be taken down each year
Paneled screens allow for easy repairs
These can be made in just about any shape or size to fit your needs, as both stock and custom models are available. 
But, their solid build and beautiful appearance do come with a cost. In Florida, estimates run between $7,000 and $10,000 for a typical pool enclosure. 
5. Build a Pergola or Trellis Over Your Deck
If you are comfortable doing some woodworking, installing a pergola or trellis may be better. These will allow you to control the size and shape and build it to your specific needs. 
Adding a pergola usually involves installing 4 x 4 posts and cross beams to create a roof that can be left open or covered in sheeting or panels. 
A pergola provides the perfect frame for attaching screens and means you can cover the whole deck and join it with the house. 
Pergolas are often the best option for people who want a simple walk-in covered area right out their back door. It also allows you to run electricity or water into the space and install appliances to improve comfort. 
You can use solid roofing materials or a canopy to cover the top. Or you can use the screen to cover the roof if you want to allow in lots of sunshine. However, you will need to remove the screen during the winter to keep it from breaking under the weight of the snow. 
In most cases, you will have better results by covering the roof with standard roofing material and adding skylights. The reason being is that the pergola stands up better to the weather and still provides plenty of sunlight for you to enjoy. 
Do I Need a Permit to Screen in My Porch?
Whether or not you need a permit to add a screen to your deck varies by state and even county, so be sure to check local guidelines. 
It will also vary by the type of installation you choose to do. We looked at a range of locations around the US to create this helpful guide for you.
Times You Likely Won't Need a Permit
Installing a screened tent or stand-alone canopy on your deck or patio
Installing gazebo on an uncovered deck
Replacing or repairing any screens or canopy on your deck
Installing pergola or trellis that is not roofed or wind resistant
Enclosure of existing covered patio with screening
Times You Likely Will Need a Permit
Installing pergola or trellis that is roofed or wind-resistant
Installing a gazebo with a foundation
Adding a new deck, awning, or canopy
In most cases where you need a permit, you will need to acquire a 'Zoning Improvement Permit,' which you can apply for at the county offices. 
You should also be aware that you may need a permit if you plan to add any electrical or plumbing to the space and get a professional to do the work. 
Many areas also have an HOA, so that you may need permission for some of these changes. Check to see if you need approval, even if your county does not require you to get a permit. 
What Else Should I Consider Before Screening My Deck?
Each of the options listed above will have its maintenance needs and precautions. But, there are some underlying themes for all screened areas that should be kept in mind. 
1. Kids & Pets
The first is to consider who will be using the space. Floor-to-ceiling screens provide the most airflow and less obstructed view but can be damaged easily by kids and pets running around.
If you expect to have kids and pets, you may want to install a low wall around the structure's base in the case of gazebos and pergolas. Then, install your screens to run between these half walls and the ceiling. 
2. Cooking
If you plan to be hosting BBQs, you want to consider where you will be doing the cooking. You wouldn't want to put the BBQ in the screened area as it may hold in too much smoke for guests sitting in there.
In this case, either put the BBQ outside or create a second screened area for cooking. 
3. Patio Heaters
Patio heaters are becoming much more popular and readily available. Some use infrared or contain the flame behind glass, but all produce heat. 
Be very careful to maintain a safe clearance distance between any patio heaters and your screened area. Check with the manufacturer's recommendations, but most require 24-36 inches between the heater and any soft materials like screens or canopies. 
4. Repairs
When building, keep in mind that you will have to repair the screens one day. Don't use a single screen to cover an entire large wall or cover the whole structure in a single screen. 
Instead, plan your build modularly. Using multiple small screens will make repairs much easier for you down the road. 
5. Cleaning the Screen
For the most part, you can clean your screen area by spraying it with a garden hose to remove grime and debris that will accumulate. 
But, if you have a screened roof, this can get a bit more tricky when leaves fall onto it, highlighting the importance of project planning. Try not to put your screened area directly under a tree.
Trim the tree or consider installing a hard roof instead if you can't relocate the screened area. You can still bring in the sunshine with a skylight. 
If leaves do collect on your screen roof, be sure to remove them promptly to prevent the growth of mold or insect larvae. Usually, you can use a leaf blower from inside the screened area to remove the leaves. 
6. Avoiding Mold
Remember that any area that gets wet and stays that way will grow mold and algae. Mold and algae can deteriorate your wood and cause the deck to become slippery. 
If you have added a screen tent with a floor to your deck, be sure to remove it after rain. If you have built a gazebo or trellis, ensure it has good ventilation and gets occasional sunshine to dry it out.  
Conclusion
We hope that this guide has helped you understand the options available to you for screening your uncovered deck. Each option is viable, but we want to ensure you get the best chance to protect yourself while keeping your home and yard attractive and not breaking your budget. 
Sources