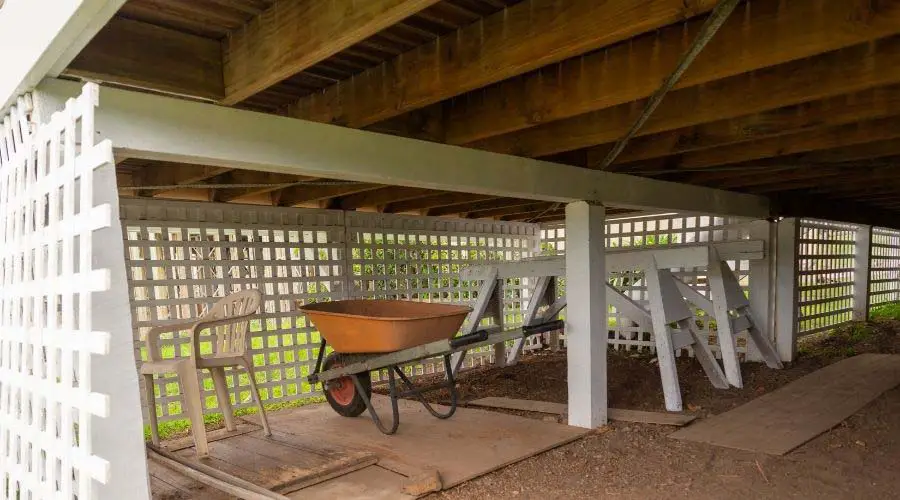 Lattice walls have been a popular choice for outdoor privacy since medieval times. Lattices once decorated the gardens of the renaissance era and served both an aesthetic and practical purpose.
An open, crisscrossed grid framework usually made of wood, vinyl, or metal, lattice walls are found everywhere as an outdoor solution for privacy. You can easily add them to your deck. 
Here are 15 ways to add privacy to your deck using lattice walls:
Basic cedar lattice wall

Half lattice privacy panels over metal balusters 

Stained lattice framed panels

Framed painted fancy lattice screen

Square wood lattice framed inside mini-pergola

Framed free standing metal lattice panels

Wood lattice deck bench and pergola wall 

Ornamental metal decorative privacy panel

Suspended hanging painted lattice panels

Pressure treated square lattice deck wall

Metal lattice half privacy wall

Vinyl lattice panel privacy wall

Metal lattice panels on wood deck railing

Painted half lattice privacy wall

Vinyl lattice grid privacy wall
This article will show you a detailed orientation of how you can add privacy to your home by using lattice walls to your deck.
How Do You Build a Privacy Wall with Lattice?
The first step is to determine the height and length of your privacy wall. Once you establish this, you can consider your budget and the type of material you would like to use. 
When planning your privacy wall, be sure to factor in any materials or hardware you may need to attach the lattice wall to your deck.
Will your privacy wall be freestanding or attached to an existing wall? Perhaps you will need a particular drill bit for a brick? Your local hardware store will be able to guide you on what you need.
The height and length of your privacy wall will depend on a few factors, including whether or not your privacy wall will be under an overhang or roof and how busy the surrounding environment is.
If your deck has high levels of outside traffic, you may want to build your privacy wall as substantially as possible.
What is Lattice Made From?
1. Wood Lattice
Lattice is from pressure-treated yellow pine. This economical version of a lattice is resistant to water damage and insect infestation.
A more expensive option would be a lattice made from cedar, mahogany, or Douglas fir. You can paint lattice or stained. White lattice is very common in older houses, especially those from the Victorian era.
Traditionally, a wood lattice uses wood lath strips connected with galvanized staples. Lattice panels measuring 4×8 feet commonly come in a diagonal diamond pattern; however, you can buy panels with a straight, square design.
Lattice is typically ½ inch thick; however, you can get some 1-3 inches wide panels for projects where the lattice plays a role in the structure.
The space between the lath pieces can vary as well (one to three inches), with the panels with smaller holes providing more of a "privacy screen."
2. Vinyl Lattice
Vinyl lattice is an alternative to wood. Made from vinyl polyresin (PVC), these zero-maintenance panels will not rot, fade or bend with the elements.
If this long-lasting product is of interest to you, you will have to choose from the colors supplied by the manufacturer, as you cannot paint vinyl. 
3. Metal Lattice
Lattice comes in the form of metal as well. This most expensive option will likely be a custom job and will need a structure that can support the extra weight.
Here is a quick reference chart to give you a general idea of the cost per material type.
How to Add Privacy to Your Deck Using Lattice Walls
Let's look at 15 ways to add privacy to your deck using lattice walls.
1. Basic Cedar Lattice Wall
A mid-priced wood cedar does require some maintenance, especially if left untreated. Without a stain or protective varnish, cedar will weather and turn grey.
The lattice is constructed in a square formation and nicely compliments the solid board bottom half of the privacy wall. Framed and capped with thicker boards, this design would suit many deck and home styles. 
This cedar privacy wall would also be the perfect place to hang planter hooks or even host a climbing vine of some sort.
This simple, lattice wall still allows light and airflow yet adds privacy to the eating area.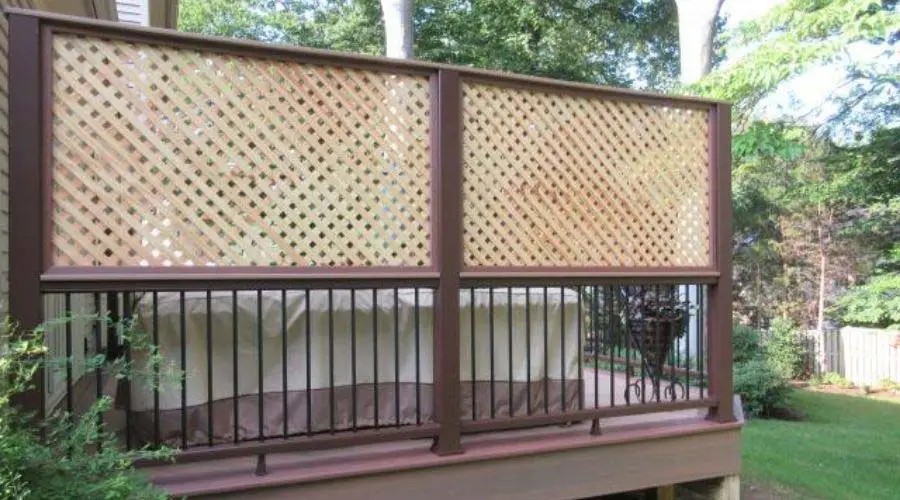 2. Half Lattice Privacy Panels over Metal Balusters 
Sometimes all a deck needs is just a bit more privacy without compromising light and airflow. Adding a couple of tight-knit lattice panels to your existing deck railing will achieve this goal. 
Pictured above are two cedar lattice panels, constructed in a crisscross, diagonal pattern and fitted into painted wood frames that match the deck's wood.
The latticework is an exciting contrast to the iron railing balusters and provides an economical solution to gaining more privacy for the hot tub located on the deck.
3. Stained Lattice Framed Panels
This beautiful, two-height lattice privacy wall would make a stunning addition to any deck.
The warm tone of the lattice matches the deck and railing perfectly, and the framing and capping on the panels give the wall a polished look. 
You can find an attractive, subtle design element in the lattice construction itself. The center panel boasts a square design, and the outer panels feature the more traditional diagonal crisscross pattern. 
Plenty of light comes through the lattice, and the privacy wall is the perfect place to hang plants.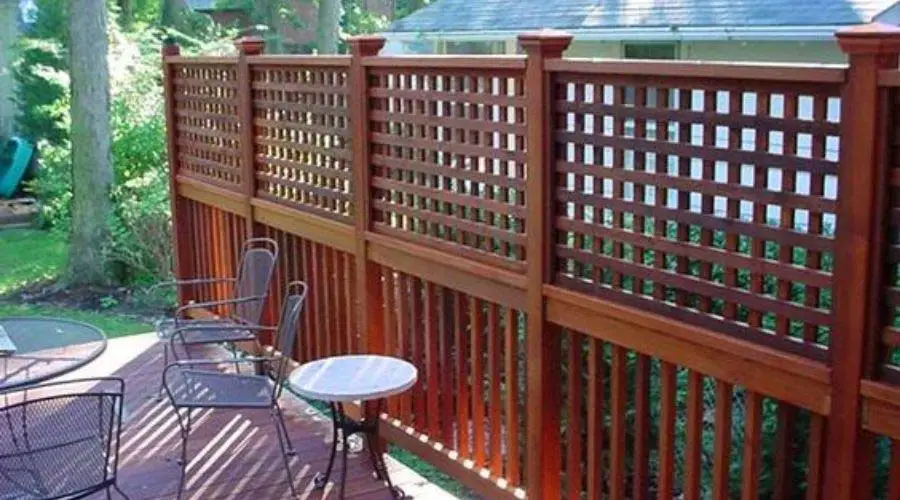 4. Framed Painted Fancy Lattice Screen
The lattice privacy wall pictured above features a unique style of lattice that is not as common as the traditional diagonal or square lattice.
In this example, the lattice is painted a crisp white creating a striking contrast to the rich dark wood making up the frame, deck, and railing. 
You can recreate this look with vinyl panels from your local big-box retailer; however, they are only sold in smaller panels (2×4 feet). You would have to add framing to your privacy wall or find a way to recreate the seamless look of the panels pictured above.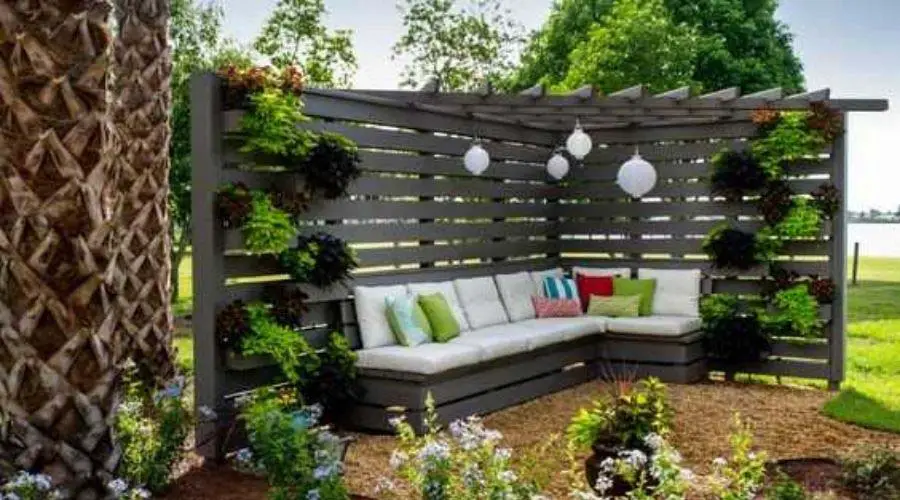 5. Square Wood Lattice Framed Inside Mini-Pergola
Adding lattice panels is the perfect way to add privacy to an existing structure, like the mini-pergola pictured above.
This pergola is painted a cheerful green and provides a nice contrast to the natural wood of these square lattice panels. 
This particular privacy wall is effortless to install. Both lattice panels are suspended from the pergola with two hooks at the top and bottom.
You would want to be sure that your suspension hardware is appropriate for the weight of the lattice you choose for this project. This design is helpful for easy removal or replacement of lattice panels.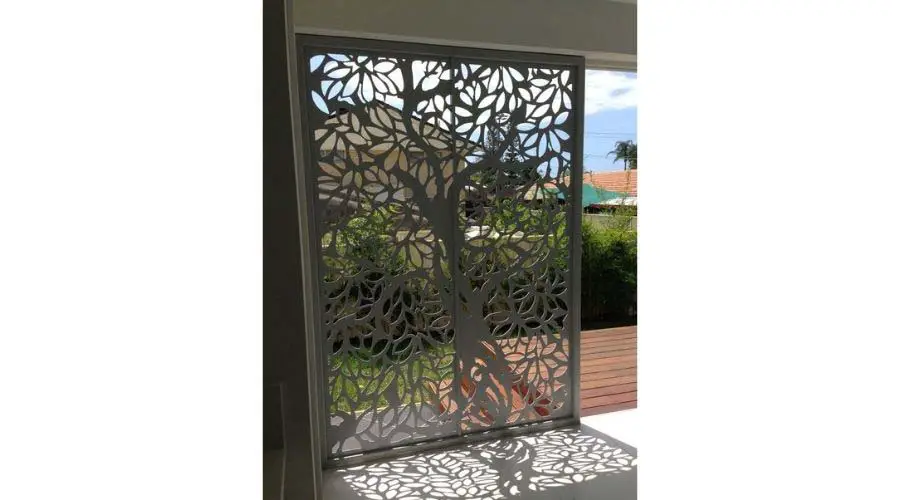 6. Framed Free Standing Metal Lattice Panels
If you want a high-end look for your deck privacy wall, consider metal lattice panels as an alternative to wood.
The ornate metal lattice panels pictured above are beautifully framed with dark wood. They are freestanding in groups of two panels, strategically placed in flower beds to provide privacy for the home's entrance.
Metal lattice panels are available at your local big box stores or can be custom-made by a metalworker. They are the most expensive option for lattice but are long-lasting against the elements and low maintenance.
7. Wood Lattice Deck Bench & Pergola Wall 
Incorporating a practical element into your lattice privacy wall is another creative option for your deck. 
Pictured above is a bench built into a large lattice privacy wall, using the same stained wood for the bench, the lattice, and the pergola. Instead of bringing the lattice right down onto the deck, why not consider installing bench seating as the lower half of the wall?
The pergola above frames the top of the lattice wal. It protrudes over the wall enough to hang plants against the backdrop of the lattice. It also provides shade for those sitting there.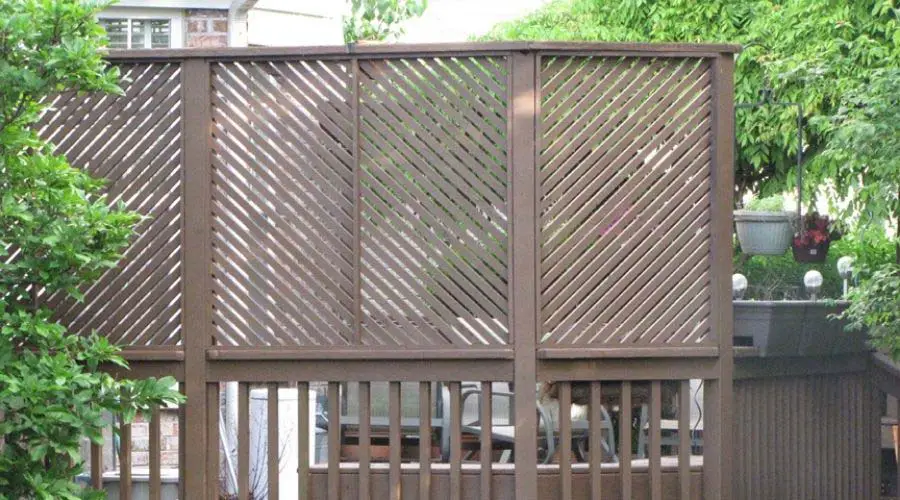 8. Ornamental Metal Decorative Privacy Panel
A single metal lattice panel is pictured, separating this home's indoor and outdoor areas. 
If you are looking for a high-end, sophisticated look for your indoor to outdoor transition, this may be a good option for you. The lattice panel allows ample light and air while providing the desired privacy.
A metal lattice panel as large as this one will most likely mean a trip to your local metal-smith and a hefty price tag. You will, however, save time and money on maintenance as this piece will require little attention and will withstand the effects of the weather.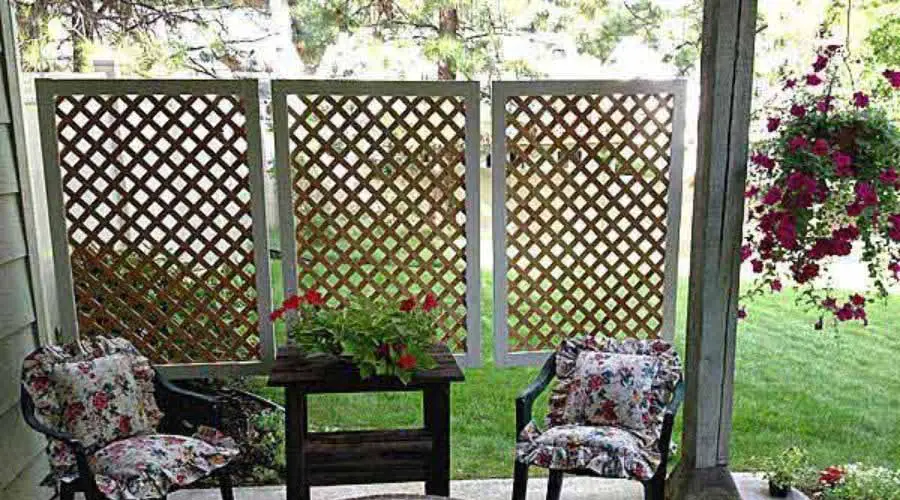 9. Suspended Hanging Painted Lattice Panels
This classical, beautiful design is reminiscent of years gone by and time passed enjoying lemonade on the large veranda of a Victorian-era home. 
Three cheerful, brightly painted white lattice panels provide privacy to this traditional veranda. These panels are suspended from a powerful beam overhead and form a quaint and airy lattice wall.
Without overwhelming the wide-open spaces found above the railings, these framed, square panels of lattice serve as a whimsical backdrop to potted flowers and are anchored to an extended deck rail box below. 
This would be an easy DIY project customized to suit your particular needs. You could paint the lattice in the color of your choice and replace the square design with a diagonal or a custom lattice configuration. Just be sure to use the appropriate paint for outdoor use.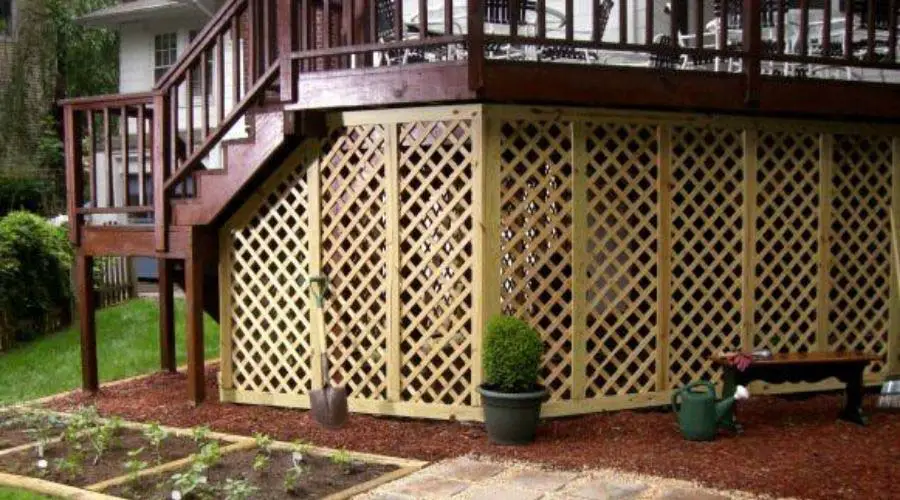 10. Pressure Treated Square Lattice Deck Wall
Pressure-treated lattice privacy walls like those pictured above are prevalent in new construction. 
Economical and long-lasting, the materials for this idea are readily available at your local lumber yard.
This particular design provides privacy to the deck's dining area and is an excellent natural extension of the existing pressure-treated railing with metal balusters.
Effective for providing light and airflow to the deck, this efficient and straightforward privacy wall features the basic square lattice construction. 
11. Metal Lattice Half Privacy Wall
This stunning lattice privacy wall can be replicated using materials available from your local big-box retailer. 
Using three black metal lattice panels, the creator of this project has extended a basic black aluminum railing up to the porch roof.
The intricate pattern of the lattice is full enough to add a barrier to the end of the porch, allowing for privacy for the seating area, yet light and air will still flow freely. 
If you choose a metal lattice, it is essential to ensure your structure can support its weight and use the appropriate hardware to attach your panels to the existing design. 
12. Vinyl Lattice Panel Privacy Wall
Vinyl is also an option for choosing your lattice privacy wall. This lightweight, long-lasting material will give you a maintenance-free fence that you can enjoy for years to come.
Vinyl lattice panels typically are sold in 2×4 or 4×8 ft pieces and are easily mounted inside wood or aluminum frames such as the one pictured above. 
You cannot paint this lattice type, so you will be limited to the manufacturer's colors. Vinyl lattice comes in the traditional diagonal pattern, square pattern, and more ornate, floral type designs such as the one above. 
13. Metal Lattice Panels on Wood Deck Railing
If you have an existing deck railing and require a bit more privacy, consider adding some ornate metal lattice panels such as the ones pictured above.
You may need to add a supporting post where your deck railings intersect and perhaps a grooved piece of wood along the handrail to support your lattice. 
The example above is an exciting blend of a basic, turned wood baluster railing with a highly decorative, floral patterned lattice. The sky's the limit for the combinations of deck and lattice privacy walls. 
14. Painted Half Lattice Privacy Wall
Painted in a subtle shade of taupe, the lattice privacy half-wall pictured above features lath arranged in a unique pattern.
Placed on the diagonal without the traditional crisscross pattern, the pieces of the lath are framed and painted the same color as the deck and railing. The harmonious color scheme adds visual continuity and seamlessly blends the lower rail with the privacy wall. 
This highly customizable look requires using appropriate outdoor paint and would require maintenance, probably every year, depending on how harsh the elements are in your area. 
15. Vinyl Lattice Grid Privacy Wall
This dramatic, lattice wall/pergola combination is constructed entirely from vinyl. 
Large lattice panels have been sectioned into smaller, framed sections, creating a unique and eye-catching design. 
Maintenance-free and long-lasting, this lattice privacy wall will stand the test of time and serve as a great place to hang plants while letting light and airflow to the deck area behind it.
Final Thoughts
So there we have it. Fifteen ways to add privacy to your deck using lattice walls. We hope these ideas have inspired you as you plan and create your privacy wall using this versatile material.
Sources