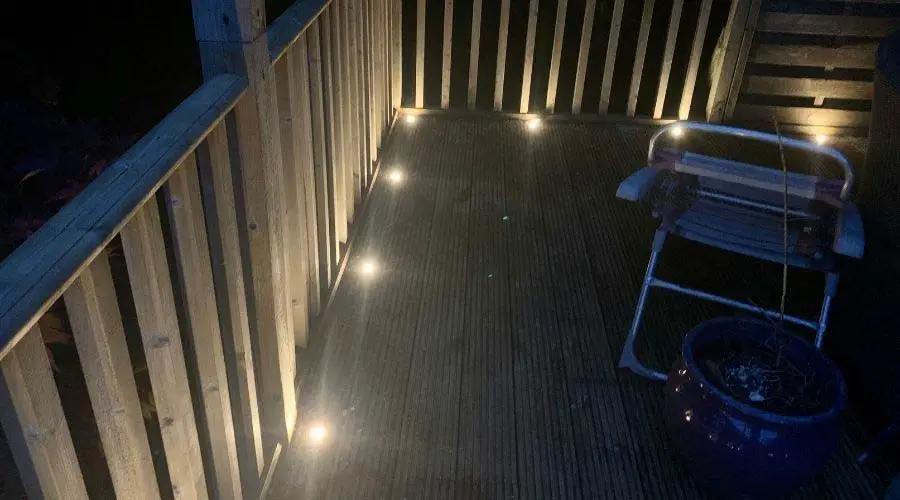 You just had a beautiful deck installed or are interested in revamping your current one. A great way to bring life to your deck is to install lighting for it to shine at night. Deck lighting is a crowd pleaser and an overall excellent investment for your home and entertainment. 
Leaving deck wires exposed and dangling from the deck is dangerous and an eyesore. We will go over 18 tips from commonly asked questions for hiding deck lighting wires. This will contribute to getting the most out of your outside décor.
 Determine if your wooden deck is worth the effort 
 Be aware of the number of lights strung together 
 More lights increase the overall wattage 
 Zone the lights if needed 
 Use solar-powered fixtures 
 Determine where lights are to be installed
 Determine cable runs 
 Source the best transformer 
 Consult with an electrician when unsure 
 Use aftermarket wood trim 
 Consider running conduit underneath the deck
 Feed wire down wooden posts through the railing
 Cut small access holes and fish wires through channel(s) for PVC railing 
 Call before you dig (dial 811) 
 Use a water-proof, rigid, metal conduit 
 Low-voltage deck wiring only requires a 6" trench 
 Use a service-entry ell fitting for accessing wires
 Use direct burial wire (deeper digs)
We will look at these products and more below. For any landscape and deck project, many questions arise before getting started.
If your wiring is exposed, hiding it is different between DIY and professional results. Here are some commonly asked questions relating to hiding deck lighting wires.
Do Deck Lighting Wires Need Conduit?
Conduit is tubing that conceals the wires while protecting them from damage. If an electrical charge poses a risk, the conduit will protect people nearby. Does deck lighting wire require conduit? If so, what type of conduit is best for protecting and concealing deck wiring?
The conduit used on a deck could be an option to conceal them if many wires exist. The actual need depends on whether the cables need protection from damage and the type of shielding used.
Most LED lighting on decks utilizes 18/2 (18-gauge 2 conductor wire). Circuit wires susceptible to moisture and damage need to placing for in conduit.
Deck wiring wired to a transformer that is exposed may require conduit tubing. Installing a wire conduit for your deck wiring project is relatively simple.
Although deck wiring fabricates with an insulation jacket, they are exposed. Using a liquid-tight conduit for a deck's outdoor application is best.
A liquid-tight conduit ensures that all deck wirings are protected from moisture and damage while showcasing clean organization practices. You can learn more about conduit and when to use it here.
How Do I Wire My Deck Lights?
Knowing how to wire your deck lights starts with understanding the layout of the desired lighting. The amount of wire and conduit needed is dependent on the size of the deck and how many corners, and the path the wires will take. 
It is best to plan for more than less wire and miscellaneous supplies. Excessive trips to the hardware store and delivery truck drivers will cost more time and money.
Proper planning is the best practice for starting and ending a deck lighting project, including concealing all evidence of wires.
Wiring your deck lighting should be done according to the light fixture manufacturer. Connecting each light to the circuit and eventually to the power box transformer should be performed by a professional or under the guidance if you have little to no experience. Consulting with a local electrician is the best practice moving forward.
If you are confident in connecting your deck wires to a low-voltage transformer, here are some tips relating to wiring your deck lights:
1. Determine if Your Wooden Deck is Worth the Effort 
The average life of a wooden deck is anywhere between 10 to 30 years. The lift span is on the type of wood, the environment it gets exposed to, annual care, and other factors. 
A deck wiring project will require a considerable amount of time and investment. If your deck only has a few years left, replacing the deck may be necessary first. You can learn more about how often you should change decks out here.
2. Be Aware of the Number of Lights Strung Together 
More fixtures mean more power going to the transformer. The risk of dropping voltage leading to dimming lights increases with more lights added. Be aware of the number of light fixtures you want to use for your wiring project.
3. More Lights Increase the Overall Wattage 
Check the power box wattage loads and plan accordingly—most transformers rate from 200w to 300w. According to trex.com, the transformer converting a 110v line to 12v low-voltage electricity requires a transformer (Trex, 2021).
4. Zone the Lights if Needed 
For larger lighting projects, zoning the lighting runs will help prevent or reduce voltage drop. There are low-voltage transformers available featuring multiple voltage taps to support each lighting zone.
5. Use Solar-powered Fixtures 
Hardware stores such as Home Depot and Lowes offer an array of solar-powered deck light fixtures. These include rail lighting, post caps, recessed step lighting, and more.
Eliminating the need for wires seems a great option to conceal them. You can use a combination of both solar-powered light fixtures and wired fixtures if you get too close to the wattage capacity of your transformer.
How to Hide Patio Lighting Wires?
Cable management is one of the most critical steps in any electrical job. No matter how well the lighting works, loose and exposed wires leave a bad taste of amateur and unprofessional that is impossible to avoid. The best way to prevent a bad wiring job (aside from functionality) is to hide your wires.
You can hide deck wires by running wires under the deck boards along the joists. If this is a new deck build, running the cables under the ground from the power box transformer to the deck is a good option.
The first step in planning a new deck lighting project is mapping out a plan. Understanding the materials needed and course of action is a winning combination to a successful project. This plan should include:
6. Determine Where Lights are to be Installed (Railing, Posts, Steps, Floor, etc.) 
There are many types of deck lighting options available. Research these products online and ask associates questions at stores. The more information you know before getting started, the better.
7. Determine Cable Runs 
The cable runs are achieved by measuring deck size and distance to the power box transformer. If you have a long distance to the transformer from the deck, consider burying your wiring.
8. Source the Best Transformer 
Finding a transformer that installs near an outdoor outlet is best. If you do not have access to an outlet anywhere outside your home, consult with a local electrician professional for alternative options.
9. Consult With an Electrician When Unsure 
Electricians are excellent resources when electrical wiring is involved. If you have little to no experience with wiring, calling a local and respected electrician is always a great option.
How to Hide Wires in Wood?
Running wiring in an existing deck is trickier than building a new deck, and when you create a new deck, adding wire concealing wood top trim and even railing before the fact is ideal.
There are wire concealing wood trim products that you can add. This is similar to PVC strips used indoors and other products such as ghost tape for hiding speaker wire. You may have seen this near computer stations and underneath wall-mounted TVs.
Hiding your wires in wood can be accomplished through multiple creative methods. Some of these methods include:
10. Use Aftermarket Wood Trim 
There are products available that add decorative trim to your existing wooden deck. The deck trim features groves where deck wiring is hidden.
11.  Consider Running Conduit Underneath the Deck
Conduit fastened to the underside of your deck will look professional, prevent moisture and physical damage.
12. Feed Wire Down Wooden Posts through the Railing
Feeding wire through the wooden deck posts is an excellent option for existing decks hidden with post caps.
13. For PVC Railings, Cut Small Access Holes and Fish Wires through Channel(s) 
PVC railing is a solid option for running wires through. Due to their hollowed design, running cables is a smooth process that will protect them from the elements.
How to Bury Outdoor Lighting Wire?
Burying cable is necessary when longer runs to your power box transformer are required. Running the deck wires from the box to your deck by burying them is a great option.
Since the wiring will not be exposed to the elements and pose any risk of electrical shock, a wire conduit is not required.
The level of difficulty surrounding the installation of underground wires starts with safety. Consult with your local home inspection professional before digging. There are best practices that include:
14. Call Before You Dig (Dial 811) 
Knowing where existing electrical lines bury is the first step to any project involving digging on your property.
15. Use a Water-Proof, Rigid  Metal Conduit 
For shallow lighting wire runs, a water-proof rigid metal conduit works well. Burying cables without conduit tubing leaves them susceptible to damage from moisture.
16. Low-Voltage Deck Wiring Only Requires a 6" Trench 
Deck wiring lighting is low-voltage featuring 6" wire runs inside liquid-tight, water-proof conduit is best. The shallower the trench, the easier the digging work will be. The dirt quality will also determine the difficulty of the dig.
17. Use a Service-Entry Ell Fitting for Accessing Wires
Having the ability to access wires is critical for fixing issues down the road. Using an Ell fitting available at your local hardware store or online will add a professional touch to your DIY wiring project.
18. Use Direct Burial Wire (Deeper Digs) 
If you are not particularly excited about running conduit and using whatever an Ell fitting is. Some products are shielded well enough for direct burial.
Homebuilders use Direct Burial Wire to run power to your home, golf courses, and other uses. It is important to note that Direct Burial Wire is for deeper trenches, particularly 18" (Kristech, 2021). Consult with your local electrical inspector to verify.
Burying outdoor lighting wire should be considered when the power source is a long distance to your deck space. Digging a smaller trench (6") while using a water-proof conduit is a faster option for underground hiding wiring.
To reduce cost but increase labor, digging an 18" trench will better suit the use of Direct Burial Wire, not requiring conduit.
Digging a deeper trench will require heavier tooling and equipment to ensure depth accuracy and the job's difficulty.
Planning what type of lights, wire, and how you want to hide your cable is dependent on your environment and deck layout.
Conclusion 
Hiding wiring from any landscape project is critical to reaching professional status. No matter the functionality of your work, if deck wires are visible, it will automatically be regarded as an amateur job.
If a contractor showed up and added lighting to your deck, but the deck wires were sloppy and loose, would you recommend them to a neighbor? The quality of a deck lighting project revolves around minor details.
Some many products and tactics will help hide your wires from plain sight. While either running conduit under the deck or utilizing Direct Burial Wiring, options are available to you and your next project.
After your successful deck lighting project, regular maintenance is imperative to the life and quality of your wooden deck. Check out some of our tips on how to maintain your wooden deck.
Sources