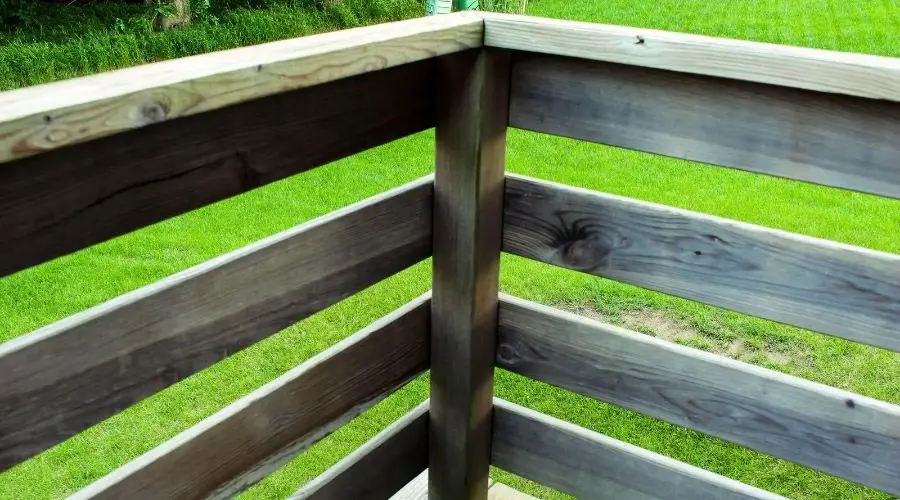 Do you have some old deck railings lying around that you cannot seem to get rid of? Or perhaps you are upgrading your current deck and do not want to waste the existing piece of work you have?
The good news is old deck railings are great for repurposing because they contain materials that are easy to remodel.
There are many ways to repurpose your deck railings. These ideas are:
Creating a bench
Make a planter cover
Do some artwork
Create furniture (tables, side tables, etc.)
Make storage boxes or containers
Have a clothing rack
Make shelves
Construct a mini gate
Make a garden wall trellis
If you're ready for a new repurposing project, I have a couple of ideas on how you can transform old deck railings into pieces that you will obsess over! You will have the neighbors asking where you got them from, and all you'll say is, "I made it."
What are Deck Railings?
Before we get into the fun DIY projects you can throw yourself in, let us see what makes up a deck railing. Deck railings typically fence people in and keep them safe from falling out of the area, as decks are raised above the ground a reasonable amount.
There are a couple of different types of deck railing materials that are out there. A couple of common examples are:
Wood
Metal
Composite
Cable
Glass
Of course, most deck railings you see come from wood and metal rather than glass, which is why we will focus on the more popular materials. Before we get into repurposing, find out which material your old deck railing has.
Out of all the materials, the composite deck railing might be one that you do not recognize very well. Composite deck railing is usually wood wrapped in a plastic or plastic-like shell.
There are numerous resources online to help guide you into creating any of these masterpieces. But in the meanwhile, let us get on to those creative ideas.
What Can I Do With Old Deck Railings?
Old deck railings can either be thrown away or repurposed. I assume you're here for the latter, so we'll explore creative ideas to turn your old deck railings into something extraordinary.
So you have either your wood or metal old deck railing, but what else may you need to complete your DIY project? Here are some examples:
| Tools | Accessories |
| --- | --- |
| Brushes, paint rollers, paint roller handle | Paint  |
| Wood glue | Spray Paint |
| Saw | Artistic supplies (glitter, stickers, etc.) |
| 2×4's (for ease of constructing) | Thread or thin rope |
| Screws | Locks |
| Rotary Tool | Cushions |
| Sanding Tool | Fabric |
How Can I Repurpose Wood Deck Railings?
1. Bench
One terrific way to use the wood from a deck railing is to make it into an outdoor bench! Wood can easily be painted over into a color of your choice to match the desired aesthetic of your outdoor space.
If the paint is not something you don't have skills in, you can also use spray paint!
Spray paints now come in so many fabulous colors and textures that you can customize them to your very liking. You can also throw some cushions and pillows on this to make it cozier!
You can place the bench in your backyard, on your front porch, your front yard, or near your driveway. Either choice will give you a nice view of your surroundings! Transforming an old deck railing to a bench would require very minimal woodwork materials.
2. Planter Cover
If you are someone who loves planting and adding greenery around your home or outside, you will adore this idea! Instead of using plain pots and planters to hold your plants, you can create a cover from it from breaking down your old deck railing.
You can make it into a cube shape by cutting out even strips from the deck railing. That way, you do not have to worry about fixing it together at angles.
If you are open to creating a pyramid-shaped planter, by all means, you should go ahead, although it will be a little bit trickier than a cube-shaped one! 
Even if you have a plain pot in a different shape, you can craft your planter cover in something that can encase the whole thing. That way, if you decide to switch out the inner pot later on, your new planter cover can still be handy. 
3. Artwork
As simple as this sounds, you can make such versatile artwork for our home or as a gift if you give it to someone who appreciates an excellent homemade gift. You can:
Create a board and attach words or pictures to it or both! Use glitter, stickers, clothespin to create your spin on this cool piece. If you attach some thread to the ends, it can be a nice collection for pictures, polaroids, or prints.
Cut out a slab and treat it like a canvas! Use paints and go crazy with painting on it in whichever style you want. You can also use leaves, sticks, and natural items to create prints and create a more earthy look. You can also attach the slabs to create a more extensive canvas space.
Create a sculpture with the appropriate tools. You can even use wood glue to piece the wood slabs together to create a centerpiece. This one might be trickier than the previous two, but it can make for a beautiful one-of-a-kind piece. 
4. Tables, Side Tables & More!
When I say tables, there might be one style that might pop up in your head. But the reality is there are an endless amount of table styles you can craft up.
You can repurpose the deck railing into a nightstand table, a coffee cart, a small kitchen island, a coffee table, an end table, etc. 
The cool part about these is that you do not have to make them have four legs and a top. You can add dimensions to it.
Maybe instead of having a leg and table stand at a 90-degree angle, you can make one of the legs at 45 degrees and have the corresponding limb on the other side mimic it. Whatever you can envision and create a prototype of, you should incorporate it into a real-life craft piece. 
If you want to put any of these items indoors, you may need to use indoor-friendly materials, but the process would be the same! You can craft it to look like a dream come true in whichever way you design and envision the new piece.
5. Storage
You can recreate cozy cabin vibes by creating a wooden chest to fill in your books, blankets, or random knickknacks you have lying around the floor.
This wooden chest can be any size, finish, or color you want and even have a lock. Whether this lock is aesthetic or natural, it can add a nice touch to the final piece.
A cool thing about storage is that you can mash it into any of the ideas above. You can make a bench with storage underneath, a table with storage compartments, a storage basket encased in artwork, and so on. Storage is easy to incorporate into other pieces, and hey, you can never have enough storage.
How Can I Repurpose Metal Deck Railings?
6. Clothing Rack
Have you ever seen those trendy clothing racks where influencers hang up their clothes in the back of their videos? They're fun colors that accompany their room aesthetic and help spruce up a room.
You can use the metal pieces from an old metal deck railing to create the rods and connect them in any shape you want. 
You can make many clothing rack styles for you, and since you are in control, you can choose how small or large you want it. A fun addition to this project would be to add wheels for the bottom of the rack so that you can quickly move it around. 
You can easily apply this to a drying rack or place to hold your towels to dry. It does not necessarily have to be to display your clothes but can be placed in the laundry room for those days when you do not want to run a dryer cycle. 
7. Shelves
You can make shelves from numerous materials, and metal shelves typically look sleek and modern. You can use these shelves for the living room, the bathroom, or the garage to organize your objects.
If you want to make it look a little more rustic, you can add any wood slabs lying around as the shelf part of the shelves.
A tip would be to add organization bins on these shelves can ensure that the frames won't be damaged by the in and out moving of objects.
The metal part would be the part that holds together all the shelves on the side and around. The metal will create a sturdy structure and is easy to maintain and move around.
If you ever have a change of heart and want to redecorate and move around furniture around the house, it would not be a hassle to carry. 
8. Mini Gate 
If you have a small garden or a portion of your front or backyard that needs a little protection, you can repurpose parts of the metal deck into a small gate.
Some kitchen gardens don't use protection, and deer damage their plants. Creating a gate is an excellent way to keep them out and have the vegetables just for the people who grow them!
Another example would be a sacred or special tree you want to preserve for a long time. A wood or metal gate can be something you can build around it for protection from larger animals and as a decorative element to show the importance of the tree.
This gate may not only necessarily be for protection, but it can help distinguish a small part of your land from the rest of the land.
Maybe, you want to fence in a small play area for your kids so that all toys stay inside. This way, your backyard will not look like a mess, or shall I say more organized chaos, which is just one idea of keeping together items together.
How Can I Repurpose a Composite Deck Railing?
9. Garden Wall Trellis
Composite is a little tricky to work with because it is layers of multiple materials, and if you cut into it too much, it can be and look messy.
A simple yet elegant way to repurpose this would be to stand it up to be a garden trellis, whether it is against a wall or not. You can use this to help your plants creep up and support themselves in their growth. 
Many plants can benefit from this, which ultimately helps you! There are many benefits from using a trellis and creating a pleasing look. You can take something about to be thrown out into a resourceful addition to your garden. 
All you would have to do is measure out the space you want to keep the trellis, cut out a portion of the old deck railing, sand it down, maybe add a fresh coat of paint and design, then set it up, and the plant away! You may opt to freshen up the old deck railing without cutting into it to use as a trellis as well.
Conclusion
When it comes to upcycling, the world is your oyster. There are endless amounts of ways you can repurpose either a wood or metal deck railing to fit your needs best.
Remember that even if you don't need to repurpose, it is a great way to continue saving the environment and managing waste when possible. 
There are so many fantastic ideas and inspirations you can find online or from other works you see outside. It is always an excellent decision to have a piece you made yourself in your house regardless of what it is!
You can even make a hybrid piece with both metal and wood or any other material you seem fit from all the ideas above. You do not have to confine to just what you see here or online to make something.
If you do not want to use whatever you make, another great idea is to sell it! Many people are looking for homemade crafts, and your unique piece could be what they are looking for. Get creative, go forth, and repurpose!
Sources