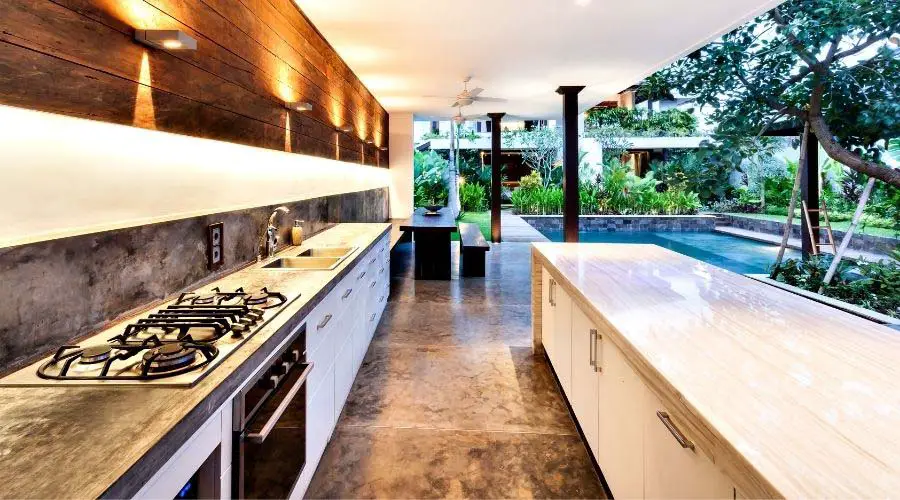 An outdoor kitchen sounds like it would break the bank, but people do not realize that the cost is up to you if you decide to build it!
You have total control over how much you want to spend, where you want to splurge, or what you want to compromise to make your dream outdoor kitchen.
The cost to build an outdoor kitchen will range from roughly $5,000 to $50,000, depending on the quality of appliances you use, the style you envision, and the materials you use.
If you only want essential appliances to get your cooking/grilling done, the cost will be on the lower end. However, if you want a luxury addition to your home, it can be pricier for all the extras.
Below you can find the complete breakdown of the different costs you may encounter.
What Does an Outdoor Kitchen Include?
Basic outdoor kitchens will include a grill, counter space, a refrigerator, flooring, and a cover to secure all appliances. 
Things like a patio table and cushions for the chairs is not required for an outdoor kitchen, but it helps tie the entire space together. You may also opt into adding some additional kitchenware like oven extensions to the grill.
Many people like to personalize their outdoor kitchens to reflect who they are and stand for. Some popular upgrades will include an outdoor TV, patio heaters, ice machine, a wet bar, movie theater, popcorn machine, snowcone machine, etc. These items do not have to fall under "kitchen appliances" but lifestyle pieces.
How Much Do Outdoor Kitchens Costs?
Let's dive right in. How much do outdoor kitchens cost? If you want just the essentials to make up your outdoor kitchen, these will be the costs without labor and construction costs:
| | |
| --- | --- |
| Grill | $100 to $3,000+ |
| Sink | $150 to $800+ |
| Refrigerator | $500 to $2,000+ |
Additional items that are popular but not required will have costs like this:
| | |
| --- | --- |
| Awning | $100 to $4,500+ |
| Gazebo | $5,500 to $10,000+ |
| Patio Table and Chairs | $200 to $3,500+ |
| Countertops | $10/sq ft (porcelain) to $150/sq ft (resin) |
| Patio Flooring | $6/ sq ft (concrete) to $15/sq ft (brick) |
| Cabinets for Extra Storage | $500 to $7,500+ |
| Fire Pit | $100 to $1,700 |
The fun and unique items have cost around these:
| | |
| --- | --- |
| Outdoor TV | $1,300 to $3,000+ |
| Patio Heaters | $100 to $500+ |
| Ice Machine | $1,000 to $5,000+ |
| Wet Bar | $5,000 to $10,000+ |
| Outdoor Movie Theater | $500 to $1,500+ |
| Popcorn Machine | $100 to $300+ |
| Snowcone Machine | $100 to $300+ |
Typically, an average person is not skilled in installing the appliances in their outdoor kitchen. You might even need some help with having a better idea of the placement of these appliances as well. These costs can fall into labor and installation. 
Disclaimer: If you are not familiar with similar projects like this, let the experts handle it. You would rather spend extra dollars at the beginning of the project to let someone who has experience take it rather than pay for something to get fixed later in an accident.
With that said, if you are skilled and can handle a smaller outdoor kitchen project, you can save a good amount of the costs by giving up the labor and installation costs.
Costs can vary depending on what area you live in and what you want to install. Some higher-quality appliances may cost more to install as more go along with those types of pieces. Here is a better idea of what labor and installation costs might look like: 
| | |
| --- | --- |
| Sink Installation | $200 to $1,000 |
| Refrigerator Installation | $1,000 to $3,000 |
| Grill Installation | $150 to $350 |
| Patio Installation (20×20) | $1,500 to $6,000 |
Depending on where you live, you may have one more cost that is not tangible: a permit. This permit mostly holds permission to have extra water or gas lines with the sink and grill attachments.
This cost looks to be on the lower end of the average for around $500. Of course, this varies depending on how extensive your outdoor kitchen will be.
Your total costs may look around this:
| | |
| --- | --- |
| Basic Essentials | Advanced Luxury |
| ~ $5,000 | > $20,000 |
Do Outdoor Kitchens Add Resell Value?
A simple answer to this question is, they do! How much outdoor kitchens add to resell value depends on:
The quality of the appliances
The quality of the materials used to build items such as the countertops and floor
The quality of the labor that has been done 
The square footage of the outdoor kitchen
The style of the kitchen (modern, traditional, hybrid, etc.)
If you take the time to invest in more excellent pieces, they will stay intact longer and help with the value of the resell later. Style is something that may be tricky because, with the times, it is constantly changing.
Some style pieces may be deemed more worthy with the material used. Ultimately you want to implement one that ties in with the rest of your space.
Outdoor kitchens with an island, extra design elements, or luxurious backsplashes can add a great deal to resell value. Different design elements include a waterfall, ceiling lights, artistic components.
If you can take a plain backyard and transform it into an outdoor kitchen that looks much more spacious, that will also be considered in the resell value.
In terms of labor work, if someone did good work, it will show throughout the years, and the same goes with the lousy job. Having quality labor work might not be immediately noticeable, but it will shine through when it matters.
A good laborer also knows when to use more expensive pieces and when not to. In some kitchen areas, expensive material may not be necessary, and you do not want to spend in that specific category. Your laborer should carry out your vision in the reasonable budget you put forth.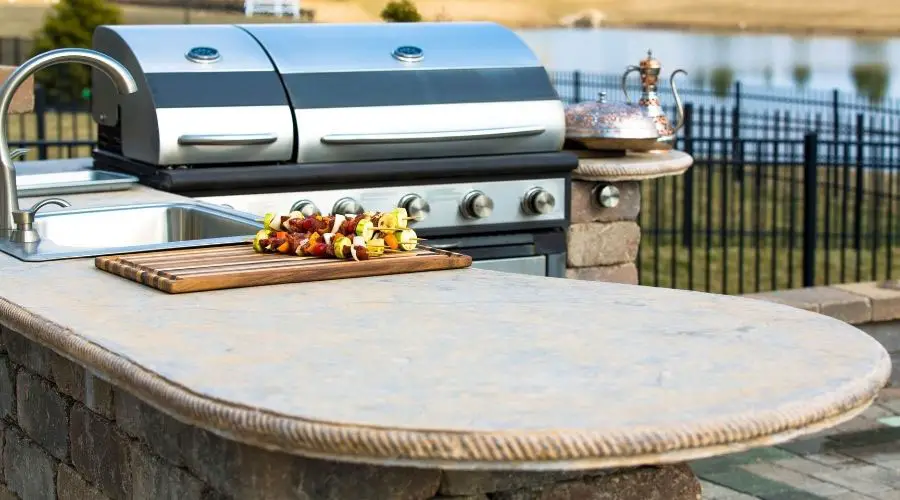 Do You Have to Cover an Outdoor Kitchen?
We recommend you cover your outdoor kitchen for the longevity of the structure and appliances. Since you will be putting money and time into the outdoor kitchen, you want to make sure you preserve its value for yourself first and others if you are looking to sell the place eventually. 
When you first glance at a kitchen, it is one of the determining factors in how much of the original value is kept of the outdoor kitchen.
Providing a cover is one step in ensuring the kitchen stays intact from any weather or climate changes. You can cover it by purchasing equipment explicitly designed to help with this.
The protection cover can be something you install above your outdoor kitchen. It can also be a waterproof or weatherproof cloth that you drape over certain appliances that may deteriorate if it comes in contact with rain or harsh weather. 
These covers are to protect from rain and snow and the sun. The covers can help block out the sun for you while cooking or grilling, but they can also help preserve the material. If exposed to direct sunlight, some materials can cause problems or deterioration.
An example of a cover that was listed above could be an awning. An awning comes in two primary forms:
Permanently fixed awning
Retractable awning
A fixed awning is attached to a sturdy and comes in many forms, patterns, styles. A retractable roof can be pulled in and out and comes in a piece of weather-resistant fabric.
The type of awning your outdoor kitchen needs can be up to you and how you will structure your kitchen.
Another type of cover is a more extensive pavilion than the awning. A gazebo requires constructing a structure of your choice of the material above and around the outdoor kitchen. Usually, it is built with wood, but there are a couple of other materials too. 
Things to Keep in Mind While Building an Outdoor Kitchen
Building something new, especially from scratch, can be very exciting. However, you want to keep a few key things in mind to make sure you stay within whatever budget you have. Here are a few tips you can incorporate in your journey of building your dream outdoor kitchen.
1. Figure Out What You Want
Do you want your kitchen to be a place where you only cook or a hangout place as well? Figuring out the answer to this question can help guide you in your mission to build what you want.
If you want a versatile space for more than just cooking, you will need to look into pieces such as storage areas, cushions, rooms to sit, maybe even a wifi-extender!
2. Make a Plan
List out all the necessities, items worth splurging on, and then objects to consider if you have extra money remaining.
Consider assigning numerical values to these categories, starting with the necessities and then working your way down. This step may not be as exciting as the actual process of building your kitchen, but it can deem helpful. 
3. Gather Locations of Your Supplies
Whether you like shopping for supplies and appliances in person or online, having one place where you have all of the information can be helpful to refer to.
List out the places you want your supplies from and see if they align with your budget or style. If the locations do not fit your budget or style, you can scratch the place off the list and focus on sites that cater to your needs.
When looking for these pieces, understanding your environment is another thing to keep in mind. If you live somewhere with a lot of humidity, make sure your furniture or counter spaces reflect that.
Invest in pieces that can function adequately with the levels of weather you have. Try to look for details that can accommodate you for all months.
4. Keep a List of All Contacts
It should be a one-stop for all of your communications regarding the outdoor kitchen. This will include someone who will construct your structure, install the appliances, help you with the vision of the kitchen, etc.
Now, this could be one person, or you could have a different contact for different parts of your kitchen; it is entirely up to you. 
Make sure you hire someone who knows the ins and outs of the labor required and the permits and rules that come with an outdoor garden.
5. Style it Cohesively
To ensure that this kitchen will add value to your home, whether you are looking to sell or not, you want to make sure it flows with your home and your outdoor space.
If your house is modern and sleek, you want to ensure your outdoor kitchen reflects that. Or, if your backyard has a garden with many flowers and plants, your outdoor kitchen could extend that vision through your style of appliances and structure. 
Is an Outdoor Kitchen Worth the Hype for its Cost?
Since you are in complete control of how elaborate your outdoor kitchen will be, it is worth it for the cost you will be paying.
If you research and plan the right way, you will know the exact costs you will sign up for. You will not have to worry about any hidden fees.
You will also be getting so much more than an outdoor kitchen. You get another environment to cook and grill, allowing yourself to breathe more fresh air and spend time in the outdoors. You get the additional home value, and if you resell, it will reflect that. 
You get the pure advantage of having a unique part of your home to personalize it for friends and family.
Building something from scratch also holds such special meaning, and you might find yourself spending most of your time in this space!
Sources: