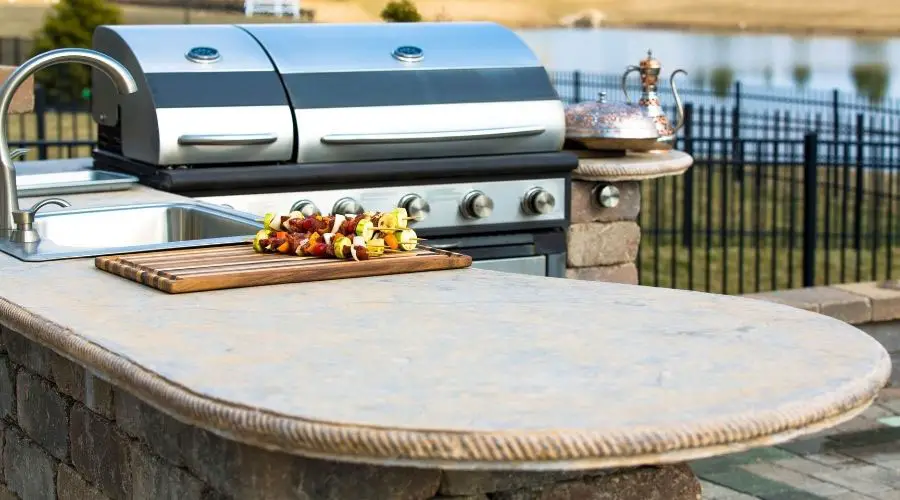 For those who do not know, outdoor kitchens are as they sound. The coolest part about them is that you can customize them to your liking and create the exact environment you desire.
Whether that environment is laid back or decked out, there are no rules to an outdoor kitchen. It is your space to cook and enjoy food in the lovely outdoors. So, how much value to your home does an outdoor kitchen add?
Adding an outdoor kitchen can increase a home's value between $5000 to $15,000, depending on the design and equipment you use.
An outdoor kitchen as part of a more extensive outdoor entertainment setup can add $25,000 or more appraised value.
Imagine having a barbecue or an outdoor party, and there is a fully furnished kitchen accessible from the backyard. These features can attract potential home buyers and help them want something they did not know they could have. 
Outdoor kitchens are uncommon, adding a unique factor to your house and making the area look more prominent. They can get you a good percent investment return, more if you live in a consistently warm area.
What's the Average Cost to Build an Outdoor Kitchen?
When you think of an outdoor kitchen, some people see a basic structure with necessary appliances, whereas others see it as a luxury piece.
The best part? It can range anywhere from $5,000 to $50,000+. These costs include appliances, installation, and flooring. 
Some popular items included are grills, sink/bar, refrigerator, side burners, and storage. Things like a patio table, outdoor TV, and patio heaters can add to the outdoor kitchen cost and the value. 
Customizations can quickly be racked up and make the price go up, but in the end, it is your kitchen and should reflect you.
Costs that many people look over are installation and infrastructure costs. All homes get built differently, and you will be adding the sink attachment costs to the actual sink itself.
Labor for hooking up the water to the outdoor sink and the materials needed are costs that people overlook. The actual expenses will be associated with the refrigerator, grill, and other appliances you choose to add.
So remember, when you are picking out what devices you want, you keep these often-overlooked costs in the back of your head.
If you're going to build a massive structure around and above your kitchen, general construction costs can range anywhere from around $7,500.
Cost Breakdown Example (Lower-end Outdoor Kitchen with Minimal Additions:)
Component
Cost Breakdown
Floor
Concrete blocks will be around $2 per square foot.
Appliances
Grill will be approximately $1,000 to $1,500.
Countertops
For tile: about $15 per square foot.
For granite: about $30 per square foot
Sinks
A sink will cost about $500 (plumbing costs will vary and get omitted)
Cost Breakdown Example (Higher-end Outdoor Kitchen:)
| Component | Cost Breakdown |
| --- | --- |
| Floor | Stone will be around $40 per square foot |
| Appliances | Grill will be about $4,000 |
| Countertops | Resin can go more than $100 per square foot |
| Sinks | A sink will cost about $1000 or more (plumbing costs will vary and get omitted) |
| Ceiling Structure | Gazebos will range from $4,000 to $9,000 |
| Storage | Additional storage cabinets will cost about $500 |
Adding design, color, better material, better appliances, style, accessories, and more durable pieces can add to the prices and shift the kitchen to a high-end outdoor kitchen.
While getting the best deal is always exciting, you must remember that this is an investment and something you will use regularly. 
You want to look for appropriate pieces for you and be reliable as you want to be safe.
A Few More Options Available
All these costs are coming from if you want to build your outdoor kitchen from scratch and how you envision it exactly. There is something for those who are not so good are coming up with structure and design. 
1. Prefab Kitchens & Ready-to-Assemble Kits
A new and upcoming form of building an outdoor kitchen is prefabricated or "prefab." Prefab kitchen kits are an easy and unique way to get your outdoor kitchen together with minimal thought and effort in planning. 
These pieces get grouped to create a complete outdoor kitchen and come in together. You want to be careful about the quality of material you get with these prefab kits.
The prices and effort of individual items are there because you get to choose the quality you want for your paying price. 
You won't be shocked by what you get because you know what you are signing up for. Prefab kits are suitable for people who are not looking to make this a good investment in their house value. 
Because they come shipped to you in one piece, these kits can become damaged on the way to your house. The damaged equipment may end up being a hassle to repair or correct.
Note: Make sure that you check off all the things you are looking for if you are looking for a prefab kit! 
Another option you have is ready-to-assemble outdoor kitchen sets or "RTA." These come straight to your house, and you can be grilling a steak the same day. These are pre-finished, so they need a little setting up to do. 
All you need is a few hands and a few hours to put together the construction process. They are simple, easy, and typically good quality, but just like prefab kitchen kits, you want to do your research beforehand to see what best fits your needs.
2. Appliances & Structure Options Available
Some other things that can affect the cost are looking to place the outdoor kitchen. If you are placing the kitchen against a wall, you will have to invest in materials that will be safe such as brick, stone, ceramic, or glass. 
As you can see, some of these materials may be pricer than others. It comes down to how you want it to tie in with the rest of your home's aesthetic.
If that wall is a shared wall between the house and the new outdoor kitchen, you will have to use materials that can be safe and compatible with both partitions. 
Going for a more traditional look can give you a cheaper cost. But style is becoming more meaningful, and you may want to look into a more contemporary/modern look.
You need three main things for an outdoor kitchen area:
You want to make sure that the spacing between these three items is appropriate for you and your space. Other appliances will add cost, and more room gets taken. 
Some other popular appliances can include a pizza oven, a deep fryer, an ice machine, and a refrigerator. It depends on what type of cook your household has and what kind of activities your guests may indulge in.
You can combine the three major appliances into a shape of your liking. You can create a U-shape, an L-shape, or leave it as an island. People may choose to keep the kitchen closer to the house, a perimeter kitchen, for numerous reasons. 
You run most of your utilities from your house, so keeping your outdoor kitchen closer can yield a better cost. Sometimes your roof can act as a shield from weather conditions, and you won't have to build a roof over your outdoor kitchen. 
You may also choose a satellite kitchen, which acts as an island in the middle of your patio, acting as a lone entity. Benefits of this may include better design and a cleaner look, but your costs to run this type of kitchen will be higher than a perimeter kitchen.
How Long Do Outdoor Kitchens Last?
An outdoor kitchen is an investment that can last about ten years if taken care of the right way. You will have to take extra precautions compared to your indoor kitchen. 
Covering necessary appliances, cleaning regularly, and maintaining the area with proper tools will help you keep your outdoor kitchen stable for much longer.
Just like any investment, you have to keep up with maintenance. Otherwise, it will deteriorate. 
How Can You Take Care of Your Outdoor Kitchen?
Taking care of an outdoor kitchen may not be easy, but it will make it last and keep it safe. You will thank yourself for keeping up with the cleaning because the value of the kitchen will show for it.
People may think they can use the outdoor refrigerator as a storage unit for their food, but it is wiser to keep its hands off until it becomes time to use it frequently again.

I have been inspecting homes for more than a decade now, and most if not all of the houses with well-maintained outdoor kitchens turned out to have high home value.

Here are some of the most effective tips that I recommend homeowners with outdoor kitchens:
If your grill is not in use, turn the gas line off. 
Drain your sprinkler system before the colder months.
Unplug your refrigerator and clean out everything stored there.
Store any patio seat cushions, table cloths, chairs away from open air. 
Pro tip: People may think they can use the outdoor refrigerator as a storage unit for their food, but it is wiser to keep its hands off until it becomes time to use it frequently again.
Investments in Your Outdoor Kitchen
Investments that can safeguard the expensive machines and materials will be worth it in the long run. An example investment you can make in keeping some of these appliances last long is an awning. 
Awnings are on the lower end of the cost budget to help shield appliances from the sun and rain. Sometimes the sun can dull the appearance of the paint or element on your items. You can invest in an umbrella for your patio table(s). 
A waterproof storage tub to store cushions if it is to rain. You want to make sure that anything made from a cloth is at a healthy distance away from the grill and any gas appliances.
Keep the patio chairs and cushions set up at least 10 feet away from flames. Ensure that the area is clean and no items are lingering on the floor where it can be easy to trip. 
Taking these precautions will make your outdoor kitchen safe and ensure the value stays high, which is what you ultimately want.
Permits & Rules
Now that you have the materials and structure needed for building an outdoor kitchen, what about the rules and permits?

If you find yourself on the lower budget end of the outdoor kitchen where no electrical or plumbing is required, you will not need a permit. 
As you add grills and things that require an electrician's or plumber's work, you will need to get your state's permission.

Another thing to keep in mind when it comes to rules is following and respecting property lines. When building something new, you want to be mindful of the location of your new kitchen in regards to neighbors and the town's property lines. 
Why Should You Build an Outdoor Kitchen?
It would help if you built an outdoor kitchen because it's convenient, unique, allows for more time in the outdoors, and, best of all, adds a lot of home value. It's convenient because you can access everything you need outdoors right where you are sitting. 
You'll be the best host by having everything on hand and being ready to get the party started! You'll find yourself spending more time outdoors and taking in nature's beauty with your family and friends, and maybe even by yourself! 
An outdoor kitchen is a perfect way to express yourself and how you like to have fun.
Adding a movie theater if you love movies or a snow cone maker if you're a child at heart is just a couple of ways you can make your space unique and authentic to you. Most of all, you'll get to enjoy great food outdoors. 
Sources