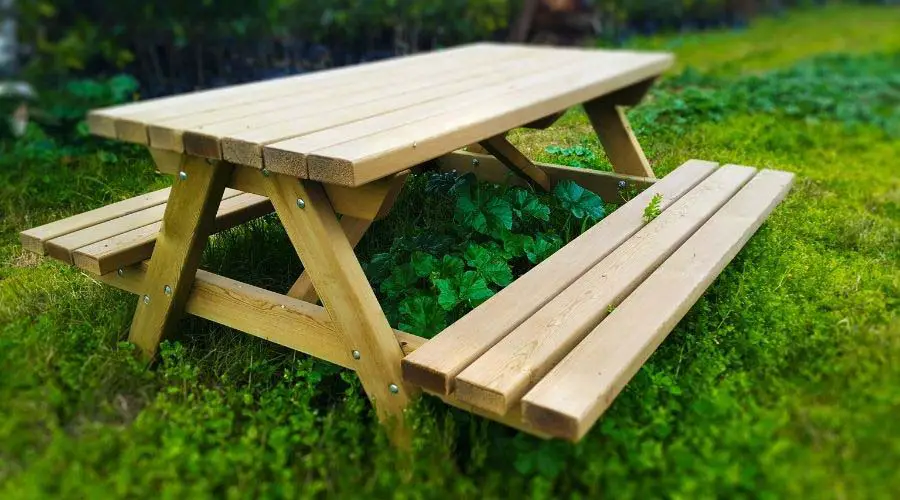 You will need to know the dimensions of a picnic table whether you are building your own or want the perfect tablecloth for a family vacation. But are all tables made the same?
Picnic tables have standard dimensions, depending on the number of adults they will seat. Most picnic tables in the US allow for 24 inches of space per person.
So, a table for six people will be 6 feet long (3 people per side), and an 8-person table will be eight feet long.
Both tables should be about 29 inches in width, have a seat height of about 17 inches, and a table height of about 29 inches. 
This standard generally applies everywhere, but there may be some instances where the dimensions vary. This article will go through all the specifics to help you get the best results on your project. 
A Brief History of Picnic Tables
Although most tables come in a wide variety of sizes, there is a standard for picnic tables. This standard was set by the original inventor of the picnic table, Charles H. Nielsen of Kreischerville, NY.
Nielsen filed the patent for the first picnic table back in 1903. At the time, most Victorian Era families who wanted to explore and enjoy nature would do so by grabbing a blanket and a basket of food and heading to a grassy area. 
With the rise of the automobile, it became commonplace to venture further from home on these nature trips. Charles quickly realized that not everyone wanted to sit in the grass with nice clothes. 
So to protect their clothes and bodies from wet grass, ants, and biting insects. Nielsen wanted a table that could be folded up and transported.
He also wanted to keep the family feel by having benches with people sitting on both sides of the table. 
Charles drew his inspiration from the X-shaped sawhorse tables of the time, adding a cross-bar and benches. 
Local and National Parks realized the genius in this invention, as it was cheap and easy to build while being quite sturdy and comfortable.
So, the 'picnic groves' of the early 20th Century soon became adorned with Niesen's tables.
Today, many of the materials used have changed, but the design has remained mostly the same, even if they are rarely collapsible today.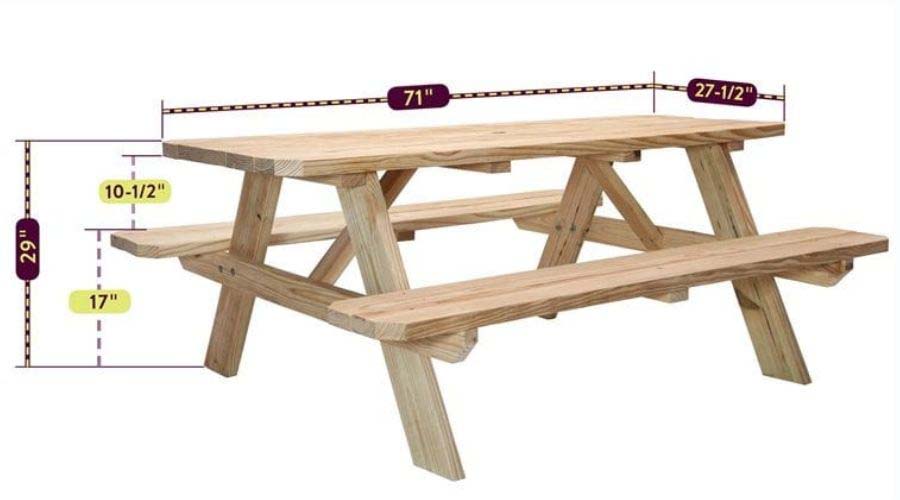 What are the Dimensions of a 6 Foot Picnic Table?
A 6-foot picnic table is generally considered standard in the US. The table seats six adults, with three on each bench. 
Each adult has a space of about 24 inches to sit. The gap between the tabletop and the bench is approximately 10.5 inches. This space is considered adequate for the average adult to get in and out.
The seat is about 17 inches off the ground, which provides a comfortable height for most adults to sit down and get up from. The bench seats are about 12 inches wide. 
The tabletop measures 72 inches long (the same length as the benches) and 27-29 inches wide. 
The tabletop sits about 30 inches off the ground, ideal for eating and serving. 
The legs supporting the table are usually spaced at about 52 inches apart to allow people to sit and stand up easily without hitting their legs on the supports.
Historically, builders used 2×6 wood boards to construct the tables, giving them a thickness of 1.5 inches. Today, however, they are made with a wide variety of materials. So there is no standard thickness for the benches or table.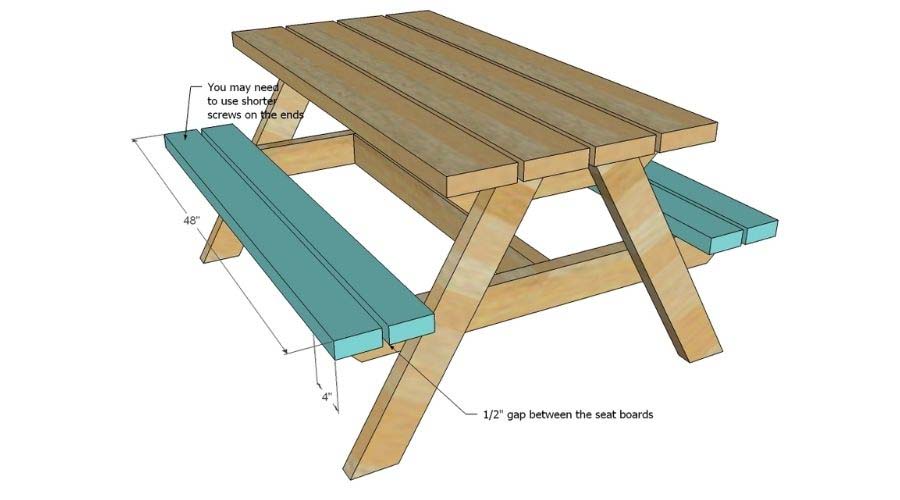 What are the Dimensions of an 8 Foot Picnic Table?
An eight-foot picnic table has the same considerations as the standard 6-foot table. This standard means that the heights of the table and benches remain the same distance from the ground. 
The only difference is the length of the table and the benches, which are increased by 24 inches to accommodate one more adult on each side to sit a total of eight people. 
8-foot tables still use only two cross legs for support in most cases. Unless they hold an umbrella, they might have three. 
What are the Dimensions of a Children's Picnic Table?
A children's picnic table seats six people. However, this time, the space is given to each individual is 16 inches instead of 24. 
This decrease means that the table scales down to a ratio of 2:3. So, the total length of the bench and table is 48 inches or 4 feet. 
The width of the tabletop reduces to 22 ¾ inches. The seats are 12.5 inches instead of 17 inches from the ground. 
This distance provides the ideal comfort and practical use for the average child, keeping all other design considerations the same. However, keep in mind that some tables are made a tad different from each one.
What Size are Picnic Tables in National Parks?
If you are heading to the National Parks for camping and hiking this year, you may be thinking of bringing your table cloth. So you will need to know the dimensions of the tables in the park. 
Rest assured that the dimensions in our National Parks are about the same as the standard dimensions we listed above. 
The Park Service has kept this standard because the "average of the dimensional limits of the human frame and uniformity of a sort in the distribution of the hinges thereof have long since determined certain invariable dimensions for the park seat and park table."
They have mandated that all tables have a seat height between 16 and 18 inches from the ground. The top of the table should come to 28 and 30 inches from the floor.  
While the Park Service states that there should be a 1 to 3-inch gap between the table and bench, they do not fix any length. 
This standard means that tables in the National Park will vary between the 6 foot or 8-foot lengths, with 6 feet being more common. 
If you are making or buying tablecloths for your trip, maybe plan for the 8-foot length, and fold over what you don't need for the 6-foot tables. 
What Size are Picnic Tables in City Parks?
We could not find any national rules or state or city parks regulations regarding picnic table size. However, one of the largest manufacturers of commercial picnic tables for local governments sells tables in the length of 4, 6, 8, or even 10 feet. 
The most common tables in city parks will usually be made with expanded steel mesh and steel frames. These get coated with protective paint that keeps them cool and is not prone to vandalism. 
While they are solid and tamper-proof, they are not the most comfortable. If you plan a picnic at your local city park, you might consider bringing a blanket to put down on the bench and a thick cloth for the table itself. 
What are the Most Common Materials used to Make Picnic Tables?
While the first picnic tables were initially made from wood, we have many materials to create them today. Below we will cover those different types and discuss some of the pros and cons of each.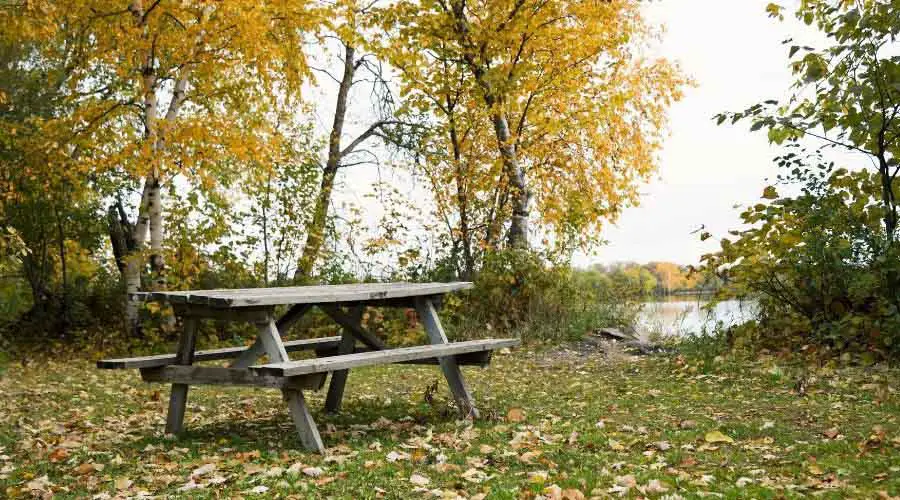 1. Wood
Wood tables are easy and cheap to build and can be long-lasting depending on the wood and finish used. 
However, wood tables are prone to decay when exposed to water, insects, and UV light. Furthermore, as you may have noticed when sitting at one, they are also prone to vandalism. 
Wood tables tend to hold water on their surfaces and can take a while to dry after a storm. They also require refinishing every few years. 
So, while wood tables are still the most common for residential use, most parks have moved onto more robust and long-lasting materials.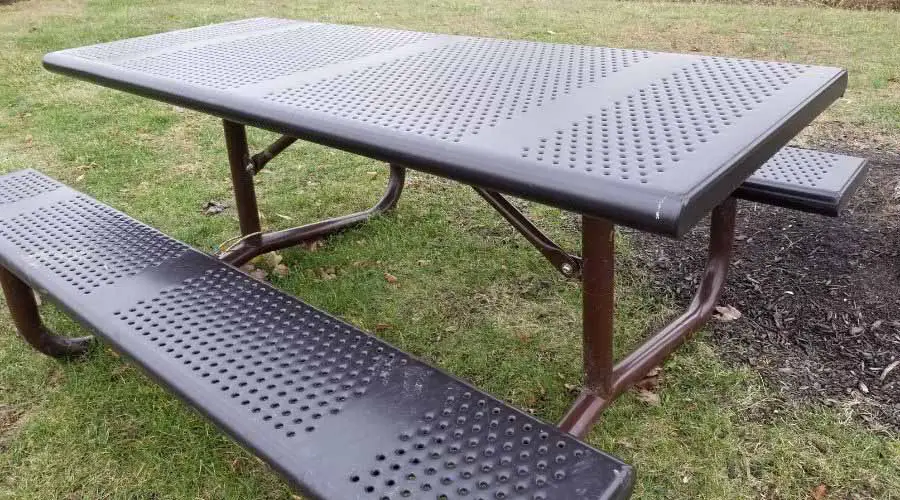 2. Metal 
The most popular type of table today is the metal picnic table. These provide unmatched strength and durability while still being light and easy to move. 
The first generation of metal tables used aluminum, stainless steel, or galvanized steel to prevent rusting.
These provided more strength and protection from vandalism than wood tables and did not need regular maintenance.
However, steel tables still had water pooling issues and were prone to heat up in the summer. 
So, the next generation of metal tables is known as expanded steel mesh. These have a honeycomb-like texture that leaves most of the space open. 
They are incredibly durable while still being lightweight. Metal tables get coated in a thermoplastic material that looks like rubberized paint to protect from rust and corrosion. This coating solves both the issues of pooling water and high summer heat.
This coating is impervious to UV light and all weather conditions. The layer also holds up well to vandalism and is easily repaired. Lastly, it comes in a wide variety of colors. 
The cons to a perforated metal table are that they are not as comfortable as other table types and have a slightly irregular surface on which to rest drinks and food.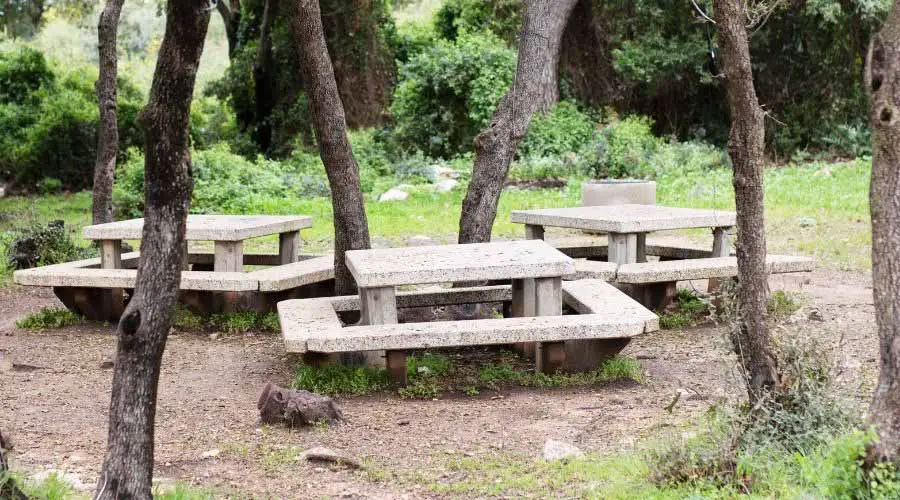 3. Concrete
Concrete has been used for picnic tables when theft and corrosion are issues. They are relatively cheap to build and will last many decades under ideal conditions. 
You most frequently find concrete tables in city parks where vandalism and theft are an issue or by the ocean where corrosion prevents the use of other materials. 
The concrete can be polished or painted to give it an attractive appearance. 
The primary downsides to concrete tables are that they can get quite hot in the summer and usually are not visually pleasing.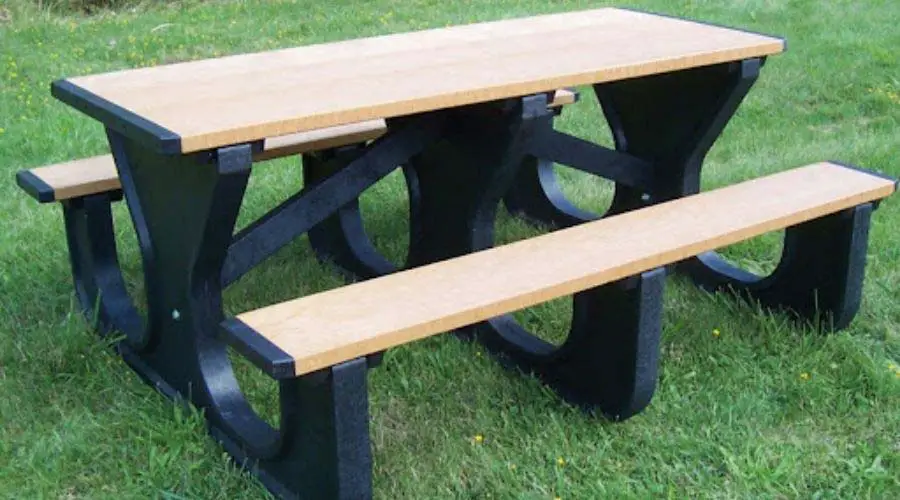 4. Plastics & Composite
Today, more and more picnic tables are from plastics and wood composites. These materials have a lot of wood's aesthetic and heat-insulating properties but won't rot or require maintenance. 
The other bonus of these tables is that they can be made from recycled materials, helping to create circular economies. 
Since, like wood, they are prone to vandalism, they are most famous for residential use. 
What is the Best Wood to Use for a Picnic Table?
Choosing the wood can be a daunting task if you plan to build your picnic table. The best woods to use for this would be the same woods you would use for a deck.
You want to use wood for deck building as it will be able to stand up to weather and environmental conditions and can be stained or treated to match the rest of your house or deck.
The most commonly used are redwood, cedar, and pressure-treated pine. All three are resistant to mold, mildew, and insects.  
How Many Wood Boards Do I Need to Make a Picnic Table?
Most DIY picnic tables are made using a combination of 2×4's and 2×6's. The 2×4's are for the battens and the cleats (see picture), and the rest is from 2×6's.
This project is relatively simple and requires few cuts. It is an excellent project with kids, as you can do the work with hand tools and a power drill. Plus, they are a great community service project.
The following chart provides the materials you need to build a 6-foot long picnic table:
| Board Size | Length | Quantity |
| --- | --- | --- |
| 2×4 | 8 foot | 2 |
| 2×6 | 8 foot  | 1 |
| 2×6 | 10 foot | 1 |
| 2×6 | 12 foot | 5 |
You will also want to purchase sixteen 3 inches long carriage bolts of about ⅜" diameter. You will use this to secure the seat supports and battens.
To attach the seat and tabletop planks, use 2 1/2″ deck screws or exterior wood screws. Pre-drill the holes using redwood to prevent them from splitting. 
What Stain or Paint should I use on a Picnic Table?
Again, use the same products for your deck to stain or paint your wood picnic table. These includes:
Oil-based deck stain 
Tinted Polyurethane sealants
Acrylic deck paint
Water-Based deck paint
Water repellent wood preservative
 You can use all these products, but the wood preservative or the oil-based stain are often preferred as they are easy to apply and will not crack or flake.
If you are more worried about the table stained from foods or spilled drinks, you may go with polyurethane. 
It is best to wait about three months before staining it to give the wood ample time to dry out after using pressure-treated lumber.
No matter which you choose, you will have to refinish it every few years just like you would your deck. You can follow the same procedure.
Start first by washing it with a pressure washer to remove the old finish and any mold or mildew. Then allow it to dry and fill any holes with wood filler before sanding.
Lastly, apply a fresh coat of sealant or finish to restore the look and weather protection. 
Hopefully, this has helped you design your new picnic table or buy the proper cloth to cover an existing one. 
Final Thoughts
Picnic tables usually come in different types and sizes, and they will vastly vary depending on what you need and the amount of space you have to set up your picnic table.
Either for aesthetics, or you want to recreate your park in your backyard, a picnic table will be something your family will love!
Sources