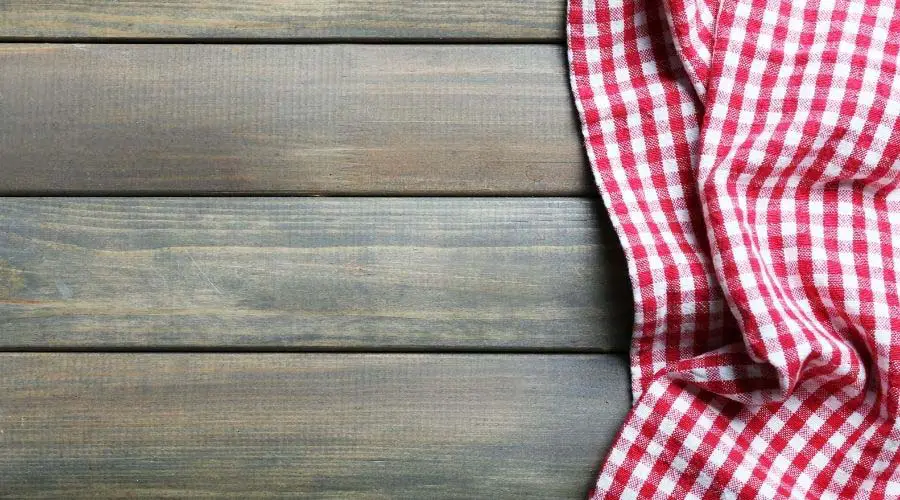 A tablecloth is what gives any picnic table its exterior outlook. Finding the right color shades and flower pattern matters. Nonetheless, that is not all. Finding the right size is equally important.
Therefore, when shopping for a tablecloth, prioritize getting a fitted one. The cloth itself can be whatever color or design you wish, but if it does not cover the surface well, that does not matter. Here's how to calculate the tablecloth size for your picnic table. 
Choose the tablecloth size depending on the shape of your table. For a round table, the ideal cloth size = (Table diameter + Drop x2). For a rectangular table, the tablecloth size = (Length of table + Drop x2) + (Width of table + Drop x2). 
We'll have a profound discussion on the ideal tablecloth size and drop. In addition to these parameters, other critical insights are worthy of knowing, such as the size of the tables. Read on. 
Standard Picnic Table Dimensions
There is a wide array of picnic tables, all sized and shaped differently. Nonetheless, there is a standard size that typical picnic tables have. For most of them, the height from the ground is usually approximately 28-34 inches. 
Most of the manufactured picnic tables have a height of approximately 30 inches. Nonetheless, you'll find other picnic tables on Amazon that measure less in size. Hence, it all depends on the manufacturer. When buying, choose the one that suits your preferences. 
Regarding length, the standard picnic table is approximately 6 to 8 feet. Also, most of them will measure about 20 to 30 inches for their width. 
Many manufacturers make prefab picnic tables, such as the Benewin Folding Wood Table. The design and shapes are also different, with manufacturers keen on innovation. Hence, it may be challenging to find the ideal standard picnic table. 
How Tall is a Picnic Table?
As earlier stated, the length of a picnic table will depend on the manufacturer. Nonetheless, if you have been around the park, the picnic table that you have seen is the standard type. The height of such a table is approximately 30 inches. 
The height of the benches from the ground is approximately 17 to 18 inches. Such dimensions are ideal for the average adult to sit comfortably without strain. 
The table that you see in picnic parks is typically six feet in length. It can hold up to a maximum of eight people.
There are larger tables that measure up to eight feet. Such are designed to hold up to twelve people. 
What Size Tablecloths Do I Need?
You have to correct the tablecloth size; otherwise, your picnic table will be unattractive. Here, we have created a quick and easy chart for better understanding. However, if you want the technical terms, look down below.
| Table Shape | Tablecloth Size | People Seated | Fits Table Size |
| --- | --- | --- | --- |
| Square | 52 x 52 | 4 | 25″ x 28″ to 40″ x 40″ |
| Oblong (rectangle or oval shape) | 52″ x 70″ | 4 to 6 | 28″ x 46″ to 40″ x 54″ |
| | 60″ x 84″ | 6 to 8 | 36″ x 60″ to 48″ x 72″ |
| | 60″ x 104″ | 8 to 10 | 36″ x 76″ to 48″ x 92″ |
| | 60″ x 120″ | 10 to 12 | 36″ x 94″ to 48″ x 104″ |
| Round | 70″ round | 4 to 6 | 20″ to 58″ diameter |
We'll look at the ideal tablecloth size and calculate the exact size you need. 
For a round table, you first need to measure the diameter of the table. Using a tape measure, check the distance from one end of the table to the other across the surface.
Next, determine the table drop you intend to give to your table. Multiply the tablecloth drop by two to obtain the total length of the tablecloth drop. 
Here is the formula: Table diameter + Drop x2
Example of this Formula:
Say, for instance, you have a round table measuring 64 inches. You have also decided to have a table drop of 6 inches. Hence, the total size of tablecloth that you need equals to: 
64 inches + 6 inches x 2 = 76 inches. 
Similarly, say you want to find the ideal tablecloth size of a rectangular-shaped picnic table measuring 60 inches by 30 inches.
Also, assume that you intend to have a tablecloth drop of 6 inches. You will need to find the area of the table while also factoring in the size of the table drop. 
What is the Solution?
For the table described above, the ideal dimensions = (Length of the table + drop x 2) + (Width of the table + drop x 2)
Hence, dimensions = (60 inches + 6 inches x 2) + (30 inches + 6 inches x 2) = 72 inches x 42 inches. 
How Much Overhang Should a Tablecloth Have?
The ideal tablecloth overhang for a standard picnic table should be approximately 6 inches to 8 inches. If you are looking for a casual event table cloth, these dimensions are the most ideal.
Nonetheless, if the tablecloth is for a formal event, it is imperative to have a longer overhang. 
In the case of a formal table, the ideal overhand is approximately 15 inches. Ensure that the overhang is not too big to make the table sport an ugly appeal. 
The essence of an ideal size overhang is to dress the table making it ready for serving a meal. You can still do food over a plain table without a tablecloth.
Nonetheless, this will set a casual brunch dinner. For a formal dinner, having a tablecloth is a fundamental prerequisite. 
Table Linen Considerations 
We earlier mentioned that you could find tables of different dimensions depending on the manufacturer. As a result, table linen manufacturers make range-based tablecloths that fit in all of these tables.
Depending on your table size, select a tablecloth that is within the range of the table's dimensions. 
It will help if you are keen on choosing the linen that leaves those above 8-9 inches. Such a tablecloth drop will not restrict your legs as you sit during dinner. 
You may also find that the standard designs do not fit your table size. For instance, your table could be more comprehensive than the average size picnic table. In such a case, consider buying multiple runners. Arrange them perfectly to fit the size of your table. 
If your table is oval-shaped, a rectangular-shaped tablecloth is ideal. It will perfectly fit the corners and have a significant drop to cover the sides. 
Lastly, be innovative in the choice of the colors of the tablecloth. Match different colors to set your picnic table uniquely depending on the mood that you are in for the day. 
Conclusion
Picnic tables are best covered with a tablecloth, primarily if used to serve a meal. While there are many essential factors that you need to consider when selecting a table cloth, the most cardinal is getting the size right. 
You must consider not only the top size but also the desired drop. It shouldn't prove an arduous task if you think the above-provided hacks. 
Sources