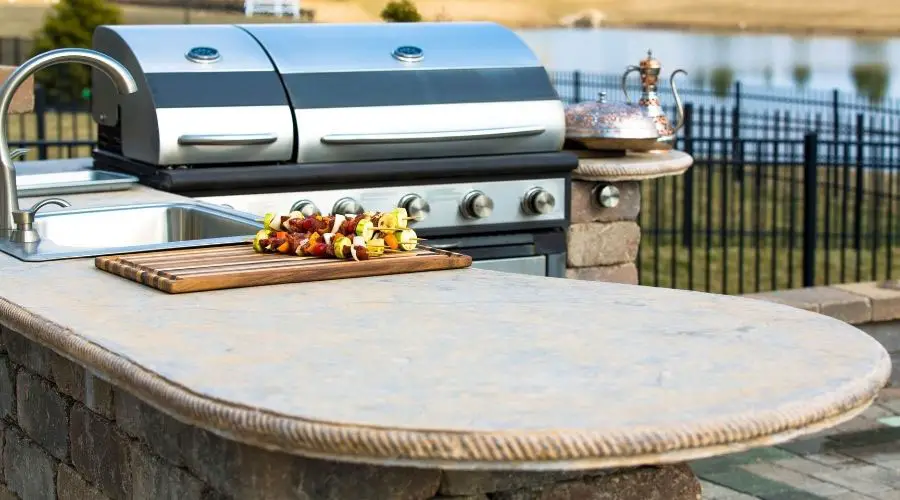 Think of a built-in grill as the ultimate showpiece in your backyard. If you make an excellent choice, it will be a worthy outdoor kitchen investment.
Many factors affect the choice of a built-in grill in any outdoor kitchen. Below are some of them.
Your needs and preferences
The available outdoor space and design
Local building codes
Your budget
The size of the grill
The brand reputation
Your fuel source
The grill materials
The grill design and features
It would be wise to pay close attention to every aspect of a built-in grill before you buy and install it. That is because you cannot easily dismantle and move it around if you do not like where you place it, how it looks, and how well it performs. Therefore, this guide will help you make the correct decisions by providing information on essential factors.
How Do I Choose a Built-in Grill?
1. Your Needs & Preferences
When shopping around for a grill, start by writing down your needs and preferences in order of priority.
Research shows that 52% of Americans grill as a lifestyle while 40% do so as entertainment. So, that is a valid question. It will help you determine whether you need a large and robust grill or something simple meant just for your family.
Also, think about whether you want your built-in grill to stand out in the outdoors or blend in. It also helps to decide on your preferred colors. In addition, you should think about how much work you want to put in to keep the grill in good working condition.
Prioritizing your needs and preferences is crucial because you will be the one spending your hard-earned money on the appliance in question. So, you must be happy with it and how it serves your needs.
2. The Available Outdoor Space & Design
How big is your backyard? It would be best to think about how well a built-in grill for an outdoor kitchen would fit into your existing design and space.
Your built-in grill can either stand out or blend in. But it must appear as if you designed your outdoor space with the grill in mind, or it could cause design complications.
Size Matters
You should try and solve the problem by settling on a grill whose size is suitable for the space you have. But you should also consider the overall design of your outdoor kitchen.
Suppose your built-in grill is too large for the space you have. In that case, you will have issues with movements around the grilling area.
Every time you cook, people and pets will be on top of each other. Someone could end up tipping something or bringing a flammable material near the fire. And before you know it, everything will be up in flames.
Consider Your Layout
Where you position your built-in grill and its shape may partly depend on the outdoor kitchen layout. So, you could opt to install a built-in grill within an island, in an L-shaped format, or along one side of an existing wall. You can also opt for a U-shaped or galley kitchen format.
Remember, your built-in grill should not compromise the landing area, which should be about 16 inches wide on both sides. It should also leave enough space for an insulated jacket to safeguard against heat and fire.
In addition, it should allow for enough headroom, so there is no possibility of fire, difficulties in opening and closing some of its sections, or discoloration of the patio cover above it.
Factor in Your Design Theme
Also, think about the existing design of the outdoor space. Is it rustic or contemporary? Do you prefer an eclectic or minimalist design theme? What is the current color scheme?
Ask as many questions as it takes to choose the right design of a built-in grill and its accessories. Generally, the larger your patio and backyard, the more freedom you have concerning the built-in grill you choose.
3. Local Building Codes
Before installing a built-in grill for an outdoor kitchen, you should learn about your local building codes. You may need a building permit in some places, significantly if you interfere with electrical or plumbing systems.
In cases where local building codes exist concerning outdoor kitchens, the regulations may determine the kind of framing material you can use around the grill, its height, etc.
Also, if you want to choose a built-in grill for an outdoor kitchen you are constructing from scratch, local building regulations may influence everything you do, not just the kind of grill you buy.
As a result, the placement of the built-in grill and the fuel you prefer to use may change based on those rules.
If you are not sure you are up to code, it will help to consult a contractor first.
4. Your Budget
How much money you have will affect your choice of built-in grills. The larger your budget, the more flexibility you have concerning the appliance you can get for your outdoor kitchen.
However, if your budget is limited, you may have to compromise and find what meets your most essential needs instead. Everything else you prefer becomes a luxury.
Typically, it costs an average of $1,000 to $3,500 to buy a built-in grill appliance. But some will cost much less, while others will cost much more depending on their quality, brand value, and accessories. So, in the end, you could have a built-in grill that costs anywhere from $200 to $5,000.
However, an appliance alone does not make a built-in grill. You also need to include the surrounding systems that will make it a more permanent feature. Built-in grills can be pretty costly unless you do some of the work.
For example, if you need to extend the plumbing, it could cost anywhere from $300 to $1,500. Also, you could need countertops, which may cost anywhere from $10 to $100 per square foot, depending on the material.
On the other hand, if you need a cover over the outdoor kitchen so you can protect your built-in grill and outdoor seating from the elements, expect to spend an additional $25 to $100 per square foot for it.
Due to the many variables that affect your budget, you may end up spending $2,200 to $12,000 or even more to ensure your built-in grill looks and functions the way you want it to. That also excludes the cost of the appliance.
5. The Size of the Built-in Grill
How do you measure a built-in grill? That is where your outdoor kitchen design and size considerations come in. It does not matter if you have a large budget.
If your space is limited, so will the size of your built-in grill. However, the number of people you will be serving regularly also affects the size of your grill. So, that is something to think about.
When choosing the built-in grill's size, you must factor in its length and width. And then, you can calculate its area, which includes the cooktop surfaces and warming areas.
If you have an average-sized outdoor kitchen space, you could opt for a built-in grill with an area of 400 to 500 square inches and three burners. That would accommodate about 20 burgers at any one time. And, thus, it would suit a medium-sized family.
However, if you have a more prominent family and prefer to entertain regularly, your grill should have at least 550 to 650 square inches to cook on and five or six burners.
On the other hand, if you need a small built-in burner, something smaller with around 360 square inches or so, and two burners would do.
Do remember, though; built-in grills must have a surround to keep the heat in and safeguard you from fire accidents. So, factor in that allowance of about 16 inches to choose the right size of the appliance in question.
6. The Brand Reputation
So many built-in grill brands exist. To be happy with your choice, it would help investigate different brands to determine their reputation and product quality.
Start by asking for recommendations from anyone in your social circle that keeps on raving about their grills. After that, you can research online and check out the review and ratings of the appliances you are interested in. 
If you have no idea where to start, go with sites like Amazon and read customer reviews. You can also read built-in grill round-ups by grilling experts discussing some of the current year's best products.
7. Your Fuel Source
Built-in grills require a heating source. And the kind of appliance you buy must be compatible with your preferred fuel source.
Multiple grill fuel sources exist. These include:
Electricity
Pellets
Liquid propane
Natural gas
Charcoal
So, you have plenty of choices to suit your situation. For example, suppose you use electricity as a source of energy. In that case, it would not make sense for you to buy a gas grill. You would need an electric grill or opt for something else like charcoal or liquid propane gas.
On the other hand, if you live off-grid, electric and gas grills may not make sense. But charcoal grills could work. And so would pellet grills, for that matter.
It is worth noting, though, that how your grilled food ends up tasting will largely depend on the fuel sources you use. Charcoal and pellet grills tend to impart a more natural smoky flavor onto the foods they cook. However, electric and gas grills impart less flavor of that nature.
Fuel sources also determine ease of use. Both gas and electric grills are much more convenient to use. You can quickly heat them and cook your food fast.
Switching them takes a short time too. Electric and gas grill temperatures are easier to control. In addition, they use a cleaner form of energy.
You cannot say the same for charcoal and pellet grills. While they impart a better flavor, they take a longer time to heat up and cool down. You have to have a constant supply of charcoal briquettes or wood pellets to use for fuel.
That said, you can adapt the charcoal appliances to accommodate firewood if you have that in constant supply. But it is still much harder to control the temperature of these kinds of built-in grills.
Cost is also an issue with some of the fuel sources.
Generally, gas grills will cost you about 30% less than electric grills in the long term. But if your home uses electric energy, converting to gas will cost you lots of money upfront.
However, you will save money in the long term. And the appliances cost more during purchase compared to charcoal and electric grills.
Also, consider that propane tends to be more expensive than natural gas even though it is cheaper than electricity. However, it produces double the heat. So, you need to calculate carefully before deciding.
Charcoal grills are usually much more expensive to operate in the long term than electricity and gas grills. But their upfront purchasing costs are much lower than both types.
8. The Grill Materials
When choosing a built-in grill for an outdoor kitchen, you also need to factor in the grill component materials. What materials your appliance is will determine its durability and maintenance.
In addition, you should consider the materials that will make up the surrounding areas of your built-in grill.
Some common materials include:
Stainless steel
Cast iron
Porcelain coating
Stainless Steel
Stainless steel built-in grills are not only stylish but are also easy to clean and weather resistant. In addition, they ensure the food keeps its natural taste after grilling. Also, the grills are easy to maintain and affordable.
Cast Iron Grill
Cast iron offers excellent heat retention and distribution capabilities, thus enabling food to cook more evenly while preventing foods from sticking to its surface.
However, cast iron components require regular seasoning to avoid rust. But when it is done correctly, cast iron becomes highly durable. Also, they can be pretty costly.
Porcelain-coated Grill
Porcelain-coated built-in grills distribute heat well and retain it for much longer. That makes it easier to cook food fast and at lower temperatures. In addition, they are rust-resistant, thus making them more durable.
But you have to clean them regularly with a soft brush to prevent the coating from chipping. As for pricing, it tends to fall in the middle of the pricing range.
Another issue to consider is the surrounding materials that form the sides and the base. These usually include stone, poured concrete, cement, brick, and cinder blocks, among others.
Their costs vary depending on the materials and the labor required for installation. But whatever you decide on, it should be fireproof and as heat-proof as possible.
9. The Built-in Grill Design & Features
Built-in vary in terms of design and the features they offer. For that reason, it could be not very clear to select something that you like.
First, grills vary in terms of shape. While the standard form is rectangular, other choices exist.
Kettle Grill
The kettle grill is one such grill. It is typically spherical and features one vent at the top and another at the bottom. Kettle grills get fueled by charcoal and are portable. But you can opt for a built-in version. If you have a small backyard, you could opt for this design.
Barrel Grill
The barrel grill is another option that looks like a large drum cut in half lengthwise. Most products of that nature are also portable and use charcoal or pellets.
But you can have them built-in if you prefer. But you must have the floor space to accommodate it. That said, due to its design, you could install it in a long and narrow outdoor space.
Kamado Grill
The kamado grill is also worth considering. It has an egg shape and a ceramic coating. Due to its revolutionary design, you can build it into small spaces regardless of the layout to cook a wide variety of foods at different temperatures. It also uses charcoal, but less of it than other types of grills due to its construction.
Built-in Grill Features & Accessories
These days, built-in grills have different types of cooking activities. For that reason, you can take advantage of the many accessories and features available to suit your grilling lifestyle.
Other features and accessories you should consider are:
Under-drawer attachments
Rotisserie kits
A starter or igniter
Cooking basket skewer
Grills can also offer smoking capabilities due to their excellent airflow mechanisms. You can cook your food over low heat for long periods to impart a smoky flavor when they do that. You will not have to buy an additional smoker to do that job.
It would help if you also thought about the heating capabilities and temperature controls available on any grill you consider. It is wise to also factor in the British Thermal Units (BTUs) your grill has.
A typical built-in grill should have anywhere from 75 to 100 BTUs per square inch of cooking surface – anything less than that could significantly increase your grilling times.
Furthermore, some grills enable you to set the appliance at a specific temperature and forget it, while others require you to do so manually while grilling.
Generally, gas, electric, and some pellet grills have excellent heat control features. You do not have to worry about overcooking or undercooking food.
You can also consider luxury add-ons like a built-in surround system.
Final Thoughts
Choosing a built-in grill for an outdoor kitchen is not something to do in one day. You must set a reasonable budget first and research to determine what is available in your price range.
Then, you can create a shortlist based on your needs and preferences before deciding on the best appliance for your needs.
Remember, the more features and accessories a built-in grill offers you, the more expensive it becomes. So, it would help if you set a reasonable budget or prioritize what is more critical to your grilling lifestyle.
But it never hurts to negotiate for discounts to make your money stretch further so you can get some of the add-ons you desire.
References