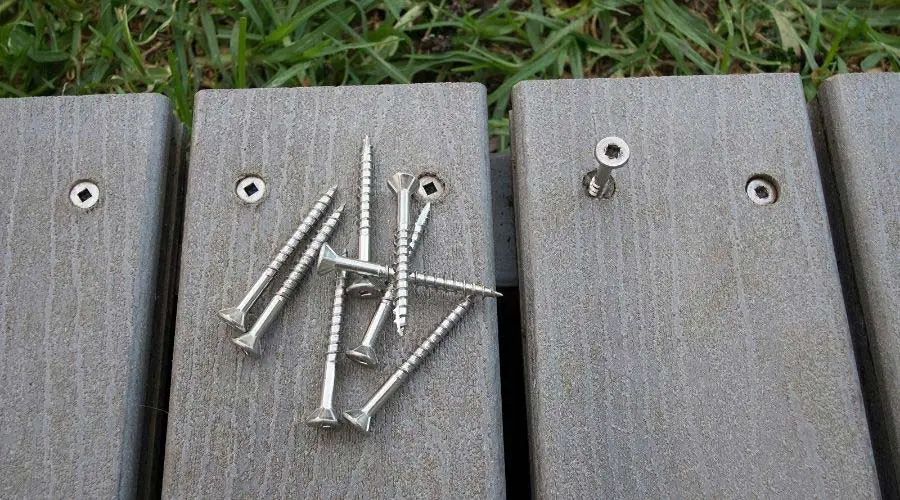 There are so many opportunities and reasons to repurpose building materials. Whether it's a concern for the environment, a need for robust and old-growth lumber or a desire to preserve a piece of history, re-using your old decking boards is always a good idea.
The sky's the limit when it comes to repurposing your old decking boards. Decking boards are strong, long-lasting, and highly versatile—the options for what you can create with this material range from decorative to practical. 
Here is a list of 15 ideas you can use to repurpose decking boards:
Patio table & bench
Bed headboard
Raised garden beds
BBQ platform
Garden shed
Window boxes
Pet ramps
Planter box
Recycling box container
Drain pipe cover
Portable drink cooler stand
Feature wall
Outdoor shower mount
Drink trough
Ceiling feature
Whether you're looking for ideas for a creative craft or to build a new shed, check out our list and find inspiration for your next project.
What Can I Make With Old Decking Boards?
Old decking boards can be a substitute for almost any project that involves the use of flat wood.
When working with repurposed lumber, it is essential to keep the following tips in mind before starting your project:
Remove any old nails, screws, or other hardware.

Clean with a steel brush, sand it down, or blow off any debris.

Inspect for insect infestations.

Be prepared to work with warped boards.
After making sure these are taken care of, you are now ready for your repurposing project! If you still haven't decided what to make with your old decking boards, here are a few suggestions: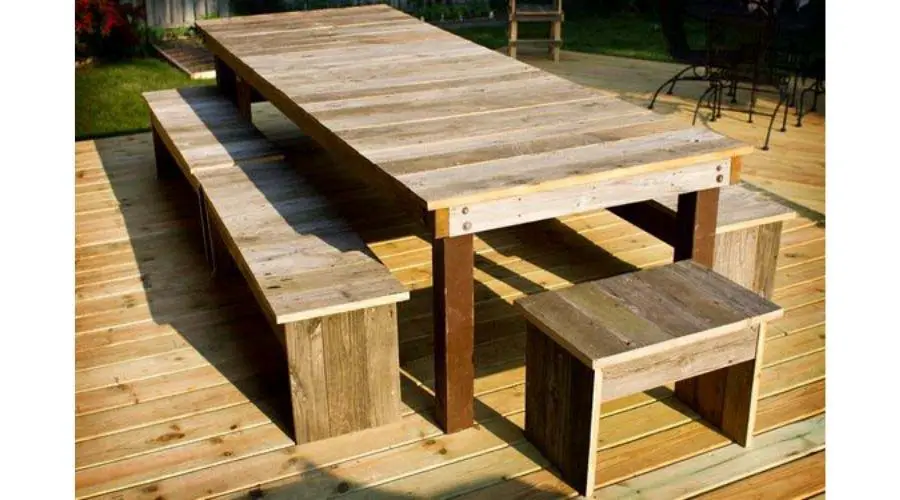 1. Patio Table & Bench
For the experienced DIY'er, a table and bench set is a practical and straightforward project. Made almost entirely from old deck boards, this dining set is a welcome addition to family gatherings. 
Old deck boards that are sanded and left in their original finish can give a very rustic look to the dining set. This harvest-style table and benches are an excellent fit for a cottage or casual back deck with their simplistic design.
The benches are convenient as you can move them to where extra seating is required, with or without the table.
Before working with rough deck boards such as these, be sure they have been appropriately sanded, and you have removed any old nails or screws.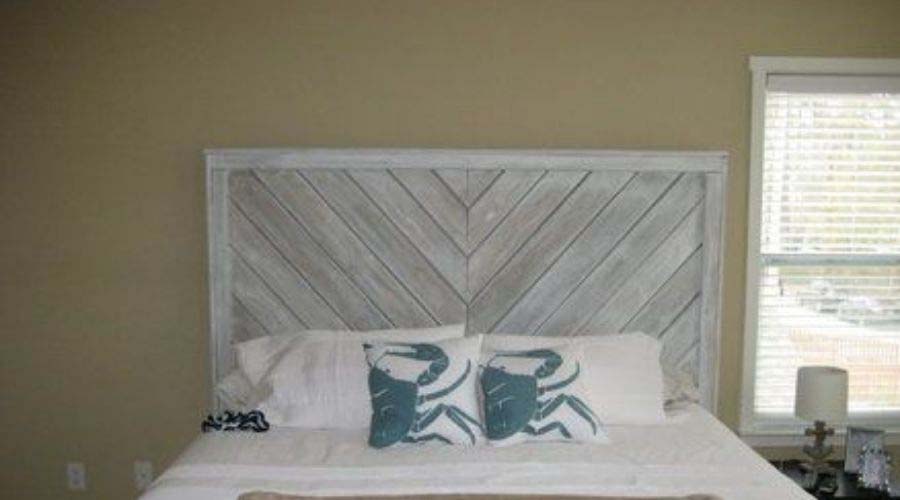 2. Bed Headboard
It is hard to believe that someone made this beautiful headboard pictured above from old decking boards! Arranged in a chevron pattern, these old boards are white-washed and framed, resulting in a sophisticated look.
Cutting the boards at the correct angle to achieve the desired pattern is the most challenging aspect of this project but well worth the effort. 
If white-washing isn't your preferred finish, you could choose any stain or paint color you wish. Just be sure that you have cured all of the boards before installing the headboard in your home to avoid off-gassing. 
Be sure to check your boards for hardware and, of course, for unwanted houseguests (insects) as well.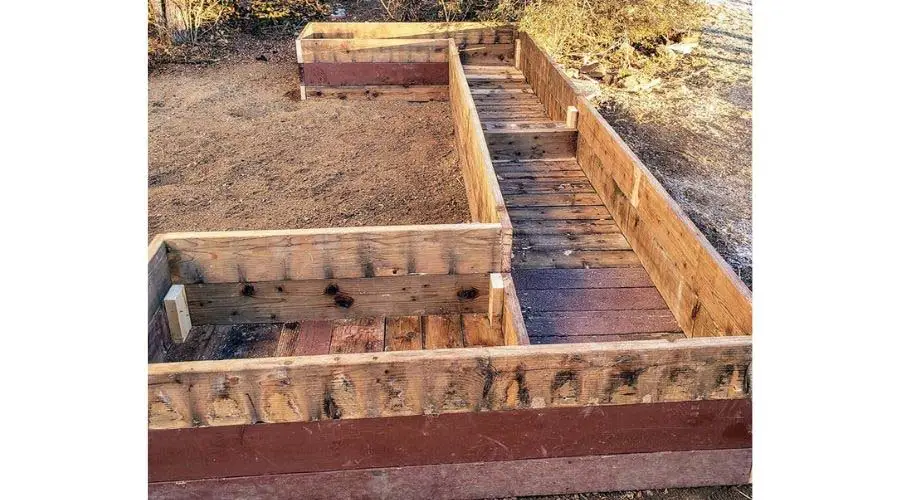 3. Raised Garden Beds
Old decking boards are the perfect material for expanding your garden. Raised garden beds are a popular way to grow your produce.
There are several DIY garden frame kits on the market, which several are constructed using plastic. If you are looking for something a little more robust, consider using your old decking boards to build your frame.
Aesthetically, you don't have to do much to the interior of your frame; be sure the wood is free from mold, hardware, and chemicals. 
You may wish to paint or stain the outside of your frame. Painting each board in a different color is a fun idea to add cheer to your garden.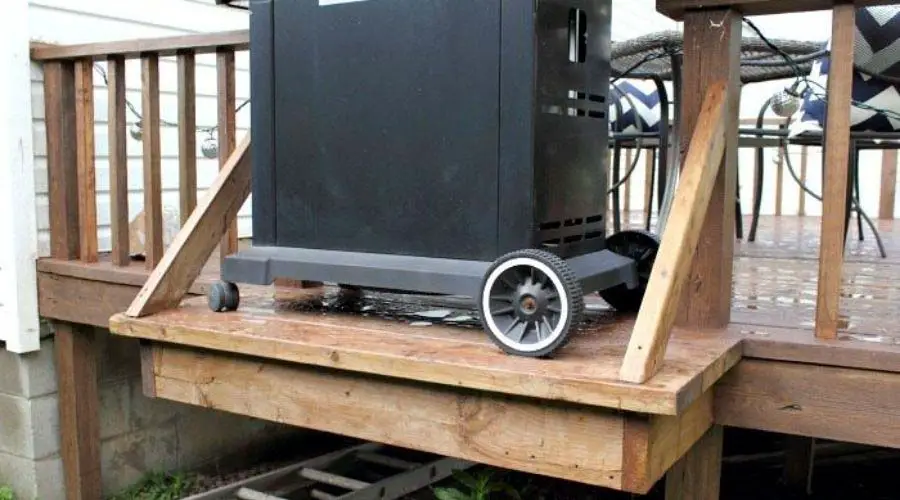 4. BBQ Platform
If you have some old or left-over boards from building a new deck, why not consider adding an extension to your patio?
Barbeques can be bulky and take up a lot of space on your deck. By adding a small platform off the side, you use what would otherwise be wasted space.
The example pictured above features a simple, modestly sized extension. Depending on how much space and extra decking boards you have, your extension could be more extensive and perhaps even house a complete outdoor kitchen.
With your barbeque located off to the side, you have more space for deck furniture and planters.
5. Garden Shed
If you need a garden shed and are looking for an affordable alternative to buying a prefabricated shed, consider using old decking boards to build your own.
You can find a wide variety of shed plans online, along with step-by-step instructions to help guide you through the process.
If you don't have a stack of old decking boards at your disposal, try taking a look on Kijiji (Canadian) or Facebook marketplace for some. 
Be sure to inspect the old decking boards for rot, insects, and aged hardware that needs removing. Once the shed is complete, you can customize the exterior with a fresh coat of paint or leave the boards bare for a more rustic look.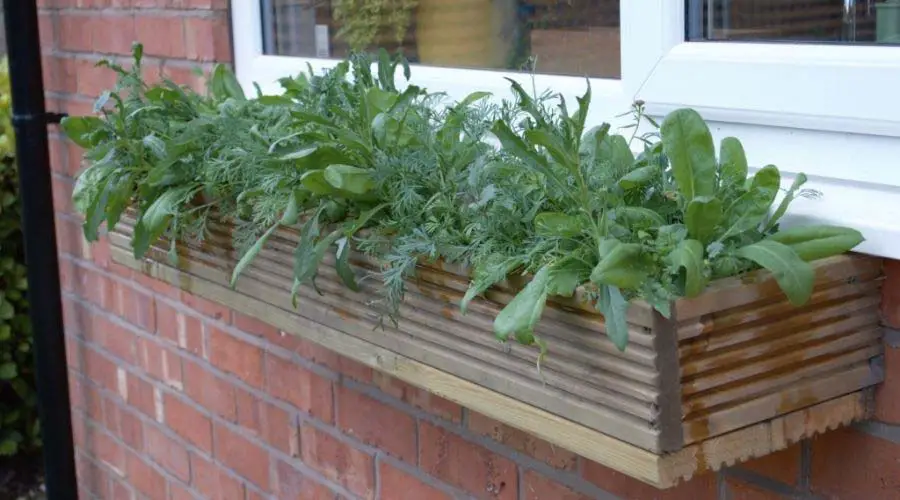 6. Window Boxes
Window boxes are the perfect project for that small pile of old decking boards you have lying around.
The sky's the limit when it comes to this fun project. The boxes can be any size or style you wish and are easy to construct.
There are many how-to guides and videos available online or at your local bookstore that will help you through the process of creating a window box. 
Window boxes are a great project to get the whole family involved, as kids will love building, painting, and planting flowers in their new window boxes.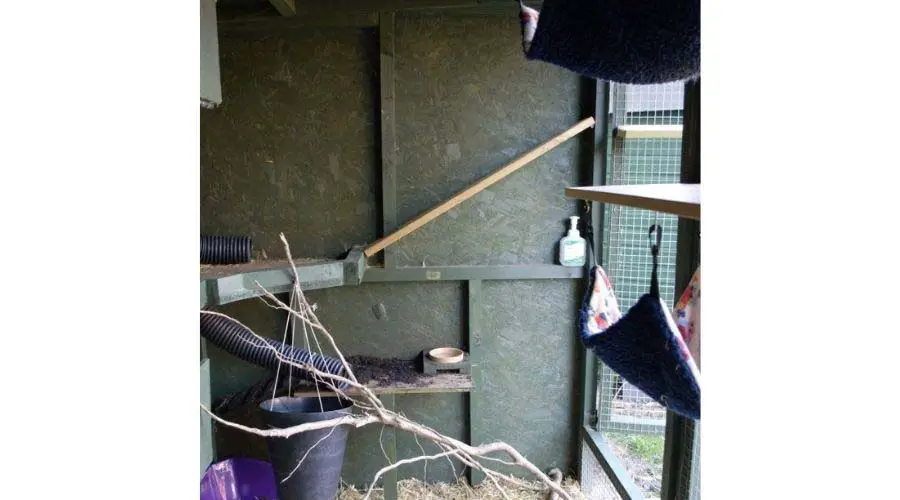 7. Pet Ramps
If you have a small pet that lives in an enclosure, your old decking boards may come in very handy.
The enclosed pen pictured above is for a pet ferret and features several levels. The owner has used old decking boards to create ramps for the animals.
Depending on the size of your enclosure and how many decking boards you have at your disposal, you could create an elaborate climbing system for your pet.
Be sure to clean your boards well, remove anything dangerous like old nails and check that the boards have not been treated with any toxic chemicals.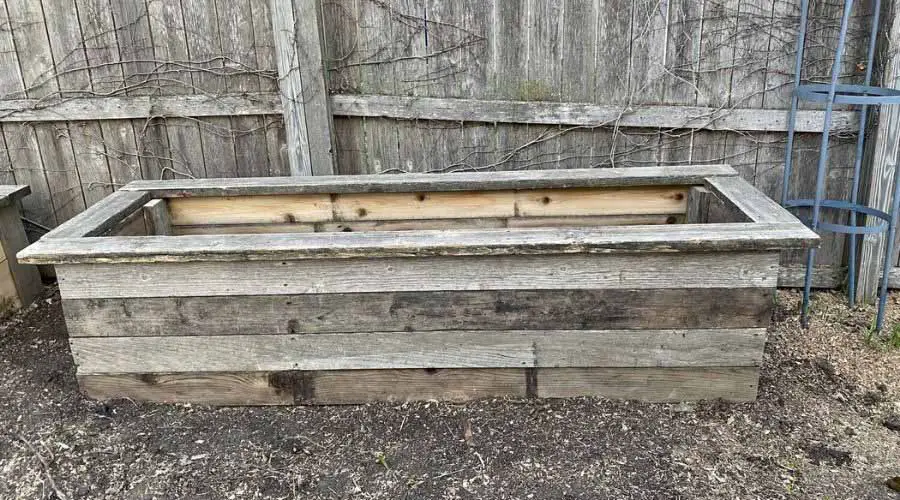 8. Planter Box
Planter boxes are a great addition to any yard. Handy for flowers and vegetables, planter boxes keep your plants well hydrated and safer from critters on the ground.
The example pictured above is a large, rectangular planter box made from old, unfinished decking boards. Most DIY'ers should have no problem putting together this design, and if plans are required, many are available online or at your local bookstore.
Again, it is essential to prepare your old boards by removing all hardware and checking them for insect or mold infestations. If the rough-hewn look is not to your liking, you can always sand the boards down and paint or stain them.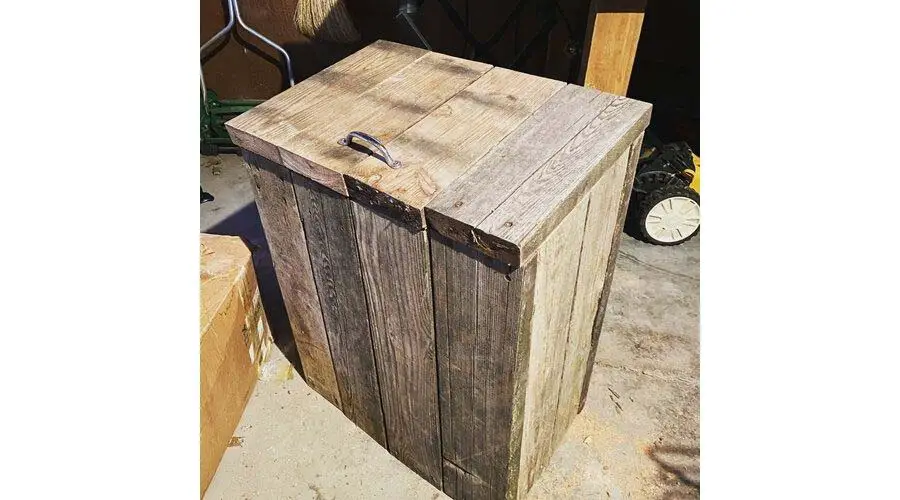 9. Recycling Box Container
No one likes the sight of recycling bins. They are usually an unsightly color and stained from their contents. Why not consider using your old decking boards to create a container to house your recycling bin or your garbage receptacle?
The example pictured above is constructed entirely out of old decking boards. A simple, rough-hewn box with a hinged lid complete with a handle makes up the design of this rustic container.
If you have an ample supply of deck boards, you could construct numerous containers (a great gift idea) or build one large container. Once again, if you prefer a more finished look, you can sand your boards and paint or stain to your liking.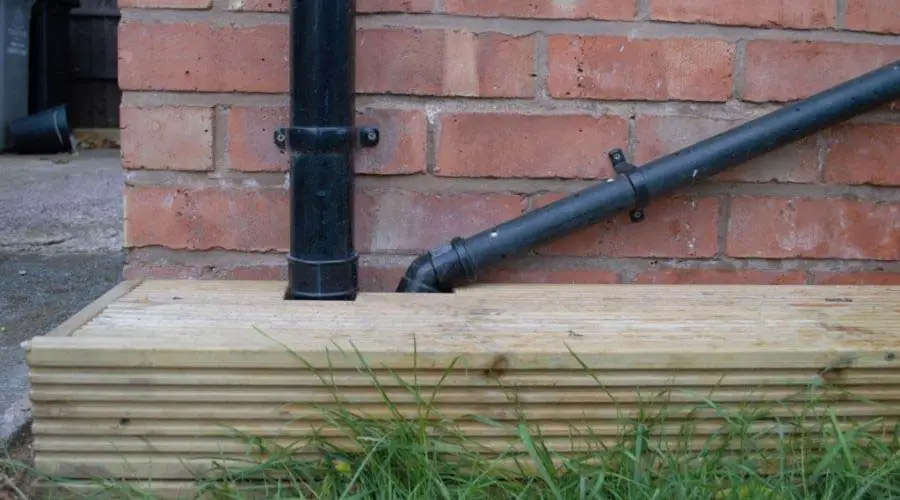 10. Drain Pipe Cover
If you have unsightly drain pipes or any utility hardware outside, you can use old decking boards to create a cover for them.
Not only will this cover camouflage unattractive pipes, but it will also protect them from the elements and unwanted visitors. Critters will no longer be able to dig and cause havoc around your pipes.
You can finish your boards to match your house or leave them the same color as your deck for a harmonious look. If they are exposed to water regularly, consider adding a waterproof sealer to protect your boards.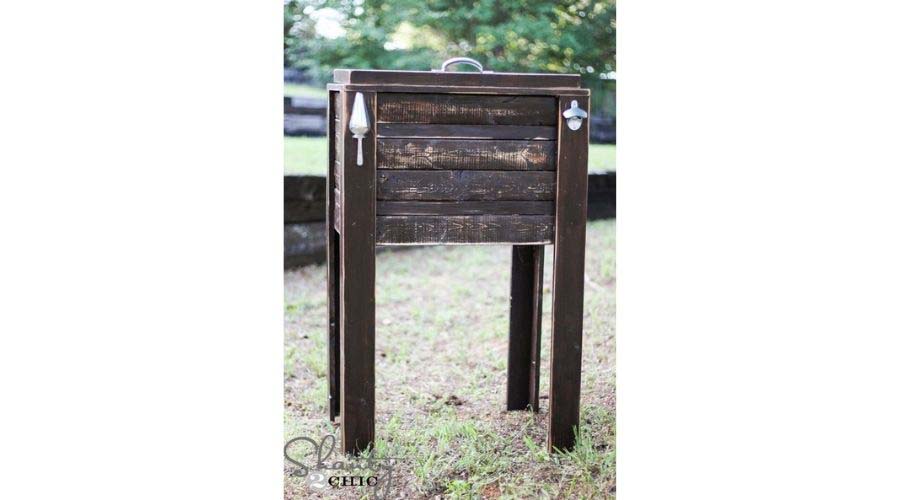 11. Portable Drink Cooler Stand
Perfect for an outdoor wedding or family gathering, this portable drink cooler stand made from old decking boards will add style to any event.
As you can see in the photo, a bottle opener and ice scoop are mounted on the front. As a match, the handle attaches to the lid.
A drink cooler is a perfect project to customize. The example pictured above features boards that have been painted brown and then "distressed."
If you are looking for a rustic look, leave the deck boards unfinished, or for a polished look, you can sand the panels down and apply a high gloss sealer afterward.
You could design this stand to accommodate any size cooler you would like, be sure to add an inch or two of extra space to make lifting the cooler in and out easier.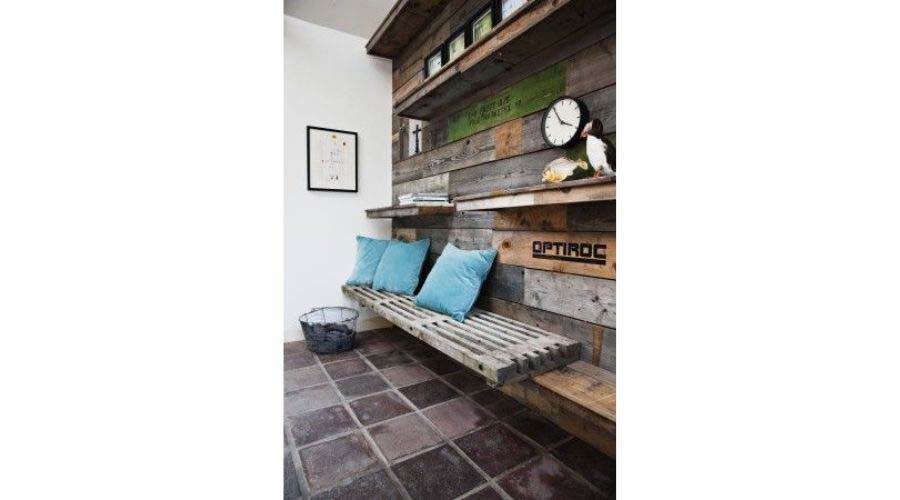 12. Feature Wall
Feature walls are currently a popular design trend and can feature many materials. If you have some old decking boards that you would like to repurpose, you can consider using them to add interest to an empty wall in your home or cottage.
You can paint your boards a fun or subtle color, stain them, or leave them in a rough, unfinished state like the boards featured above. 
This project is easy enough for the beginner DIY'er. After identifying where your studs are, nail the boards to your wall.
Be sure to remove any hardware and check carefully for mold or insect issues on your boards before installing them in your home.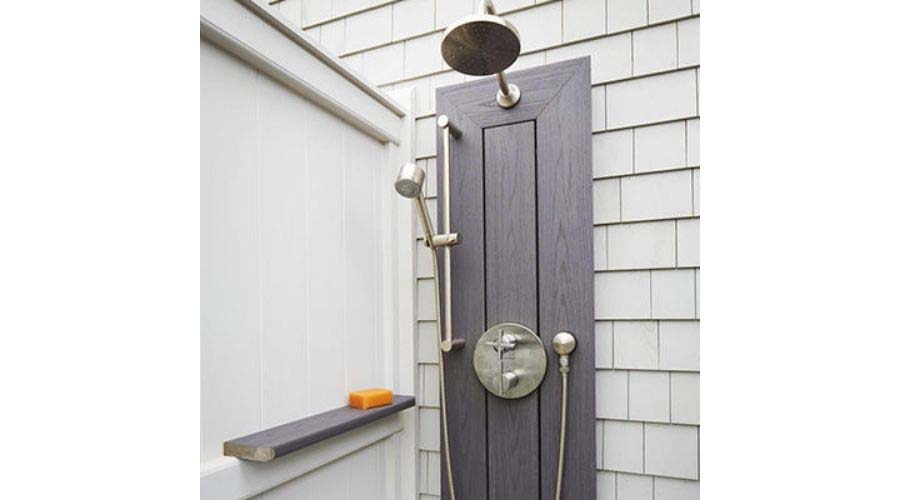 13. Outdoor Shower Mount
This idea may be for you to build an outdoor shower and have some composite decking boards lying around. Composite boards are already water and pest-proof, so they make an ideal material to use in an outdoor shower.
In this example, this person cut grey composite boards to form a rectangular mount for the shower hardware and attached to the house.
An extra deck board has been added to the privacy wall and is the perfect place to store soap and other shower accessories.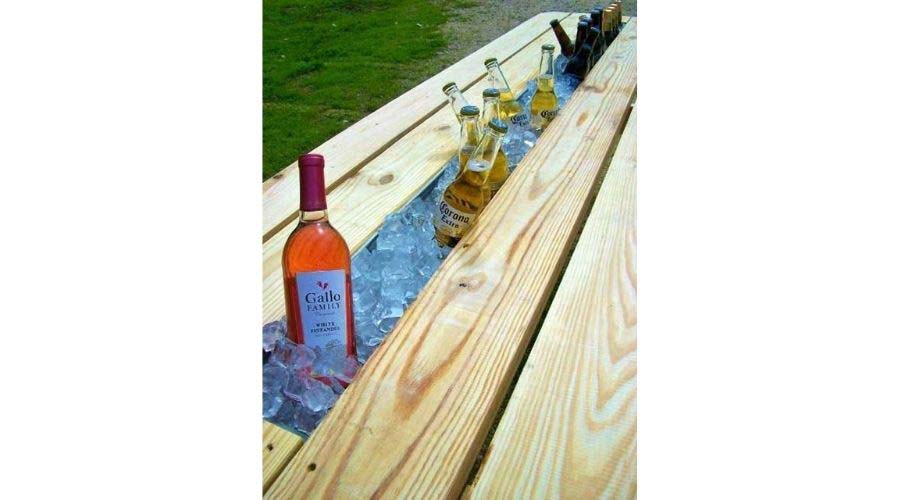 14. Drink Trough
Using your old deck boards for a drinking trough is a great idea, especially if you like to entertain. Perfect for the cottage or a large deck, the drinking trough pictured above is a fun DIY project that can either be a free-standing structure or incorporated into a tabletop made of old decking boards.
Depending on the length of your boards and how many you have, this drink trough can be any length or shape you like.
You will need a piece of eavestrough to fit between the decking boards. The eavestrough is where the ice and drinks will sit, and you can cut it to your desired length. 
You could also incorporate this idea into a kid's water play table. A smaller, shorter version of the table and a few benches, all made from your old decking boards, will provide hours of fun for your little ones!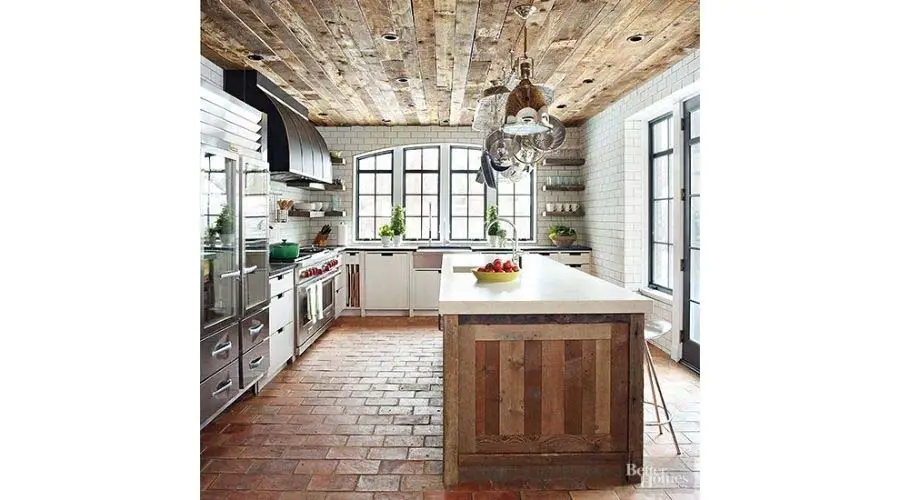 15. Ceiling Feature
If you are looking for an idea that will add visual interest to a ceiling in your home, look no further! In the example pictured above, rough-hewn decking boards attach in a staggered fashion to the roof of this beautiful, country-style kitchen. 
The boards also repeat on the end of the island for continuity. Pot-lights set into the panels will provide extra drama by illuminating the warm wood tones and the unique grain of the boards.
If you are after more of a clean, modern look, you can always paint your old decking boards white or give them a wash in some light-colored paint before installing.
Final Thoughts
So, there we have it! Fifteen great ideas to repurpose your old decking boards. By re-using your old boards, not only are you preserving a piece of history, saving money, and keeping materials out of the landfill – you are creating something beautiful and practical for your home.
Sources