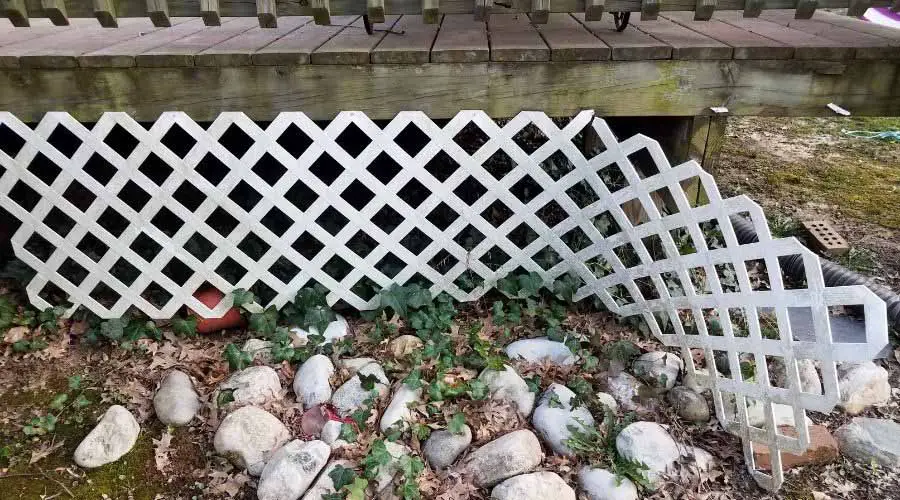 What's deck skirting, and how do you design it for effective performance? Deck skirting involves a skirt or wall placed around the perimeter of an elevated deck to hide and enclose the underside of the deck. Well, you might be wondering how to decorate the bottom of your deck in a modern fashion.
Modern deck skirting options can range from simply changing how you clean your deck to doing complete renovations to alter its overall look. However, here are five ideas for you to choose from:
Practice the basics of caring for your deck
Upgrade your railing every so often
Create an edible container garden
Get lushness at the edges (shrubs & small trees)
Use the space below the deck
Proper deck design will offer you an excellent area for entertainment, enjoyment, and relaxation where you can access great views, sunshine, and fresh air. In this article, we look at modern deck skirting design ideas. 
How Do You Modernize a Deck?
A deck is essential since it supports container gardening, cooking, lounging, among other things. Since it's a multifunctional surface, it should always look its best. 
Below are ways to tweak the deck to update and modernize it. 
1. Practice the Basics of Caring for Your Deck
You can improve your deck's appearance within hours by just carrying out routine surface care. We recommend refinishing your wood deck at least after every two years. You can achieve this by either using sealers and stains or a linseed oil rub. 
The aim is to keep the moisture away. Regardless of the refinishing method you settle for, understand that moisture allows organisms into the wood, thus causing it to rot over time. Therefore, it would help remove and clean anything that allows water to collect on the deck. 
It would be best if you also repaired anything that leads to the splashing of water on the deck, including but not limited to leaky hose spigots. 
If you're seeking to winterize, clean the deck to remove debris and store furniture in a dry place. If you leave furnishings out during the winter, rest assured it will wear down quicker than you can say, "do you want to build a snowman?"
2. Upgrade Your Railing Every So Often
If your railing appears shabby, change it for an overall deck upgrade. You can use a cable railing which provides a more contemporary deck style. You can also go for different balustrade styles or materials. 
You might need to contact a contractor or carpenter to assist you design and install the new railings. Railings contain detailed connections and parts that only qualified professionals can understand. 
However, you should have the type of railing you want to install and ask for design and product recommendations from the professional you hire. You should ensure that your preferred tailing meets the local standards and codes before installing it. 
3. Include an Edible Container Garden
You can consider buying a few containers to incorporate an edible garden if your deck has enough spaces and receives full sun.
If edibles grow close to your house, it becomes possible to access them from the kitchen. With a deck, you're working on level ground. 
Place a saucer under the containers to prevent water from pooling under them. The saucer will collect the excess water. 
However, understand that large containers add significant weight to your deck. It would therefore help to locate heavy and oversized containers over structural beams. If you don't know the weight capacity of your deck, consult a professional. 
4. Get Lushness at the Edges (Shrubs & Small Trees)
There are times when a deck feels too exposed and open. It would help if you planted small trees and large shrubs around the deck's edges in such a situation. Ensure that they are away from your home's foundation.
If you're unable to plant directly around your deck, you can still create lushness by using planted containers around your deck's perimeter. 
5. Use the Space Below the Deck
There are instances where you can raise a deck to meet a second-story door. In such a case, consider how you can employ the space below the deck to make a shaded outdoor area. 
It would be best if you sloped the ground below to drain water from the house. It would also help have basic paving that lets you use the space. Once the pieces are in place, add a hammock, potted shade plants, seating, lighting, and anything else. 
Deck Upgrade Considerations
There are various things to consider while upgrading or modernizing your deck skirting. For instance, the building codes and costs vary. Below are things to consider while planning:
What will be the purpose of the area? Here, you need to think about your favorite leisure activities. For instance, consider whether or not you like outdoor dining. It'll help you determine the type of upgrades you need and whether you should expand the area. 
What's your budget? The quality of the design and upgrade you make will depend on your available budget. You need to determine the amount you're willing to spend on upgrades to get the best investments and quality design options. 
Can you implement upgrades yourself? Depending on the tools you have or the complexity of the upgrades, you must determine whether you'll hire a professional or do the task yourself. Whether you do the task yourself or hire a professional, you'll need to acquire a permit and thorough inspection.

There is, therefore, the need to plan and ensure the project is completed in time. It'll give you a chance to enjoy the deck before the prime season ends. 
Consider the lighting. If you implement the right lighting, your evenings on the deck will be relaxing and promote interaction with family and friends. 
What about planters and plants? You should beautify the place by incorporating live plants. You can change the look of your deck as the season changes. Select the right window boxes and plant containers. 
Do you wish to upgrade the seating? Perfect seating is likely to improve conversations. It'll also provide enough space for outdoor dining. You can also include storage benches since they offer both extra seating and storage space. 
What is the Best Material to Place Under a Deck?
When you want to build a deck, a suitable foundation is critical. The foundation will protect the deck from different forms of damage and, at the same time, offer structural integrity. But which is the best material to select for your decking for both the frame and foundation? 
Best Materials for the Foundation
When developing a deck, one of the goals is to build a stable foundation while preventing damages caused by weeds, molds, and moisture. For this purpose, you can select between concrete slabs and gravel.
1. Gravel
Self-made builders and professionals agree that gravel is the best material you can put under your deck. But how do you put the material in the base?
Here are the steps:
Prepare the installation area and dig some inches out.
Cover your prepared area with landscaping fabric.
Spread gravel until it fills the gap to the ground. 
Gravel and landscaping fabric offer excellent drainage. It also functions as mulch that restricts weeds' growth, damaging your deck. 
Gravel can also offer a backdrop for your landscaping design. Outdoor designers employ it to come up with aesthetically pleasing patio borders. You can use a non-organic mulch in place of gravel. 
2. Blocks & Concrete Slabs
Blocks and concrete slabs are also reputable options. They offer a stiff and stable foundation. Since homeowners already have blocks and concrete in their backyard, it provides the ideal foundation for the deck. 
Even if you don't have a concrete slab, you can easily install one at a cheap cost. If you decide to use an existing slab, ensure it's in perfect shape. 
If you notice cracks or water pooling challenges, you should mend them first. Such problems can ruin and sink the slab, taking the decking boards with it. 
Apart from slabs, you can install your deck with blocks. We recommend blocks if you have plans to build a floating deck. You can employ ordinary blocks or precast varieties fitting the deck's frame. 
The primary aim of the blocks is to raise the deck so it does not touch the ground. However, you might have to cover it with landscaping fabric or de-weed the dirt to add more protection. 
What to Use for Your Frame
The frame is another critical part of a deck, apart from the foundation. It holds the decking boards in place and ensures stability, durability, and safety.
The most recommended and cheapest material to use for frames is pressure-treated lumber. Pressure-treated lumber has better protection against insect damage and moisture. 
You can also select composite lumber. Composite lumber also provides super durability against molds, warping, moisture, and water. Even though they're costly, they offer the best framing for decks. 
What to Use for Skirting on Deck?
It is wise to consider whether you want a deck that contrasts or matches your deck. The decking material to use goes a long way in creating quality and appealing skirting on your patio.
Below are the materials you can employ on your deck skirting:
1. Wood
Wood is among the most popular materials you can utilize on outdoor patios. It's also a reputable option for deck skirting. 
There are deck owners who decide on applying solid wood boards on their deck skirting. Solid wood boards usually get installed vertically or horizontally. 
Vertical wooden decks offer a great solution, especially if you seek a rustic feel and rough look. If you have a short deck, vertical solid wood boards will make the deck appear taller. 
2. Wood Lattice
Wood lattice forms a classic deck skirting material option. If you have ever seen and liked a wooden deck, there is a high chance it was a wood lattice deck skirting. A lattice is made by crisscrossing strips of material. It, therefore, forms a grid having diamond-shaped openings. 
Wood lattice deck skirting offers a solution where you can hide the underside of your deck and, at the same time, accent it.
It'll also provide excellent air circulation. However, keep in mind that wood lattice deck skirting offers a more fragile solution than solid wood. 
3. Composite
There are modern deck skirtings designed and developed from composite materials. Composite materials combine wood fiber and plastic to create lightweight but strong boards. 
You can apply composite materials the same way you employ solid wood boards. There is also an option of creating latticework. 
Composite deck skirting materials are growing in popularity thanks to the fact that they are sturdier. They are also stain-resistant and weather-resistant. However, be keen since these materials can be slippery when wet. 
4. Metal
If you're seeking an industrial or modern style, sheet metal for your deck skirting will be perfect for the overall aesthetic. However, before using metal for deck-resistant purposes, ensure that the material is resistant to rust. 
There are different ways of applying metal as a skirting material. First, you can cut sheet metal in fanciful or attractive patterns, such as into latticework. There is also an option of painting metal deck skirting. 
5. Plants
You can also use plants for deck skirting purposes. It is possible by planting bushes or shrubs in the ground surrounding the deck to come up with natural deck skirting ideas. It's like planting a hedge around your house. 
Even though it's an excellent approach to creating deck skirting, it's also high maintenance. You'll need to keep your plants healthy and alive and trim them.
6. Brick
Brick also presents an attractive and reliable deck skirting option. They are weather-resistant, durable, and look great in an outdoor environment. 
However, you should note that bricks aren't easy to install. It'll be challenging to do the task yourself. You'll have to hire a professional, which might present an added cost. 
7. Faux Stone
Faux stone is now among the most reputable skirting materials, thanks to its versatility. You can get them in different styles similar to the feel and look of natural stone. If you want a country and rustic look, this is the perfect material for you. 
Faux stone has the durability of natural stone but is more lightweight. It's also easier to work with. The material is, therefore, cost-effective compared to bricks or natural stone. 
Benefits of Deck Skirting Design
Apart from the material, the design of your deck skirting will depend on its purpose and function. There are functions that a deck skirting design serve apart from aesthetic as below:
1. Storage
Many people develop deck skirting to turn the space below the deck into a storage unit. Since the deck skirting is still outdoor, you shouldn't store anything sensitive or critical. 
2. Keep Animals Out
Installing deck skirting prevents animals such as squirrels, skunks, or raccoons from using the spaces beneath your backyard deck as a burrow or nest. 
3. Ventilation
Ventilation is another critical purpose of deck ventilation. The type of ventilation you require depends on the deck skirting material. For instance, the design will offer a natural airflow with a wood lattice. However, you must install a mesh below the lattice to keep animals out. 
If you go for solid wood boards, spare at least 1-inch of space between the boards for proper ventilation. Ventilation is why faux stone and brick are expensive compared to other deck skirting materials. For you to achieve adequate ventilation, you must install a vent system. 
Deck Skirting Maintenance
Deck skirt maintenance is critical for the extended life of your deck. Below is what you should do to maintain the deck skirting:
1. Cleaning
Regardless of the deck skirting material you employ, you'll need to clean it. The difference, however, arises in how often you need to clean. 
Plants, wood lattice, and solid wood skirting materials are the most difficult to maintain. 
2. Weatherproofing
Besides cleaning your deck skirting materials, you'll also have to apply weather-proofing to prevent the wood from weathering and warping. 
Brick, faux, and composite materials are the easiest and sturdiest to maintain. It would help if you cleaned them using soap and warm water from time to time. 
You'll have to ensure that the deck skirting is weather and rust-proof. 
Conclusion
As we have seen, deck skirting involves a skirt or wall placed around the perimeter of an elevated deck to hide and enclose the underside of the deck. Therefore, you should focus on getting a proper deck skirting design to get an excellent environment for entertainment and relaxation. 
With a proper deck skirting design, you can also improve the overall appearance of your deck. Ensure you select durable and easy-to-maintain deck skirting materials. 
Regular maintenance of your deck skirting material is also something you should consider to ensure durability. If you don't have the skills to design and install a deck skirting, approach a professional to help you out. 
Sources