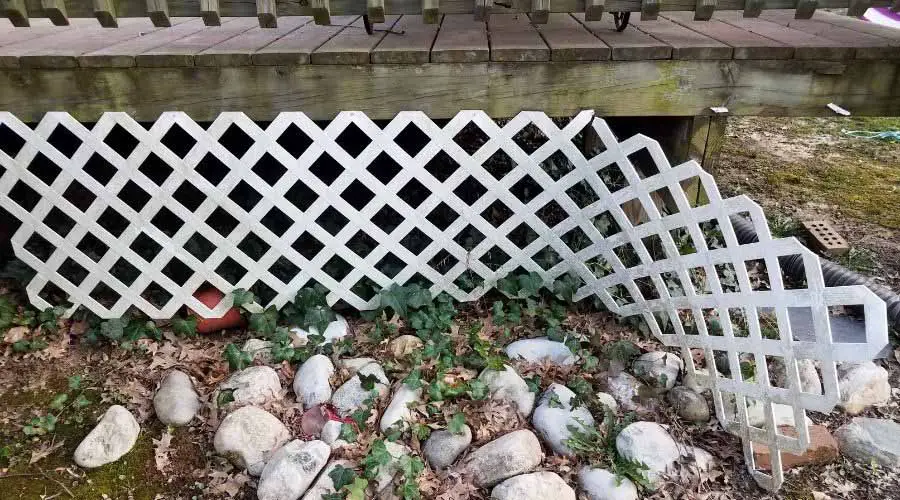 Having an area where one can relax and enjoy the outdoor ambiance is something everyone wants. An outdoor deck is one of those areas. But do you know that how the deck looks is part of the things that make spending time on it enjoyable? 
Therefore, you cannot afford to ignore critical aspects such as skirting it. So how do you skirt a deck when you are on a low budget? 
Skirting a deck is easy as you only need to have the necessary materials available. Choose textiles such as wood, composite, metal, faux stone, brick, plants, and lattice. Here are nine different materials you can use to skirt a deck:
Wood
Wood lattice
Composite
Metal
Plants
Craftsman deck skirt
Bricks
Faux stone
Modern deck skirting
You can opt for a uniform look by using the same material used in the deck or blending different styles and materials.
Coming up with an intelligent deck skirting idea that is also cheap can be challenging. It is why we have compiled several titbits about this critical process. Check out our tips. 
What is a Deck Skirt?
A deck skirt is a cover that you put around the bottom area of an elevated deck. It should ideally run around the entire deck area. Also, it should match the color of the deck for uniformity. 
The primary aim of a deck skirt is to conceal the bottom parts of your deck. While exposed, it will quickly wear out. Hence, covering it is imperative. Also, covering ensures that the deck appears uniform and resultantly attractive. 
How to skirt the deck will primarily be driven by its design. However, You can choose to go for a uniform look or a contrasting one. It, therefore, all depends on your preferences. 
What Can I Skirt My Deck With?
There is a wide range of construction materials that you can choose to skirt your deck. However, keep in mind that your choices should remember the final outlook. If you want a uniform look, you should use a material that resembles the one on the deck's structure. 
However, if you are looking for a unique style featuring a combination of colors and materials, you can opt for a blend.
Either way, you must be keen on ensuring that your materials are durable. Also, pick materials that do not highly distort the structure's appearance. 
What Do You Put Around the Bottom of a Deck?
As stated earlier, there are many materials that you can use to skirt the deck. We are going to look at each of them in-depth. 
1. Wood
Most decks have wood material. Hence, it is evident that wood is one of the commonly used materials in skirting. If you have some wood planks that you do not know what to do with, it would be best to make a skirt.
A wood skirt is always a brilliant idea, especially since it is effortless to use the material. You can easily cut wood to the required size without much hassle. Also, wood will give your deck skirt a classical look that you are looking for. 
You can use solid wood boards for this construction or cut them into small planks. Either way, they will be perfect. Also, you can fit the wood either horizontally or vertically, depending on the final look that you want.  
If you are looking for a rustic look, consider installing wood boards vertically. The orientation will make the structure look antique.
Also, choose the unfinished wood. The rough look of the wood will complement the orientation to give the design a picturesque rustic look and feel. 
You might also be looking for ways to make your deck appear taller than it is. Again, the vertical alignment of wood will grant it that appeal. On the other hand, a horizontal arrangement will do little in improving the height appeal. 
When joining the wood planks, ensure that you put aeration into consideration. You can leave gaps in a particular pattern to encourage air entry into the deck's underside.
Also, do not allow the wood planks to contact the ground. Instead, nail them to a frame not in direct contact with the ground to prevent rotting. 
Lastly, if possible, settle for tropical hardwoods like Teak and Mahogany. They are hardy and will resist insect attacks. 
2. Wood Lattice
A wood lattice has wood material, but the arrangement is in a lattice instead of the horizontal or vertical alignment in typical wood skirts. A lattice is admirable, and the opening also allows free air circulation into the deck. 
The wood lattice is made via wood crisscrossing to create a diamond-shaped pattern. An example of a wood lattice that you can use for your deck is the Freestanding Wooden Fence.
Select the color that matches your preferences. Installation is also easy, and you can do it all by yourself as long as you have the necessary tools. 
Nonetheless, it would help if you were wary of the primary underside of this material. Due to the spaces created by the crisscrossing of the wood, it is not durable.
Hence, if you are looking for a structure that can withstand all conditions, the hitherto discussed wood skirt is a better option. 
3. Composite
If you want to give your deck skirt a modern look, composite is the best material. It could be a perfect option, especially if your deck's material is composite tiles. 
Typically composite is made of a combination of wood fibers and plastic. The material is light but still resistant to tear and wear. 
You can install the composite deck either as plain blocks or in the form of a lattice. There is growing popularity in the use of composite, mainly due to its resemblance to wood. It is also sturdy. Hence, it is a perfect alternative to wood. 
Also, the material will withstand all weather conditions and does not stain easily. Nonetheless, you must be careful when using composite on your deck floor since it is slippery. It does not matter anyway for the skirt as it uses a vertical surface. 
Choose the composite material of choice depending on the appearance that you want. For a modern appeal, smooth material will be the best fit. However, settle for a composite with a bland look and rough texture if you want an antique appearance. 
4. Metal
Are you looking to give your deck an industrial look? If so, then sheet metal or railings is the ideal skirt material to use. 
It is good-looking if you choose sheet metal that is beautiful. Also, you can paint the surface to match the color that you intend to achieve in the end.
Additionally, you can install plain metal sheets or make them in some form of a lattice. A metal expert will assist in choosing the ideal design depending on your deck look and position. 
There are several advantages of using metal. First, it is weatherproof. Also, you do not have to keep maintaining it. Once installed, you will only need to apply a fresh paint coat to improve its appearance occasionally.  
It is also dependable, especially if you make a skirt for use as a storage area. Unlike other materials, scavenging animals and stray cats can not easily break it down. 
You can install the metal sheets continuously or leave gaps in between for ventilation. For the latter option, install metal rails on the deck's underside. You must, however, be cautious to settle for rust-resistant metal. 
5. Plants
You can also effectively cover your deck area using plants. The method involves the construction of a hedge around your deck's bottom. It is a method that is easy to implement, but you will have to wait for a while for the fence to grow. 
It will bring nature's vibe to your deck area. Select a plant that is ideal for making fences and plant it around the base of the deck. The aim should be for the plants to cover the entire area until there's no space. 
Nonetheless, this idea has a downside in that you'll have to maintain the fence continually. It would help if you trimmed it once in a while to prevent it from rising above the deck.
Also, to keep the wall alive, you must constantly water it. In addition, ensure the skirt is in good shape by removing weeds. 
6. Craftsman Deck Skirt
It could be that you are looking to give your deck a craftsman appeal. You'll have to settle for a material that will deliver this look in such a case. There is no specific material to use. However, bricks, palettes, or stained wood will do the trick.
Many craftsman homes feature a large porch that requires a skirt for a great appearance. In case you have a deck in the backyard, consider skirting it in the same way as the front porch for uniformity. 
Depending on your preferences, you can either give your deck skirt a traditional or a contemporary outlook. Whichever you settle for, it is the materials that you use which will determine the outcome. However, you do not require to go overboard with your budget for either look. 
You can use any material, but richly stained wood is the best for this type of deck skirt. You can also use lattice. However, it is darkly painted to reveal the craftsman's appeal.
7. Bricks
Bricks are some of the most valuable deck skirt materials that you can use. Their primary upside is their durability and ability to withstand all weather conditions. Also, they will make sure that your deck's underside is secure as they leave no gaps. 
The other fundamental advantage of using bricks is giving your deck a solid uniform look. You can use any bricks or buy panels that resemble stones. Both will be a great idea of giving your deck area the picturesque appeal you desire. 
Nonetheless, bricks are not easy to install. You may have to hire a mason for a perfect job, but that shouldn't cost you too much.
All in all, a brick skirt will, without a doubt, cost you more than using other materials. You will have to spend quite some money buying them plus pay for labor. 
8. Faux Stone
If you give your deck an antique bricky appearance but do not want to use conventional stones, faux stone is the best alternative. It is one of the most versatile construction materials.
Hence, you can also improve the appearance of your deck by covering its surface with this material for uniformity. 
We recommend EKENA MILLWORK Faux Stone as it is available in various colors. It also looks like natural stones hence a brilliant alternative. Installing it is also easy, but you may require to hire a mason for a clean job. However, if you have quite some knowledge of stonework, you can easily install the material. 
Hence, the installation cost of faux stone is lower than that of the actual bricks. 
Faux stone has a load of advantages. First, it does not easily crack like standard bricks. Therefore, during installation, there will be minimal losses.
Other bricks will easily crumble when exposed to water, but you will not experience this with faux stone. 
Also, the material requires little to no maintenance. All you need is some regular furnishing and washing to remove the attached dirt. 
Note that faux and bricks leave no gaps, and while this is important for safety, it also has an underside. There will be poor ventilation in the covered area, which may encourage moisture accumulation. Therefore, to avoid the problem, ensure that you leave some open places where air can enter through. 
Otherwise, your deck will start rotting from beneath, especially if it is wooden. 
9. Modern Deck Skirting
If you want to give your deck a modern look, wood or composite are the best materials. Make sure you attach the wood beams horizontally, as this trend has many contemporary decks. Also, paint the deck skirt in attractive colors. 
You can further make your deck the point of focus by attaching panels with an eye-catching pattern.
Deck Skirting Design
There are several critical considerations that you must look into when designing a deck skirt. Of course, the primary intention is to improve its appeal. Nonetheless, the area beneath the deck can have other important uses. Let's look at some of these uses.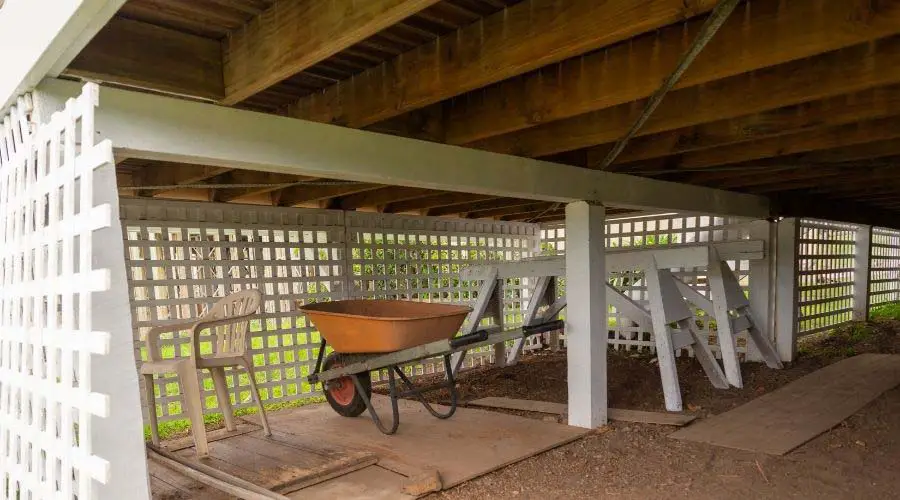 1. Storage
You can use the area below the deck for storage. If that is your intention, you must install a material that will provide sufficient protection to what you are storing.
The underside is the ideal storage for farm tools and other items. Nonetheless, remember that it is still an outdoor space. 
Hence, do not store something that can quickly rot or is affected by moisture. Also, the area will have dirt and dust. Therefore, you cannot use it to store food.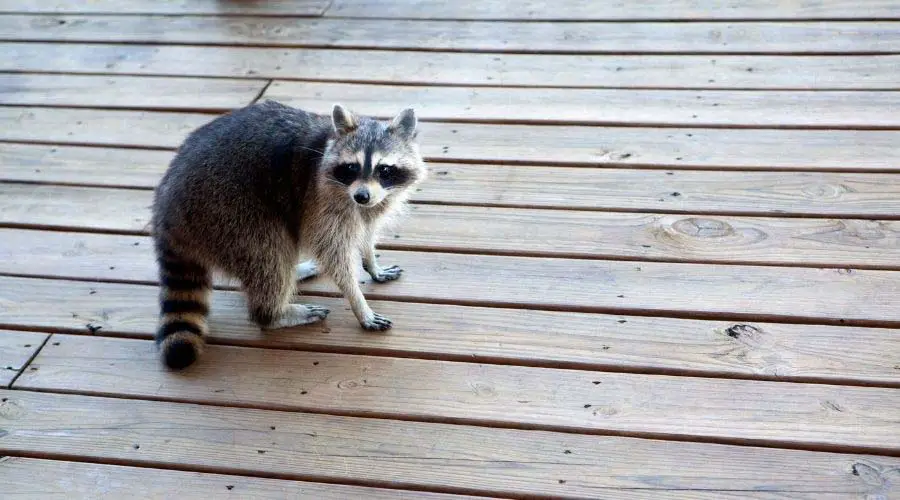 2. Keeping off Animals
The underside of a deck is an ideal living ground for burrowing animals like squirrels and skunks. Also, since it gets protected from direct sunlight, you might find stray cats making it their home.
Hence, the other fundamental determinant of the deck skirt design is if the intention is to keep off animals.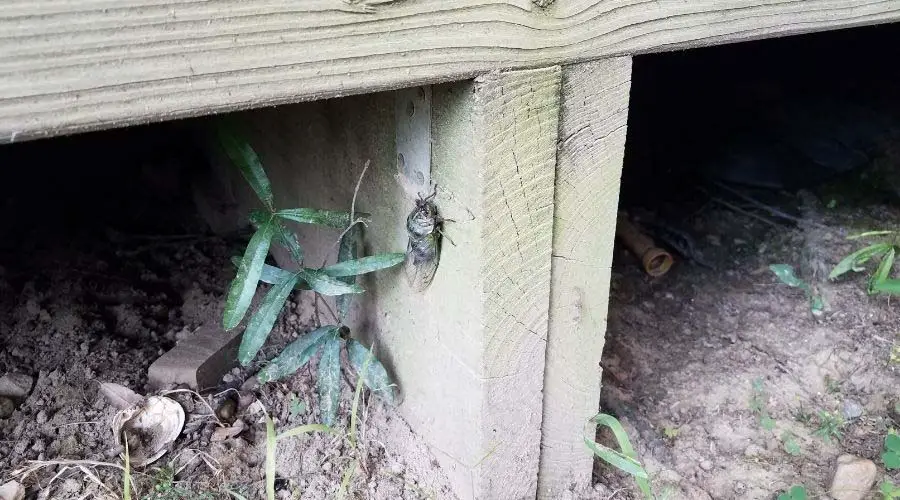 3. Ventilation
You must also consider the ventilation of the deck's underside. The choice of the material you choose will determine the type of ventilation you will attain.
Thus, consider using wood lattice if you intend to have efficient air circulation. If you opt for wood planks, make sure you leave space where air can pass through. 
If you use brick or faux, you will have to spend a lot to improve ventilation. With these materials, you require to invest in a ventilation system to keep the area well aerated. Therefore if you are operating on a low budget, avoid these materials. 
Deck Skirting Maintenance Practices 
You need to regularly maintain your deck to maintain its look and enable durability. Many of the maintenance practices are straightforward and cheap. They include the following:
1. Washing
You will be required to wash the deck skirt to keep its gleam shining through. For each material, you must clean using the most appropriate technique. The easiest to clean is a brick or faux stone deck. For the materials, you can use a power washer. 
If you have a plant deck skirt, pruning it is the perfect cleaning practice. 
2. Weatherproofing
It would help improve the durability of your deck by painting it regularly. For metals, painting is essential as they are prone to rust.  
Final Thoughts
We have equipped you with ideas on how to skirt a deck using several materials. You are now ready to give your deck skirt a perfect look. 
Choose the material that best fits your deck's ensign, and you're ready to go. Also, remember to ventilate the deck skirt if you settle on designs that do not involve a lattice. 
Lastly, you don't have to overspend when skirting your deck. Settle for materials such as locally available wood if you work on a low budget. 
Sources: