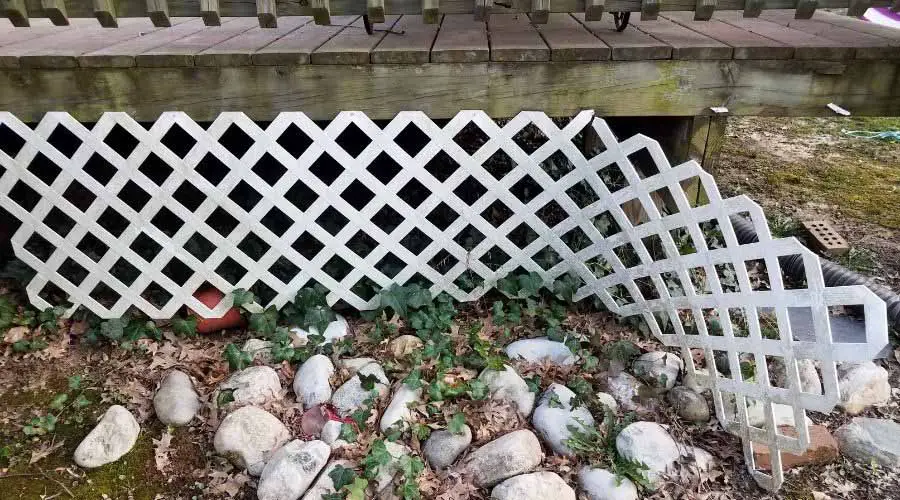 When you want to improve the style of your elevated deck, adding deck skirting can enhance the appearance of your home.
Deck skirting hides all of the structural components of the deck while also improving the area's visual appeal.
There are numerous types of deck skirting, but no type is more attractive and straightforward than horizontal deck skirting.
You install wooden boards horizontally in a horizontal design, creating a parallel arrangement with the porch's hand-railing.
The skirting can be any color or size, offering complete customization. This style of deck skirting is a simple project that you can do, and there are tons of different types that you can choose for inspiration. 
If you want to improve your home's deck with horizontal deck skirting and need some modern deck skirting design ideas, look no further!
Ideas for Horizontal Skirting
Here is a list of 18 design ideas for horizontal deck skirting that you can use to turn that standard wooden deck into a centerpiece.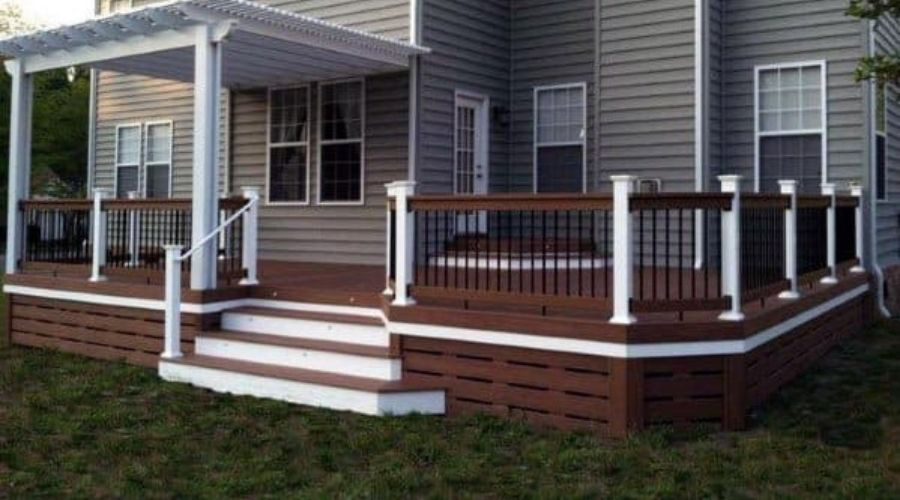 1. Use Contrasting Colors for an Eye-Catching Look
When installing horizontal deck skirting, you don't need to install a completely uniform design for the deck.
Add accents of color that match with the deck railing, creating a deck skirt that compliments the area. The additional color will add exciting contrast to a standard deck's appearance. 
You typically want to stick with two colors maximum as a design rule. If you implement several colors, the design can look unorganized and unappealing.
Use one dark color and one light color to create a proper contrast. The white pops out when included in the dark brown deck in this example.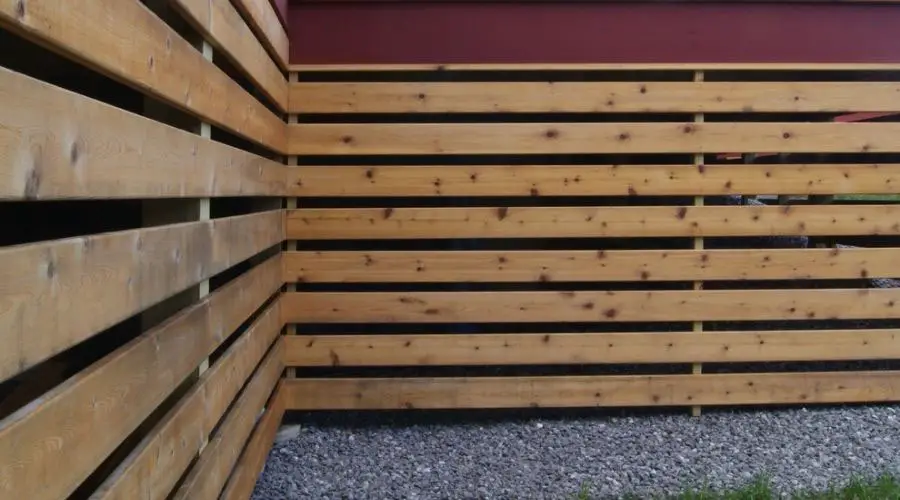 2. A Timeless Wooden Deck Skirting 
If you don't want to spend the time painting your horizontal deck skirting, a classic wood deck skirting will never go out of style.
You can match standard wooden decking boards with no paint with deck colors of any type. A light wood stain like the one shown in this image can add a new style to the skirting. 
Most homeowners use standard wooden decking boards attached to 2x4s for support. The spaces between each panel are for added ventilation when accessing the area.
Horizontal skirting boards get cut from various types of wood. Three of the most popular types of wooden decking are: 
Redwood 
Cedar 
Pressure-Treated Lumber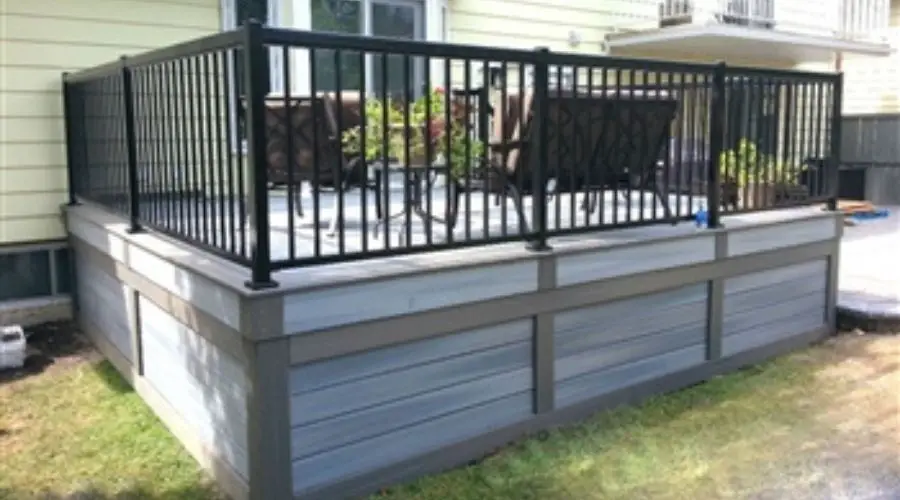 3. Outline the Deck Skirting for Added Sophistication 
If you have a neutral base as your decking color, adding an outline with a contrasting color can help the space stand out more.
A grey decking would be too neutral and uninteresting. Including the brown outline that covers the corners, top, and bottom will give added life to the space. 
The owner paired brown with each post to contrast the black deck railing in this image. When you include vertical shapes into a primarily horizontal design, it catches the eye more and is more attractive.
You can do this deck skirting outline with any color or material that matches your home's design.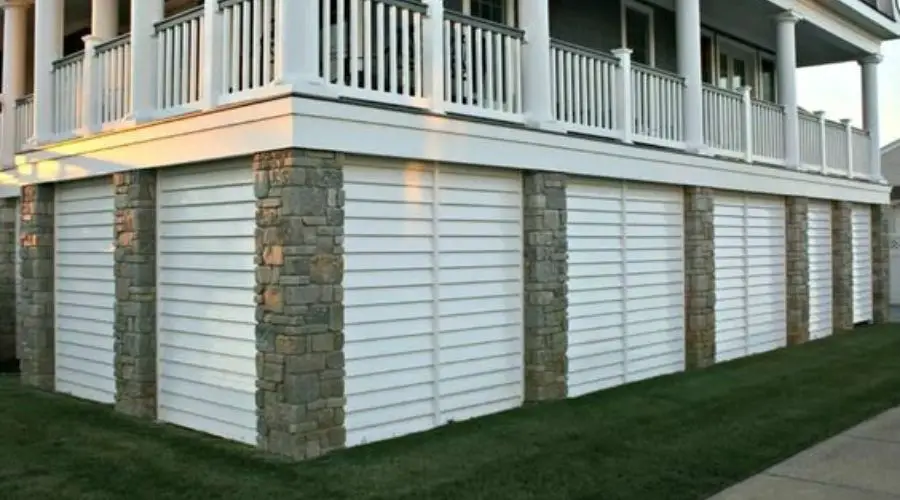 4. Stone Pillars Add a Luxury Finish 
If you want to add an elegant look to your home, you aren't limited to only using wood for your deck skirting.
Consider mixing stone and wood for a unique design with lots of customization. Some good choices of stone are: 
Solid masonry
Mixed stone blocks
Brick pillars
The pillars should extend the posts connected to the deck's railing for a seamless design. Place pillars in different areas than the rail supports will create an inconsistent configuration.
Additionally, the stone should not play a significant role in structural support. The stone pillars are a design accent.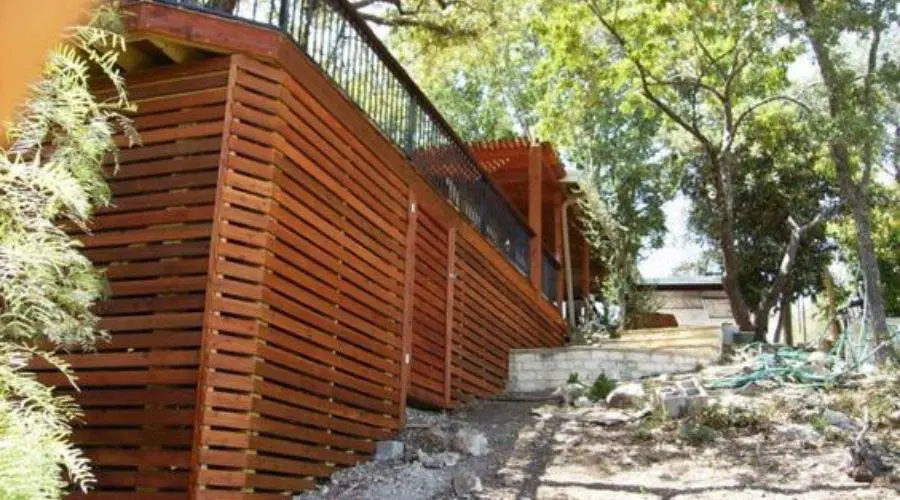 5. Horizontal Decking Can't Be Restricted
Where there is a deck, you can install horizontal skirting. Some decks will be over more difficult terrains than others, on hillsides or steep land.
With each hill, build horizontal skirting that complements that area and provides a proper covering of the deck foundation. 
I recommend consulting with your local carpenter about installing horizontal skirting for very complex landscapes.
A professional carpenter will know how to build skirting that will be flush to the floor. There are creative ways to add it whenever you think you can't install horizontal skirting due to landscapes.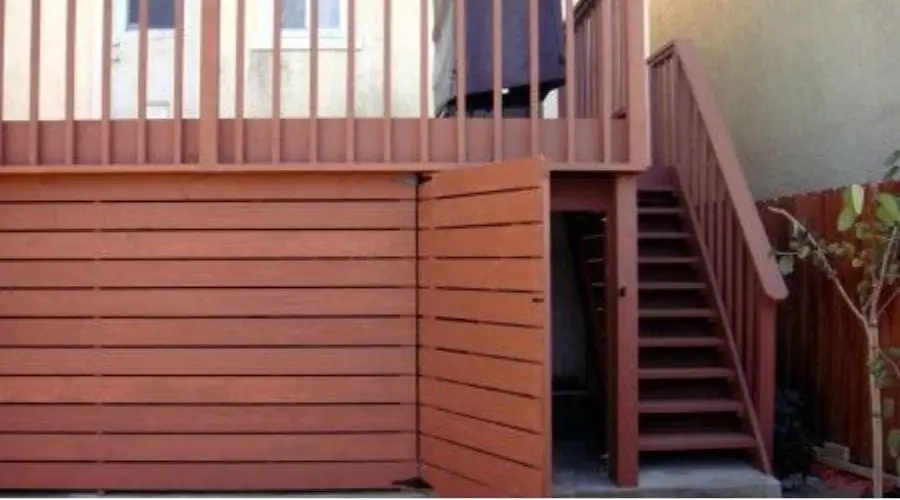 6. Add a Door for Additional Storage Space 
Horizontal deck skirting can both functional and visual purposes. Adding a gate door to the skirting can improve functionality and give you more storage space.
If you have a tall deck, this is a no-brainer and will make for the perfect storage area for things like lawn equipment, gardening supplies, or anything you might need. 
Having a gate door will also prevent instances of having animals using your deck for shelter. Keeping an open space in the skirting will invite animal guests to use your area and potentially cause damage. With a simple door hinge and a lock, you can easily add a gate to your skirting. 
7. Use Recessed Horizontal Skirting for Garden Space 
So far, the ideas we have shared have shown horizontal skirting that is flush with the deck edges. If you want added garden space or an area for decorative rocks, make your skirting recessed. You can plant flowers or whatever you would like in the deck area with the added space. 
The skirting plays a supporting role along the deck's edge in the design shown above. Having recessed horizontal deck skirting will take more work, as you need to build a new wood frame around the deck's interior. However, it can be worth it for people who want to improve a standard deck skirting style.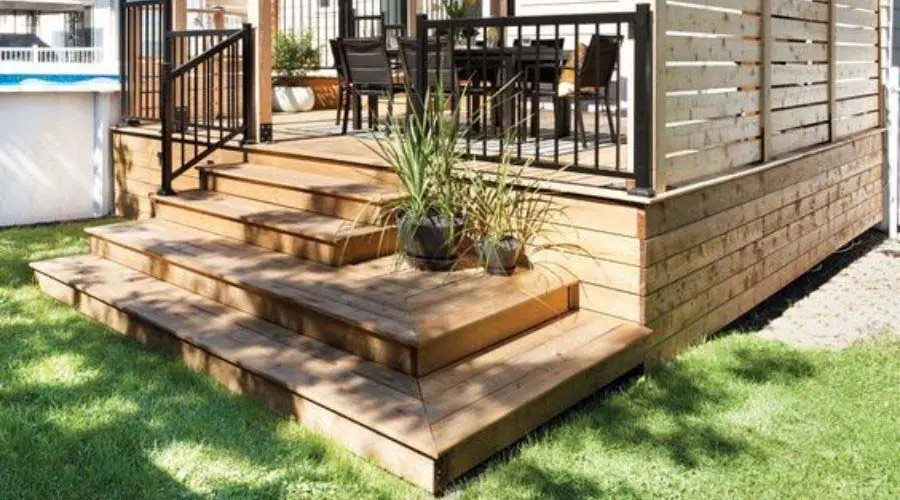 8. Add Steps to Your Horizontal Deck Skirting
While most decks have stairs that lead up, you can add additional steps to your horizontal deck skirting.
You can create steps that flow from the deck with the horizontal boards. Adding stairs is a simple process that requires minimal carpentry knowledge to complete. 
If you want steps leading up to your patio, you can choose from various designs. Many homeowners add lights to their actions to increase visibility at night. You can also add handrails that improve the safety of using the steps.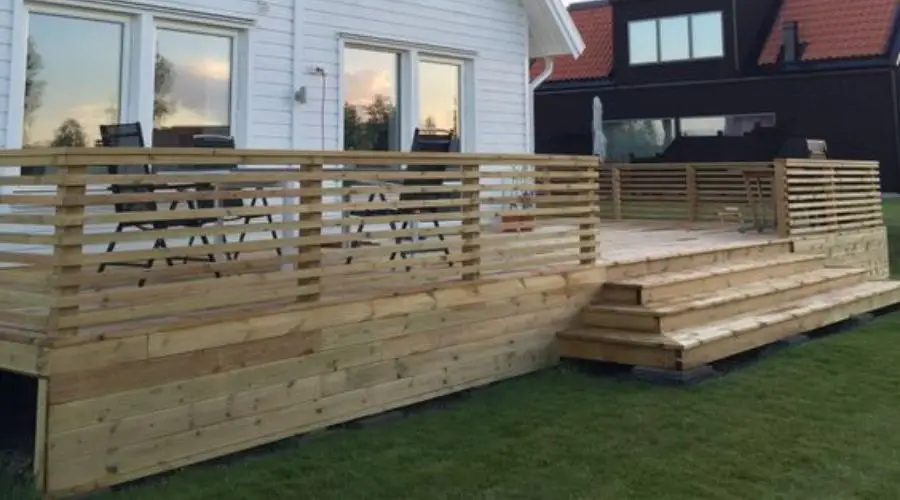 9. Minimalist Deck Skirting Idea 
If you have an elevated deck, it is always good to have deck skirting covering the base. You can make the horizontal deck skirting as stylish as possible, with many other people focusing solely on functionality. With some standard 2x4s, you can build your deck skirting that will last for a long time. 
While many people don't like the look of unfinished wood, it can be an excellent way to save money for your home's project.
The average costs of deck skirting are $30/sqft when you hire a professional for the job. You can save on these costs by using standard wooden boards and screws to create your very own.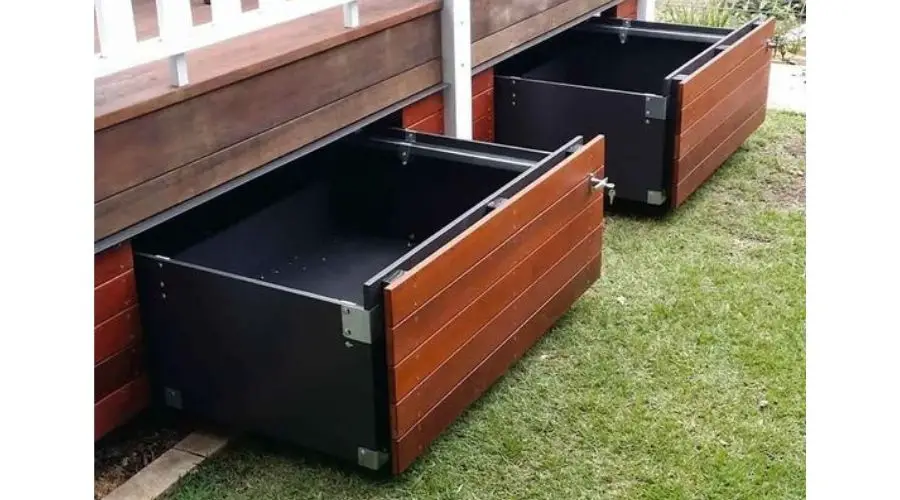 10. Smart Storage Horizontal Deck Skirting Idea 
Finding places to put items for homeowners with limited storage space can be a challenge. If you have a tall enough deck, you can quickly install these storage drawers to access more storage space.
Equipped with handles, you can easily access storage compartments that don't require crawling under the deck. 
The storage drawers should blend seamlessly with the rest of the deck skirting with good craftsmanship. There will be options to add a lock on the storage containers to prevent theft in some cases.
So, if you have limited space and want to utilize your horizontal deck skirting, use storage drawers.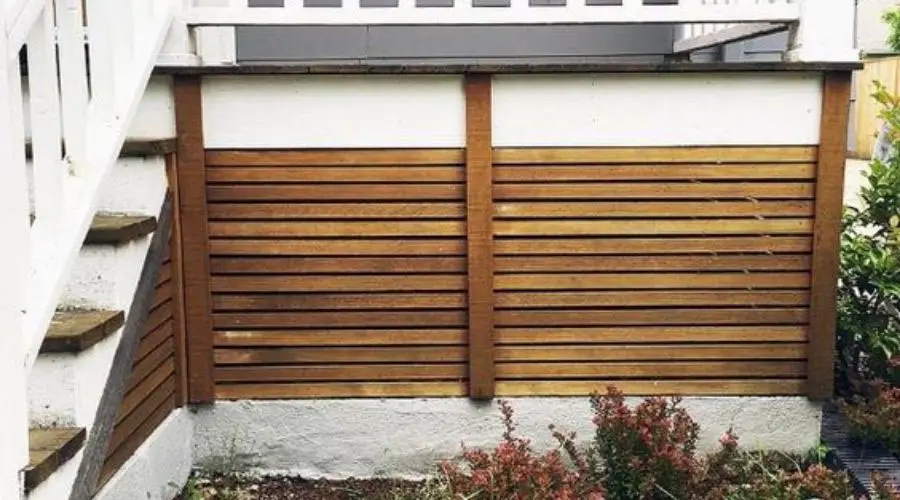 11. Install Horizontal Deck Skirting on Concrete Slabs
If your deck is positioned above a concrete slab, you can build horizontal deck skirting between the deck and concrete slab.
The horizontal skirting creates a seamless transition to the concrete, which can also serve to fasten the supports of the skirting. 
The deck skirting design is straightforward, but it's an excellent upgrade for an older house with a similar foundation. You can also improve upon this design inspiration, incorporating other features from this list.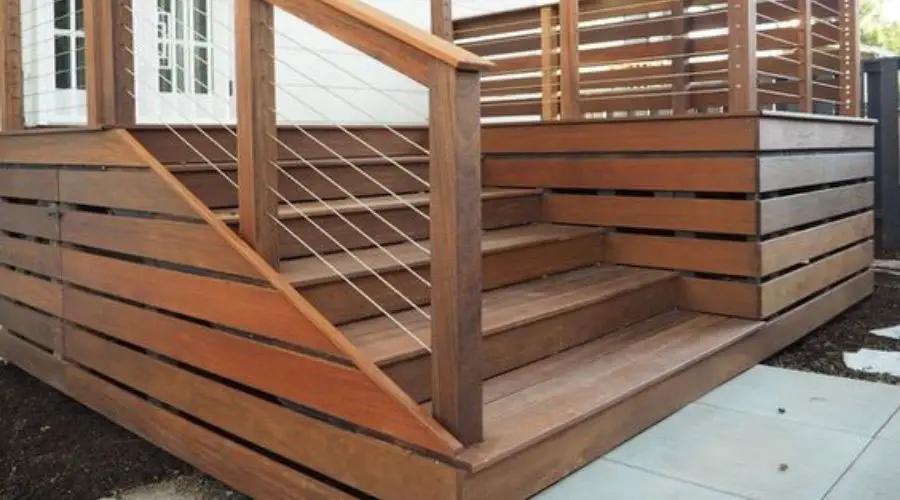 12. Use Wood Stain for a Rustic Look
For an aged look with a hint of style, use a high-quality wood stain. A wood stain will remove the look of unfinished wood and add a color that works well with your home's style.
Rustic design typically mimics the structure of countryside homes and gives the wood a bit of character. 
If you want to add a wood stain to your home's horizontal deck skirting, some of the best colors you can choose from are: 
Woodland Cedar 
Mahogany
Dark Walnut
When looking for a rustic look, you should look for a dark natural color closely resembling aged wood. Dark browns and reddish browns should be the focus of wood stains.
Additionally, you should ensure that the wood stain is rated for outdoor use and can handle the demands of harsh weather.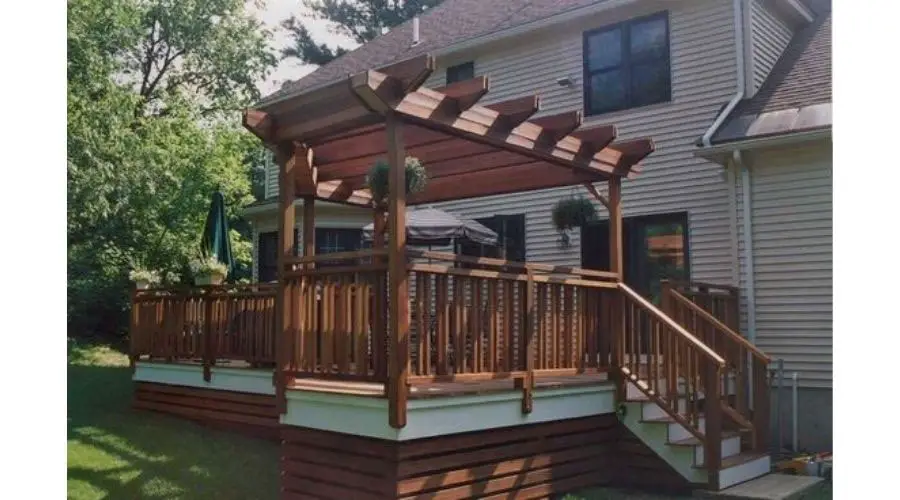 13. Cedar Wood Skirting that Impresses 
Cedarwood is a dark-colored wood that adds a lot of style to wooden decking. Cedar has a long history of being used for decks, and a good reason: it is incredibly durable.
The wood for your horizontal skirting will not warp, and it will stay sturdy for years with minimal maintenance. 
The dark look of cedarwood is an excellent contrast to lighter-colored homes with neutral tones. If you don't have a cedar deck, you can still use it as a material for your horizontal deck skirting.
Use a cedar wood stain that closely matches the material's natural color for an excellent design.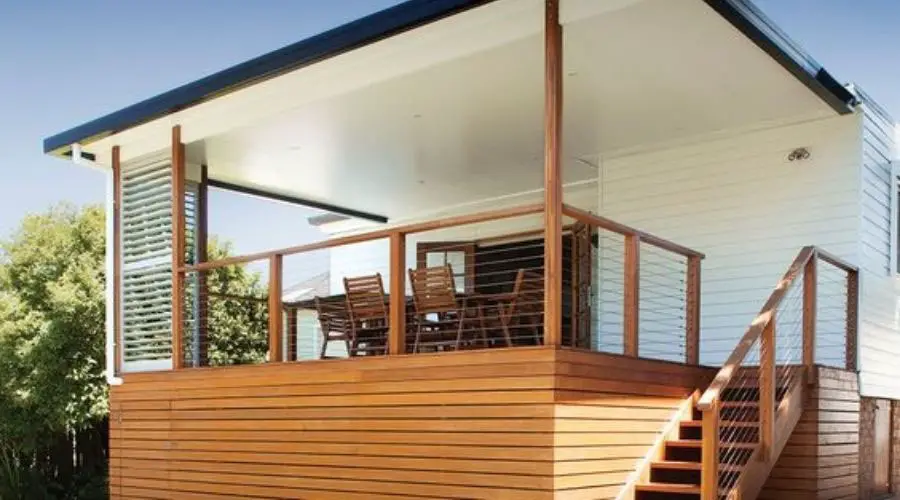 14. Modern Wooden Skirting that Transforms Your Deck
In modern design, the use of symmetrical and polished materials is widespread. If you want to add a new touch to your home, build horizontal deck skirting that is symmetrical and polished. Adding stairs on the outside of the skirting can also increase functionality. 
Skirting can quickly bring new life to the area if you have an older deck showing aging signs. A matching handrail and support will bring the whole design together and complement your home.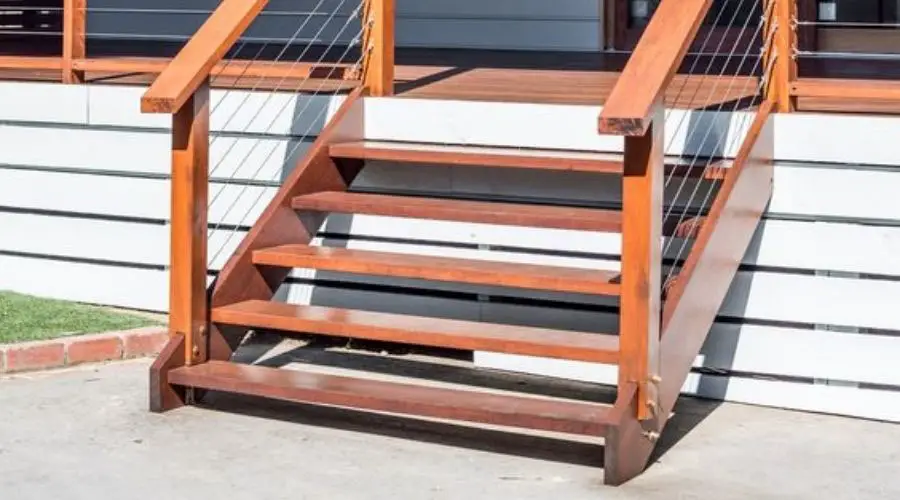 15. Match Your Home's Paneling for a Seamless Design 
When you have paneling on your home, adding skirting with the same color and width is a great way to create a connected design.
If you tend to play it safe when designing your home, choosing the same color is always a safe bet. White is a standard paneling color, and it offers an elegant look. 
Unlike paneling, you will want to put gaps between the deck boards for your skirting. The cracks will provide added ventilation and prevent mold growth that can spread to other parts of your home. In most cases, a ¼" gap or a ⅛" between your deck boards will be enough.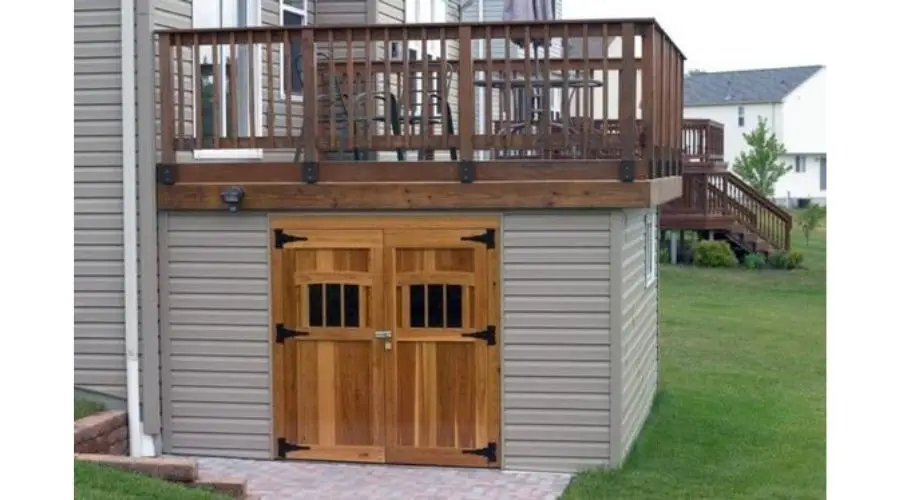 16. Create a Convenient Horizontal Deck Skirting Shed 
When you are tight on space, you need to get creative with making more storage space. Building a shed into your horizontal deck skirting requires only two doors and hinges for the project.
Using your horizontal deck skirting as a shed will keep your space clean while offering a stylish cover for the deck's foundation supports. 
You can add any other finishing touches to the shed, such as a window or shelves. Since other supports hold up the deck, adding doors to the skirting will not affect the deck's structure. However, there will be wood posts in the space that can prevent you from storing large equipment.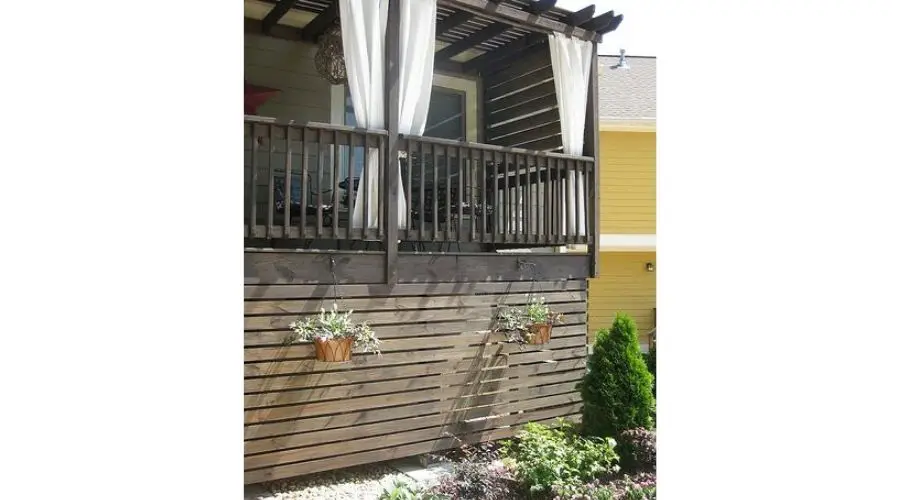 17. Make it Your Own With Decorative Plants 
After installing the horizontal deck skirting, you should add decorative features unique to your personal preferences.
Add hooks that you can use for hanging plants or flowers for your home. When you add plants, you will also be improving the look of the space and eliminating the area from the skirting. 
There are tons of different things that you can hang from your deck skirting to make it your own. You can also turn: 
Outdoor wall art 
Windchimes 
Outdoor sculptures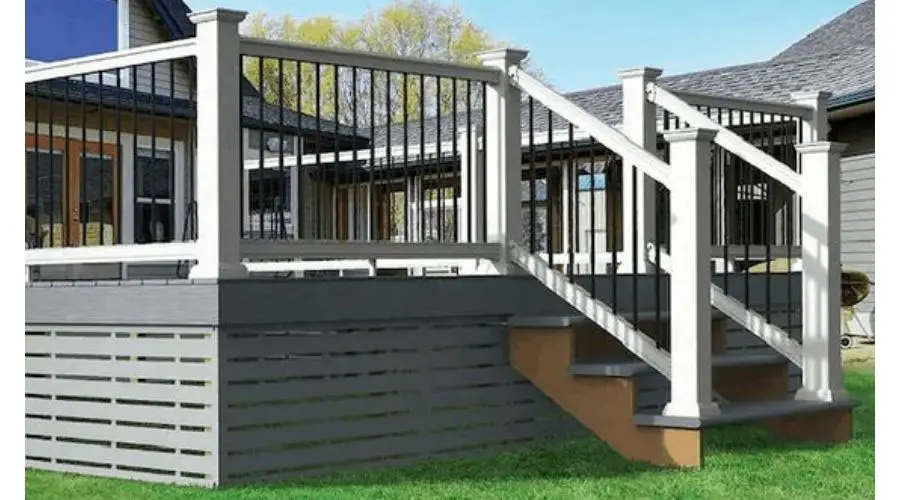 18. Patterns & Colors that Liven Your Deck 
When you want to improve the appearance of your deck, you are usually limited to the patterns and colors of the space.
Consistent geometrical patterns will always be aesthetically appealing to look at, making for a more exciting space. You can also adjust the colors of the deck to pop more. 
In this example, the neutral green color complements the white railing well for a beautiful design. The horizontal wood pattern also does a great job of breaking up the vertical structure of the handrail. If you don't want a plain flat deck skirting, tweak the patterns and colors of the design. 
Conclusion 
Horizontal deck skirting can complement your home and add more functionality to the deck space. Whether you are building a basic deck skirt from 2x4s or want a modern look that transforms the area, you can do it with horizontal deck skirting. Use these design inspirations for your next project, and make it your own!
Sources