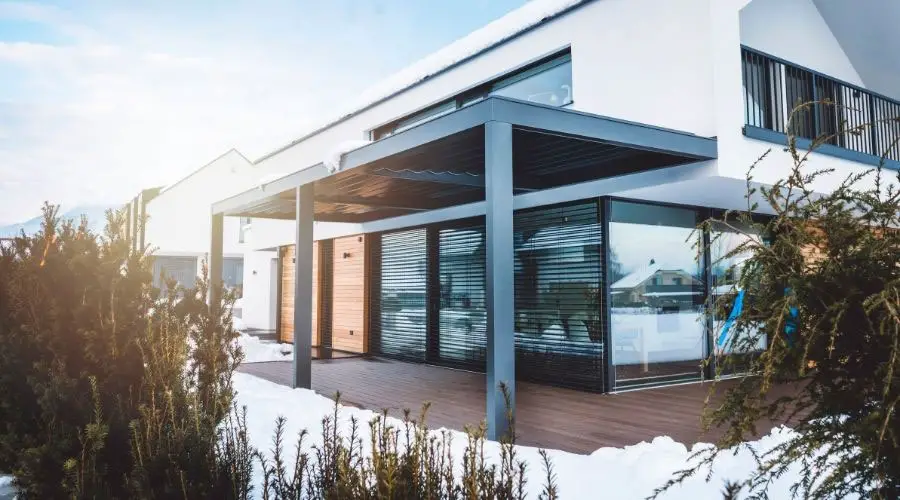 Although winter is the coldest season, you can still spend more time outdoors with just a few modifications. 
Whether it's by incorporating another heat source or adding a new fire feature, you should do everything possible to keep your deck, backyard, patio warm. 
This will make your patio acquire the much-needed temperatures for you and your family to gather, relax, entertain, and enjoy time outdoors at any time of the day. 
But how can you keep your patio warm during winter? Here, we consider the different ways that you can employ to make your winter enjoyable. 
Add a fire pit
Provide a custom fireplace
Use a portable fireplace
Incorporate spas & hot tubs
Make your floors heated
Get an outdoor kitchen
Heat lamps
Get blankets & outdoor rugs
Add a roof
This article goes into more detail on every subject mentioned above. We will discuss what heater fuel source is best for you and what considerations you need to consider before purchasing the best patio heaters. Keep reading to find out more!
How Do I Keep My Patio Warm in the Winter?
Below are ways you can keep your patio warm during winter. 
1. Fire Pit
Fire pits are now among the most popular outdoor heating options, thanks to their low cost, ease of use, and portable nature.
They can either use gas or wood and can be placed low to the ground. Fire pits are, therefore, the perfect solution for center seating around. 
Fire pits are also available in different sizes, materials, and shapes. They can also match every aesthetic design and involve a great way of incorporating a touch of style into your outdoor space. 
2. Custom Fireplace
A fireplace creates a sense of permanence and forms a focal point for a patio or backyard. If you add a coffee table and seating around the fireplace, you're likely to transform your backyard or patio from a forgotten place into an appealing outdoor living space. 
Whether you decide to make a fireplace yourself, go for a custom-built fireplace, or purchase a prefabricated unit, research and time will offer you the best results. 
The materials used to design an outdoor fireplace ranges from stone and brick to metal or concrete. You can decide to fuel the fireplace with either wood or gas. 
While considering the perfect location for your fireplace, think about the nearby structures, low-hanging shrubs and trees, and whether the wind will blow smoke into your home or the neighbor's backyard. 
3. Portable Fireplace
A prefabricated or portable fireplace is a smart option for smaller outdoor spaces. It's also ideal if you'll ever move from your correct place and move with the fireplace. 
A portable fireplace is also called chimineas. They come with an eye-catching design that can mimic the design of your building. 
4. Spas & Hot Tubs
Most spas and hot tubs heat up to about 104 degrees Fahrenheit. You can even place them outside your deck or patio. 
Even if it's snowing outside, a hot tub or spa can help you get warm and relax any sore muscles you might have gotten from snow shoveling or winter skiing. 
Just ensure that you have a towel, slippers, and plush robe around. 
5. Heated Floors
You can extend the durability of your patio or deck by installing radiant heating materials under the flooring. Even though heated floors are popular with interior environments, they're also gaining ground with outdoor surfaces. 
You can install systems in your compound to warm up your deck or patio, and they can bring about the added benefit of keeping your surface from getting icy or melting fallen snow. 
However, ensure that a heater floor is installed by a certified professional. 
6. Outdoor Kitchen
In any household, the kitchen is among the warmest places to be. During winter, you can create an outdoor kitchen and ensure that it's a place you'll want to spend your day during a chilly day, which means you should invest in kitchen appliances that pack on the warmth. 
For instance, incorporating a brick pizza oven, a grill, and other cooking gadgets can quickly heat things. The aromas from the outside will make your guests want to spend more time on the patio after dinner, even during winter. 
7. Heat Lamps
Portable heat lamps don't take up much space, are fueled by propane, and are usually tall. They're prevalent, especially on the patio of modern restaurants. 
On average, one heat lamp can heat about 25 square feet. It makes them the perfect solution for you if you plan on eating outdoors throughout the winter season. 
Heat lamps are also light and easy to discard, especially during summer or when you aren't using them. 
8. Blankets & Outdoor Rugs
Even though an outdoor or indoor rug or blanket isn't going to make your patio warmer than a patio heater or fire pit, it'll make your patio feel and appear cozier. You can always spare a blanket or outdoor rug specifically for winter. 
However, for effective performance, place the rug or blanket in a dryer for some time before bringing them out. 
9. Add a Roof
Even though constructing a patio cover or pergola is an expensive project, its benefits are twofold. During winter, a patio cover will contain the heat and ensure that your family remains warmer. You can even leave it on during summer to protect yourself from the sun's heat. 
There is an option of adding light on the roof, which will generate even more heat. A patio cover extends from your house, while a pergola is a freestanding structure. You can build any of the two depending on the design of your home.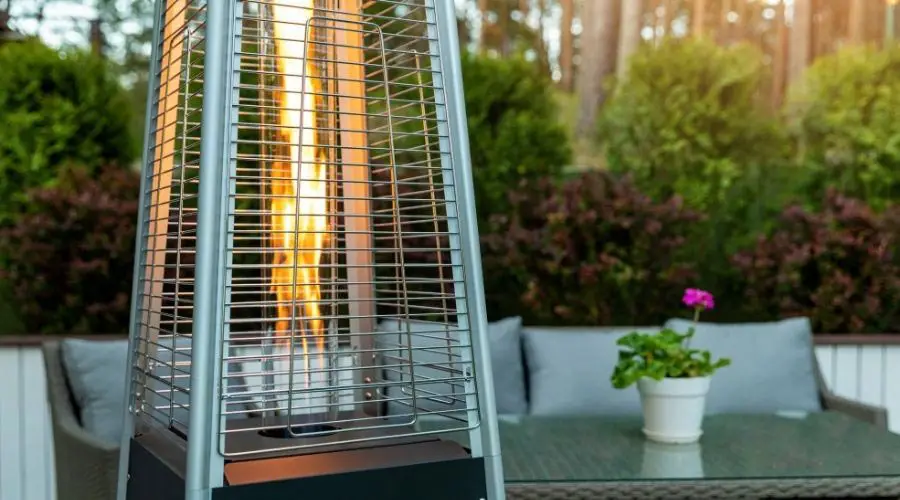 Which Type of Patio Heater is Best?
The best patio heater is one that meets your needs at an affordable cost. It would help if you, therefore, took your time to research before selecting a patio heater. Let's look at some of the best patio heaters on the market:
1. Hampton Bay 48,000 BTU Heater
The Hampton Bay 48,000 is by far the best product you can consider purchasing. The heater is designed with stainless steel and has a diameter of 200 square feet. 
It measures 32.25 x 32.25 x 87.25 inches and can deliver 48,000 BTUs. Many people like this product thanks to its affordable price and ease of use. It's also powerfully warm, making it perfect for outdoor spaces. 
This patio heater operates on a liquid propane cylinder. It comes with a piezoelectric ignition and an adjustable heat control system. 
2. Mr. Heater 45,000 BTU Propane Tank 
Mr. Heater is another top heater that is designed from stainless steel, thus guaranteeing durability. It has a heat range of 950 inches and delivers 45,000 BTUs. The heater also measures 10.4 x 10.4 x 17.5 inches. 
You'll like this product since it heats quickly compared to other products. The heater is also more portable and affordable. 
The heater gets powered by liquid propane and runs for about 9.5 hours for a 20-pound tank. The heater radiates heat in all directions. To ensure proper safety, it comes with a built-in shutoff just in case it tips over. 
3. Bromic Black Tungsten 500 Smart-Heat Hanging Heater
If you're seeking the patio heater that's best for natural gas, then go for this product. Bromic Black Tungsten patio heater comes in design sizes of 14.1 x 25.5 x 25.5 inches. They are also developed from stainless steel to ensure durability. 
Apart from having a high BUT of 43,000, the heater also boasts a heat range of 200 square feet. This heater can mount on a ceiling and wall. You should buy this product if you already have a gas line in your house. 
The heater is mounted on an easy-pivot arm bracket, allowing you to angle it in various directions. It's also developed with a remote control to let you control it from anywhere. 
4. Hampton Bay 38,200 BTU Heat-Focusing Propane Heater
If you are seeking a portable patio heater, the Hampton Bay 38,200 product is among the best in the market. The heater's size is 34 x 34 x 86.60 inches. It is also designed with steel to make it durable. 
The heater delivers a heat range of 120 square feet. One unique feature of this product is the heat focusing feature that lets you control where you want the warmth to concentrate. There are also reflectors on top to allow you to change the angle of warmth. 
The unit delivers about 38,000 BTUs and is fixed with wheels to allow for portability. Its electronic ignition system is easy to light.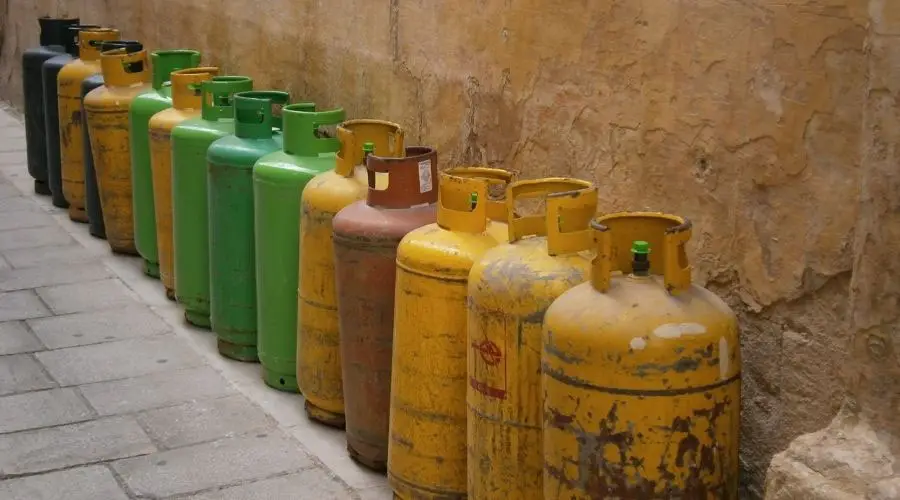 Patio Heater Fuel & Power Sources
As we have seen, having a source of outdoor heat when the temperature falls during winter can present a more enjoyable opportunity. While purchasing an outdoor patio heater, different types are available regarding the type of power or fuel used. 
Let's consider some of the fuel below:
1. Propane
Propane patio heaters are reputable for warming up very quickly. There are even larger heaters that come with 20-gallon propane tanks. Such heaters are ideal if you're looking to heat a large area for a more extended period. 
Heaters that consume propane are mainly portable and may at times come with wheels. Since the heaters pose a high carbon monoxide risk, you should avoid using them in enclosed areas.
2. Natural Gas
Since natural gas heaters connect to your home's natural gas line, they're considered more permanent than propane heaters. As per the requirement of most local building codes, you'll need a licensed plumber to run a natural gas line to your patio. 
The benefit of a natural gas patio is that it presents a lower operating cost since natural gas is a less expensive option. If you're seeking a reliable source of warmth for your deck, consider a natural gas heater for its cost-effective capabilities. 
3. Electric
Here, you don't need to buy the fuel for these heaters. However, you'll need to replace the heating elements frequently. Since electric heaters don't have an open flame, they are safer for families than other options. 
However, electric heaters are smaller and not powerful compared to propane heaters. If you settle on them, don't expect too much heat. 
While selecting an electric heater, always check the heat output for the various models. However, remember that the higher the work, the higher the electricity bill. 
4. Wood
There is no better option than wood, especially if you're after a campfire feel. Wood heaters generate a lot of heat depending on the firebox size and the wood it can hold. 
Since they can create ash and smoke, they aren't perfect for enclosed patios. However, you can reduce smoke by burning seasoned hardwoods, including birch, white ash, and hickory.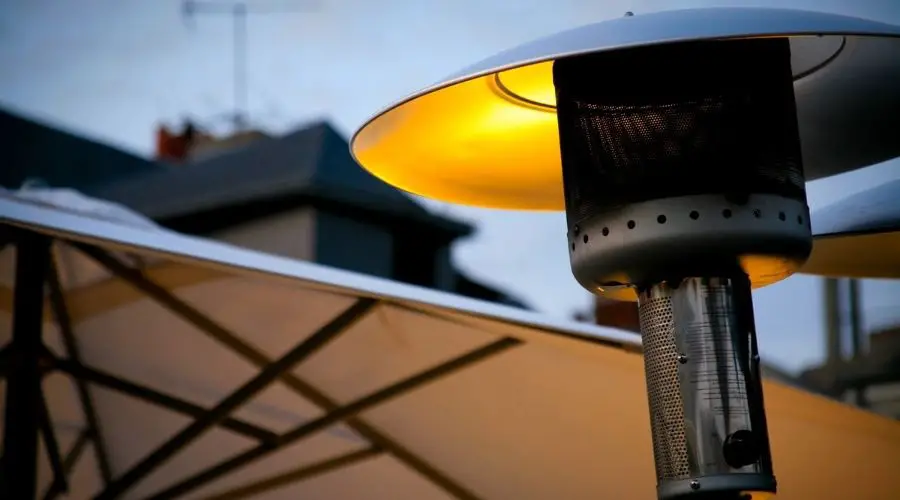 Considerations While Selecting the Best Patio Heaters
Some heaters are purely functional, meaning that they heat a patio area without adding any ambiance. However, others are large and function as a focal point where merrymakers gather. 
Therefore, selecting the best patio heater is an individual option, although certain factors are worth considering.
1. Style
Going for various patio styles can significantly improve the aesthetic appeal of your compound. Below are some of the common types:
Tower-Style Heater
Most of these types of heaters are six to eight feet tall. The source of heat is at the bottom, middle, or top of the tower. 
They are available in either propane or electric versions. The heaters can warm between five to 10-foot radius and are perfect for more extensive patios and yards.
Space Heater
These heaters are smaller and are more about the function that appeals. It would be best if you used them only for a limited space. These heaters can either use electricity or propane gas. 
Tabletop Heaters
These types of heaters strap into a patio table. They either use propane or electricity. Even though they are more portable than other products, they are less powerful. 
They are therefore ideal for use in small gatherings. 
Mounted Heater
They are available in the ceiling- or wall-mounted options. The heaters are infrared and powered by electricity. They are perfect for situations where you have smaller patio space and want to heat a large area. 
Fireplace/Firepit
Fireplaces and firepits offer the ambiance associated with campfires. These heaters can be powered by wood, propane, or natural gas. 
You can surround them with furniture to improve the winter experience. 
2. Area Size
Several factors determine the exact area that a patio heater warms. Most of the large heaters are radiant, meaning that they reflect the heat waves. 
Radiant heat is more effective since it'll warm all the objects before it rather than warm the air. This means that even when the wind blows, you'll still get warm. 
A patio heater radiates heat between 4 to 12 feet with the exact length depending on the power of its heating element. However, many of them come with the ability to adjust the output. 
3. Heat Output
A propane or natural gas heater's output measures in BTUs (British Thermal Output). However, the output of an electric heater measures in watts. 
BTU estimation: Here, you estimate the BTUs by multiplying the square area of your patio by 20. For instance, a patio with a size of 20 x 20 has 8,000 BTUs. The BTU of gas heaters ranges from 5,000 to 40,000. 

Watt estimation: Electric heaters don't generate as much heat as gas heaters. The maximum heat they can generate is 1,500 watts. They're therefore perfect for smaller patios. 
4. Aesthetic
Even though the purpose of a patio heater is to offer warmth when the outdoor temperature is low, many people nowadays go the extra mile of creating a romantic or cozy feeling.
In most cases, you can get heaters with flickering flames or incorporate glass rocks that reflect different light colors.
Most propane heaters come with a cabinet that hides the tank to create a cleaner view. If you want quality aesthetics, go for heaters that match your patio and home's style. 
5. Safety
There are safety challenges that come with the use of patio heaters. Most manufacturers minimize the risks by encasing the heaters in materials that are cool to touch or placing the heating elements where people can't reach them. 
For safety purposes, consider the tips below:
Move the heater away: Keep your heater away from patio furniture, walls, and flammable objects. 
Keep your heater level: Have your heater on a balanced spot to restrict it from tipping over. 
Purchase a fire extinguisher: Having a fire extinguisher will prepare you for a fire outbreak. 
Always have an adult around the patio heater to protect kids.
Keep the patio heater covered: Invest in a cover if the heater doesn't come with one. 
6. Portability
We recommend that you select a heater that you can quickly move from place to place. It means purchasing a heater that has wheels. It would be best if you also bought a lightweight but effective patio heater. 
7. Cost
The actual cost for patio heaters involves paying for the utilities. For instance, electricity is more expensive than propane and natural gas. 
The cost of running a propane patio heater is also higher than that of running an electric heater. Natural gas heaters are the least expensive options since they're installed in permanent living areas and outdoor kitchens. However, they can only be installed by a plumber, thus having an added expense. 
Conclusion
When winter kicks in, you should be prepared to face it whether you stay indoors or outdoors. There are different ways to keep your patio warm during winter, and you can select from any of the options that we have highlighted above. 
There are also different patio heaters to select from, with the best option depending on your needs. However, there are also factors that you must consider before purchasing a patio heater. Always balance between quality and price.
We hope that you keep your patio warm during winter. 
Sources
https://www.amazon.com/Mr-Heater-Converts-Propane-Natural/dp/B005R21UUK/ref=sr_1_1?dchild=1&keywords=Mr.+Heater+45%2C000&qid=1631634726&sr=8-1