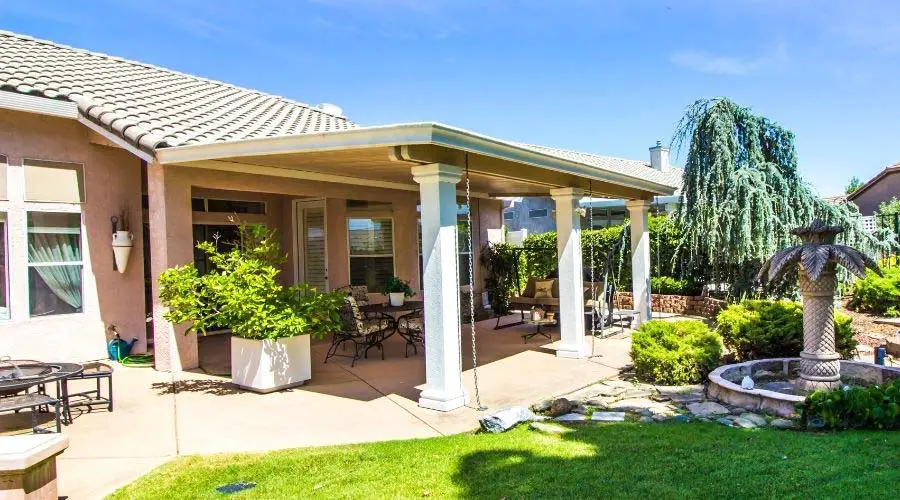 Having sufficient space for entertaining your guests is any homeowner's dream. Nonetheless, do you have adequate space to allow this? If you don't have one, enclosing your patio is a perfect way of creating more room.
Enclosing your patio will improve its dull appearance. Additionally, it will create extra space where you can relax and host your guests. How do you do it? Well, here are eight enclosed patio ideas:
Glass enclosed patio
Lattice enclosed patios
Enclosed patio windows
Tropical design enclosed patio
Screened in patio
Fence enclosure
Garden patio
Enclosed patio kits
Enclosing a patio is not all straightforward. You need to make several considerations and plan adequately. Let's look at this process in detail. 
What Can I Use to Enclose My Patio?
There are several materials that you can use to enclose your patio. The choice of a particular one guides by the intended use of the patio area. Also, the cost of the materials is a critical consideration. 
Here are some of the standard patio designs. 
1. Glass Enclosed Patio
Glass is a typical patio design for those who need light to enter the structures. A glass-enclosed patio is also significant in creating an outdoor atmosphere despite the deck being covered. 
There are two primary types of glasses that you can use. First, there is the single pane glass which is cheap. Nonetheless, it is not too durable, and you will have to replace it after some time. 
Secondly, there is the framed double pane glass design. People mainly use it in making doors and windows of patios.
Nonetheless, you can also use double pane glass to construct the walls. The upside of this glass is that it is thick and sturdy. It is also highly durable. 
Depending on your preferences, you can use clear glass or tinted glass. The former will allow the entry of light into the patio. It also merges the outside look with the inside creating a continuity of the exterior appearance. 
On the other hand, tinted glass is dull and allows little light to penetrate. It is ideal for creating a space that is not too exposed to the surrounding. Hence, tinted glass is the best for those looking for a blend of privacy and an exterior feeling. 
You may also opt to convert your patio to a sunroom by enclosing it with glass. You will construct the deck as another room in the house rather than as a secluded area. Choose the sunroom design that fits your ideal look. 
How Much Does it Cost to Enclose a Patio with Glass?
We may not provide a realistic estimate of how much you require to enclose a patio with glass. The cost is dependent on many factors that include the space that needs to be enclosed and the styles.
On average, enclosing a patio with glass can cost between $2,900 to $40,000, depending on the design and size. 
Also, when determining the cost of enclosing a patio with glass, consider the following: 
The Space to be Covered
The space size will determine the extent of glass that you will need. Also, if you have ample space, you will incur more labor costs. 
Whether You Require a Roof
If your patio has a roof, you will not spend a lot erecting a glass enclosure. Nonetheless, if part of the enclosure includes installing a roof, you will have to dig deeper into your pockets. 
Whether You Need Flooring
Again, it could be that you are looking to do a renovation of your patio as you install the glass enclosure. In such a case, you would require replacing the floor. The added work will, without a doubt, balloon the costs. 
If You Will Need an Installation Expert
The other critical consideration when estimating costs is whether you will require to hire someone or you'll do it by yourself.
If you are unsure how to install the enclosure, hiring a professional will be inevitable. It will also cost you more than when you do it by yourself. 
2. Lattice Enclosed Patios
Using a wooden lattice to enclose your patio is also one of the most brilliant ideas. You will have a wall that allows the free air to flow into the whole deck, creating privacy.
It is also easy to install as all you need is to attach a pre-manufactured lattice to build a wall. 
Consider installing a jxgzyy Freestanding Wooden Fence lattice. It is cheap and also easy to assemble. When choosing a lattice material, settle for a pattern you like as different shapes are available. 
Also, with lattice, you have an assortment of several materials to choose from. We recommend a lattice made from vinyl or cedarwood for this project.
Painting cedar will give your patio a glowing appearance, vital in creating the ideal ambiance. 
Vinyl lattice is durable and also cheap. For an ideal outdoor feel, you can place flower vases on the window panels of the lattice wall. Also, you can allow outdoor plants to outgrow into the patio. 
Remember to paint the lattice often, especially if it is made from wood to retain its original glow.
3. Enclosed Patio Windows
You can install windows made from different materials on your patio. Again, the fundamental consideration when choosing the fabric of the windows should be durability and cost. 
One of the best materials for a patio window is an acrylic pane. It gives an excellent view and also allows light to enter the patio.
The window will also facilitate the free circulation of fresh air from the surrounding area. Alternatively, you can use a glass pane that allows light to enter the patio. 
Nonetheless, you may want an innovative window that does not necessarily use conventional materials. The best material, in this case, is a vinyl pane.
It has several advantages that include being lightweight and withstanding all weather conditions. 
If you are looking for a cost-conscious option, a vinyl pane is the best alternative to glass. It is cheap and will thus save you a few bucks, mainly if you are operating on a low budget.
4. Tropical Design Enclosed Patio
You can enclose your patio to give it the ideal tropical environment where you can relax and have fun with family and friends. The best material for crafting such a patio is long shade bamboo or wood.
Bamboo is excellent in giving the patio the perfect antique look. Leave gaps between the bamboo to allow light to penetrate the deck quickly. 
Such a fence is excellent in protecting your patio interior from direct sunlight. Also, while the weather is rough, it will protect the interior from natural wind or even a storm.
The best roofing idea of such a patio enclosure is to use transparent material. It will allow light to penetrate the patio from above, creating an excellent tropical atmosphere. 
Also, use lighter furniture to make your patio look like a posh summer holiday home. In addition, you can have a waterfall simulator to mimic water flow to complete the tropical look.
Lastly, if you want to give the patio a romantic appeal, place tiki torches on strategic points in the deck. 
5. Screened in Patio
For those looking for an old-school patio, using screened-in glass is the best way of realizing this look. The design will facilitate the efficient flow of air into the deck. At the same time, it will prevent the entry of insects into the enclosed area. 
Its construction is easy, but you'll have to engage a technician to do the job for you as it requires some special tools.
Once installed, you will have perfectly shielded the entry of direct sunlight. It features rolling screen panels that can be closed when necessary. 
Maintaining it is also easy as all you need is to clean the glass. It is also an ideal option if you don't want to spend too much. Its downside is that it's dull-looking. It does not invite the thrill that is common with other patio covers. 
6. Fence Enclosure
You can install a fence around your patio. Most of the time, putting such an enclosure is intended to improve security and give the deck some privacy. 
However, you must follow the local authorities' directives when installing a fence. In most places, constructing a wall higher than six feet is prohibited.
You can, however, check with your authorities to see if you can make one that is higher than that. 
If you want to create a fenced enclosure, the best material is wood. It is perfect for customizing the patio wall to meet your desired outlook. Consider using unfinished lumber or reclaimed wood if you are an antique enthusiast. 
You can also use a vinyl fence enclosure if the wood is unavailable. 
7. Garden Patio
Using live plants to surround your yard is also a good idea to make your patio very natural. There are several plants that you can use for such a fence. They include red twig, bamboo, chocolate vine, and hicks yew. 
Incorporating flowers into the fence can also improve your yard's look significantly. Among the best flowers for such a fence include daisies and bee balm.
Also, using vegetables such as tomatoes and peppers is a brilliant idea for bringing the garden to the house. 
Lastly, add climbing plants to give the fence a cozy appeal to your patio. 
8. Enclosed Patio Kits
You do not have to necessarily labor hard to assemble the materials required to enclose your patio. For instance, you might be running out of time. Also, you may be confused about the patio enclosing materials to use. If that is your case, consider purchasing an enclosed patio kit. 
The Sojag Outdoor 10′ x 16′ Charleston Solarium is one such kit you can use on your patio. You can purchase it on Amazon. Thus, all you need to do is make an order, and they will deliver it to your doorstep. 
The cover will provide excellent shelter from the harsh outside weather. It also has mosquito netting that facilitates keeping mosquitoes away. 
Materials to Use for Patio Flooring
There are several materials that you can use to floor your patio. Since the deck is an outdoor structure, you will need to use a durable material for flooring.
Nonetheless, having an enclosure makes this need insignificant. The addition will protect your patio's floor from natural weather conditions. 
Selecting a durable material is imperative, especially if you intend to spend quite some time on the patio.
Here are some of the materials you can use for flooring: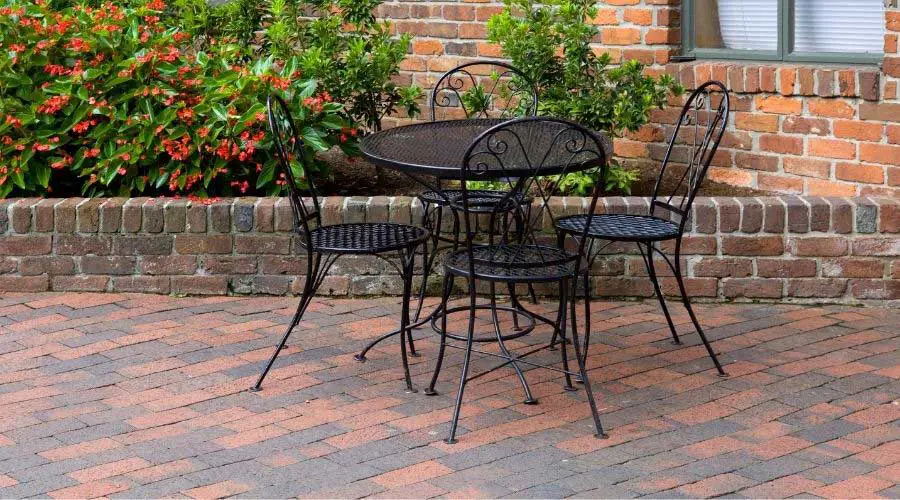 1. Bricks 
If you are looking for a sturdy yet classy floor, use bricks as your flooring material. Also, be innovative when laying the foundation to ensure that you deliver an exquisite final look.
You can select several kinds of designs for your brick floor. For instance, you could choose to go for a herringbone pattern or even a jack-on-jack design.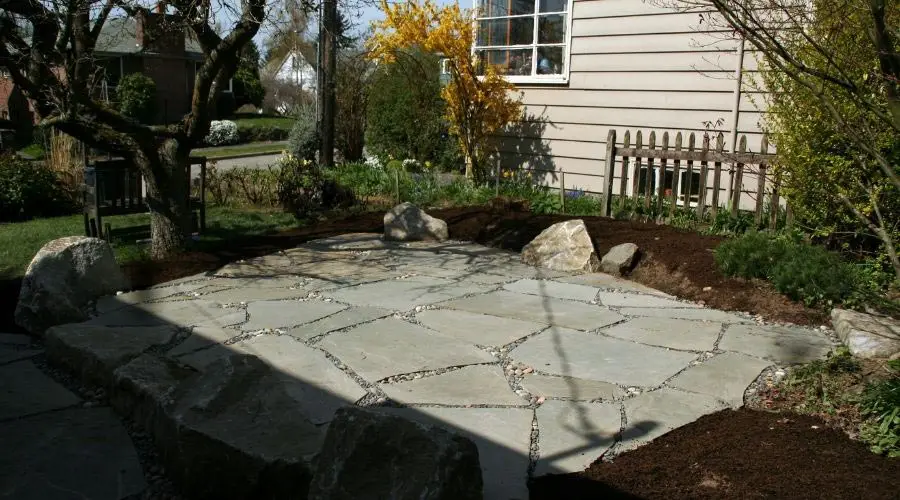 2. Flagstone
A flagstone floor is the best for a surface prone to occasionally getting wet. The material has perfect traction even while wet. It is also attractive, and you can choose from the several available designs. 
Settle for the stone, color, and design that impresses you the most. Also, an interior designer will help you choose the type of flagstone that suits the design of your patio.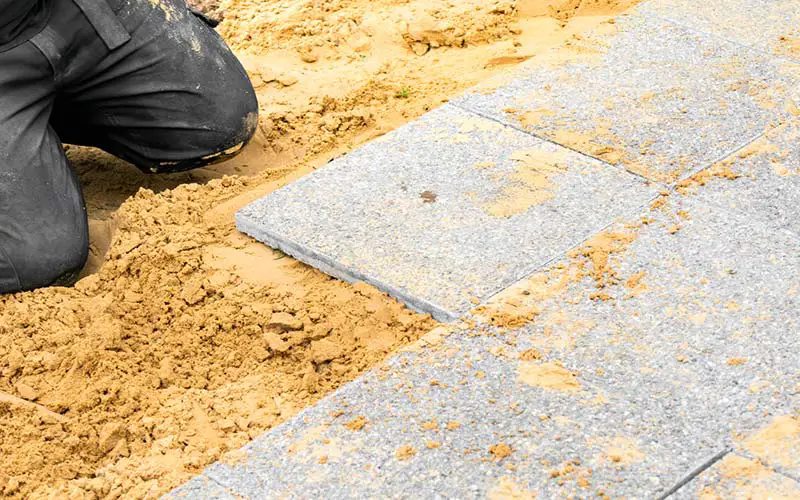 3. Pavers
If you are a floor pattern enthusiast, installing a paver could be an excellent idea. They interlock perfectly, forming a continuous pattern.
Again, engaging your mason or interior designer is imperative when choosing the best paver design.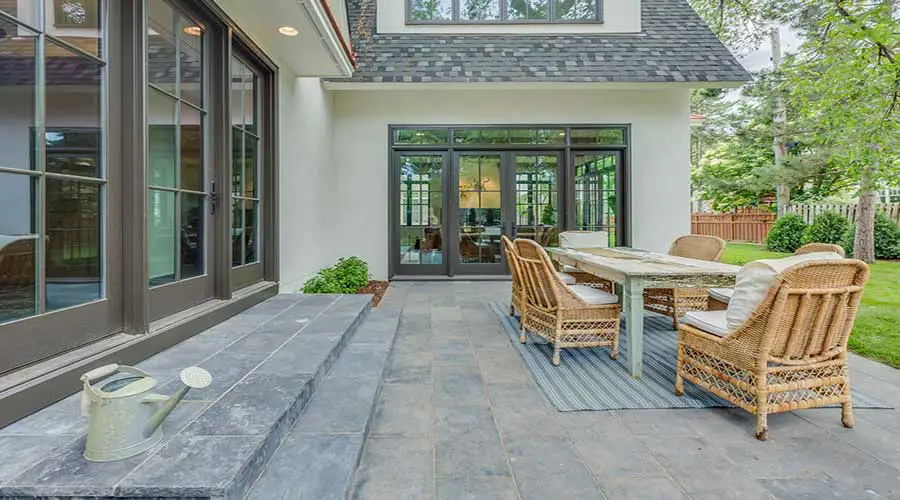 4. Tiles 
Tiles are also common patio flooring materials. When choosing tiles, remember that your patio is exposed. Thus it requires sturdy tiles and stain proof. Therefore, unglazed tiles are the best for patio flooring. 
Nonetheless, if you are looking for a rustic appearance, go for terracotta tiles. They will serve you best, primarily if your patio is situated in a favorable environment.
On the other hand, choose quarry tiles if you want patios that will guarantee traction during wet weather. 
It is essential to protect the tiles from stains and moisture by applying a sealer during installation. The cover will also make them more attractive than when absent.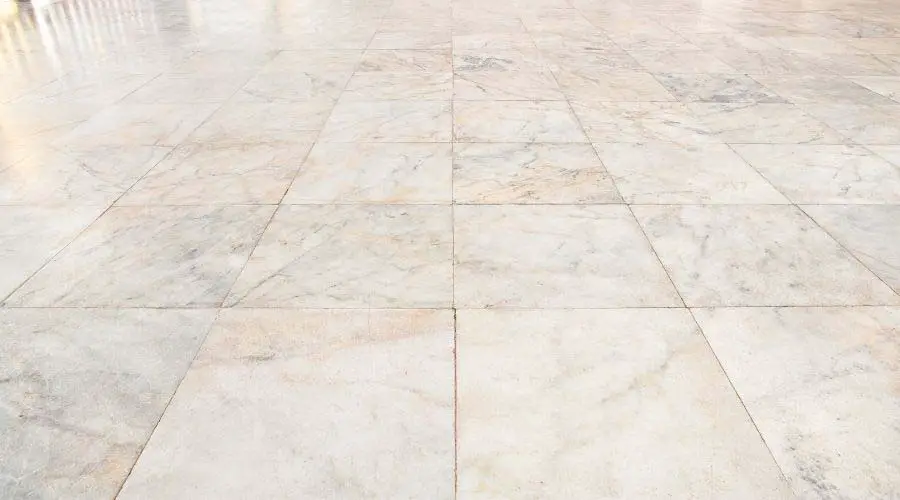 5. Cut Stones
There are several natural stones that you can use to floor the patio, such as limestone, travertine, and marble. Stones are highly durable materials that will give your yard an antique look.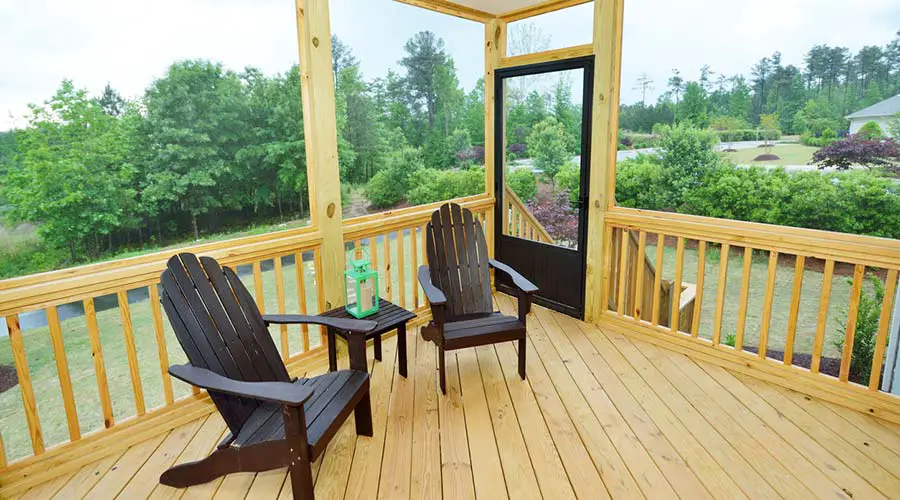 6. Wood Tiles & Wood Flooring
A wood floor on your patio will give it an attractive and warm appearance. You can also use wood tile instead of laying planks on the ground.
Also, if you want to give your house the wood appeal without using wood, buy ceramic tiles. You can find wood-look tiles that will look exactly like actual wood. 
The upside of using ceramic wood-look tiles is that they are more durable than actual wood tiles. They are also cheaper than wood. For a wood plank floor, it's best to use hardwood, considering that the patio is an exposed outdoor structure.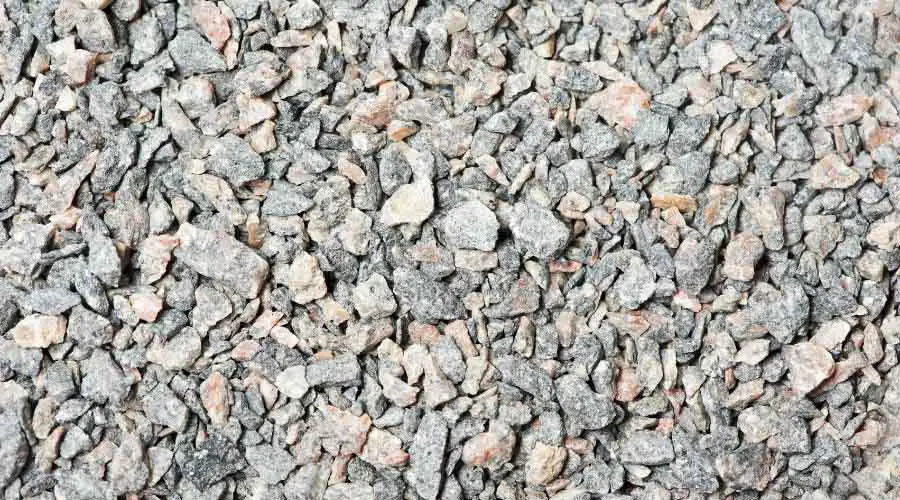 7. Loose Material
If you reside in a dry region, the ideal material for a patio floor is loose materials such as bark mulch, sand, and crushed stone.
Alternatively, you can use LITA X20 Premium Artificial Grass. It will give the patio floor the perfect outdoor and natural appearance. 
You can also remove it when necessary and replace it with loose materials. Also, laying the surface is easy. 
How Much Does it Cost to Build a Lanai Around a Patio?
You might opt to place a lanai around your patio, and you're wondering how much it would cost. A lanai is typically similar to a patio cover since it extends from its existing room.
According to Home Advisor, a lanai's installation cost will depend on the space covered and the labor costs. 
For these costs, expect to spend an average of $1,200 to $1,600. Therefore, if you want to calculate the costs per square foot, it would amount to approximately eight bucks per square foot. 
Things to Consider About Enclosing Your Patio
You might be feeling that it's time to improve your patio by enclosing it. You have probably realized that you can turn your patio into a more livable space by surrounding it. But can you do it right away? The answer is no. 
Can a Patio Be Enclosed?
You can indeed enclose a patio, but this is subject to your area's authorities' rules. It also depends on the type of house that you are living in. If you live in a single-family home with a patio covered with a roof, there is no harm in protecting it. 
Nonetheless, there is an exception. Let's look at it. 
Can You Enclose a Patio with No Roof?
You can still enclose a patio with no roof if you live in a single-family home. However, you first need to enquire if this is feasible from your architect. Each area has rules governing the construction of covers on a patio. 
Hence, your architect will advise whether enclosing the patio is in line with the provisions of the jurisdiction that you live in. These conditions apply to those living in a single-family home. 
What if you live in a condominium or a townhouse? If you reside in such a house, your rules are pretty different from those above. Consulting your architect will be handy in setting the rules clear in such a case. 
Whether you live in a condo or a single-family residence, you need to consider the following: 
1. The Homeowner's Covenant
All condos and several townhouses have consistent clauses regarding their architectural designs in most cases.
These clauses prevent the alteration of the exterior appearance of a building. Some also give each condo or townhouse owner a particular design when designing their houses and exterior. 
Therefore, you must consult your condo association to stay aware of the particular bylaws governing your jurisdiction.
If you are in a townhouse, the property's title should have the covenants governing the allowable improvements. 
2. What You Have Below & Above
When enclosing a patio, you also need to consider the materials below or above you. For instance, if you live on the ground floor, you'll likely use the foundation to support the added weight of the enclosure.
Additionally, a ground-floor house has strong floor tile. Hence, it will effectively support a patio enclosure. 
Nonetheless, if you live in an upper-floor house or a cantilevered deck, the design of the house may be insufficient to support a patio enclosure.
Enclosing a patio will require you to introduce windows, walls, and extra pressure on the floor. Therefore, you need to consult with your structural engineer if enclosing such a patio is feasible. 
3. Floor Area Ratio
It is the proportion of the space covered by the house to the plot size the home sits on. The allowed Floor Area Ratio (FAR) will determine the neighborhood's density. Hence, you must be compliant with the stipulations of your community. 
You must comply with your locality's FAR as you plan to improve your patio by enclosing it. Thus, you will need to consult with the authorities if applying the enclosure to the balcony will contravene the FAR directives. If there is not enough floor area, you may have to shelve your patio enclosing ideas. 
Do I Need a Construction Permit?
As discussed above, enclosing your patio is a complex process as you must do it within the stipulated guidelines. Nonetheless, the question remains if you need a construction permit to commence the process. 
It will again depend on the type of house that you live in. 
1. Single-Family Home
If you are in such a home, you can submit your plans to enclose your patio and obtain a permit on the same day.
However, you must first ensure that you have fulfilled all the considerations above to boost your chances of being granted the permit. 
Among the issues that may curtail getting a permit on the same day includes covering more areas than allowed.
Also, the height of your building could be a possible hindrance. If you are unsure how to identify some of these factors, consult your architect. 
2. Condo
If you live in a condo, obtaining a permit is more complicated than a single-family home. The review will also take some time before it is complete, and you may have to wait for months.
It will also require your architect to make some complex drawings and approve them first. 
All in all, if you have fulfilled the necessary directives, you will be granted a permit. 
For either of the buildings, you will require to pay a permit fee. On average, Home Advisor estimates the costs of permits to be approximately between $100 and $300.
Why Do You Need to Enclose a Patio?
Here are some of the reasons why enclosing a patio is important
1. Protecting Outdoor Furniture 
You will need to put some furniture on the deck. Therefore, enclosing it is essential in protecting the furnishings from harsh weather.
Although outdoor furniture is made to withstand adverse weather, overexposing it will lead to fast deterioration in quality. 
The exposure will be harsher on wood which is likely to have a mildew infestation. Also, a patio enclosure is still significant if you live in a warm environment. The presence of salty water characterizes most warm climates. 
The salt will find ways to your metallic furniture via evaporation and induce rusting. 
2. Privacy & Added Security
A patio is an area to relax after a hectic day at work or during the weekend when you're chilling out.
Therefore, having security while at the patio is paramount. Enclosing it ensures a private setting despite being outside the house. 
It also shields off bugs and mosquitoes that could destroy the patio's tranquility.
3. Creating Storage Space
You can also use a patio for storage. Therefore, enclosing it ensures that what is stored inside is safe.  
Final Thoughts
Enclosing your patio should be at the top of your priorities for your next outdoor project. It is an easy process that shouldn't cost you a lot, provided that you select an affordable design. 
We have given you an elaborate explanation of choosing suitable materials and designs. Choose one that fits your preference and give your patio a new look. 
If you are still unsure how to do it, consult a mason experienced in putting patio covers, and you'll be good to go. 
Sources