If you have a paver patio in your compound, it's going to be less attractive if moss grows around it. But how do you remove overgrown moss that is on your paver patio? 
You can employ several approaches to remove moss from any paver patio. These techniques involve:
Use sunlight to your advantage
Boiling water & a hard brush
Use a power washer
Vinegar
Baking soda
Bleach
Commercial moss-removing solutions
However, to remove the moss effectively, you should do things properly. Let's look at the various approaches you can employ to remove moss from your paver patio. 
What is the Easiest Way to Remove Moss?
If you're wondering what the best options are you can employ to remove moss from your paver patio, you can check them out below:
1. Use Sunlight to Your Advantage
It's known that exposing moss to sunlight will kill it completely. Moss doesn't grow in daylight, and revealing them limits its growth.
For example, paver patios in the sunlight have way less chance of encountering moss problems than if they were under an awning or faced a direction the sun does not go (such as facing north or south).
Since moss likes to grow in the shade, deny the conditions for growth by eliminating the shade. It might mean cutting a few trees that provide shade from time to time. 
However, there are certain trees that you might find difficult to cut down. You can remove a few branches to allow the sun's rays through in such a case. 
Even if you can't altogether remove barriers to sunlight, there are still competent options you can use to remove moss from your paver patio. 
2. Boiling Water & a Hard Brush
Boiling water is reputable for removing moss from a paver patio quickly. Here, you need to boil water on a stove before pouring it on your paver patio. 
Using a stiff brush with solid bristles is more effective after pouring the boiling water down. The hot water assists in removing moss that creeps up. 
In some cases, you can add soap to your paver patio so that you can scrub it clean. The moss should not be hard to remove with a bit of hard work.
If you find challenges removing the moss, boil more water to remove any remaining moss. Using water to remove moss is straightforward, and you can do it yourself without requiring help. 
3. Use a Power Washer
Using a power wash is a simple and effective way to remove moss from your paver patio. However, it is not an ideal solution for every use.
A power washer can shoot out water hard enough to get rid of any moss from your pavement. The stronger the power washer, the more effective it's at removing moss from your surface. 
A strong power washer is capable of removing joint sand between your pavement. You'll want to be more careful since it could present an issue that damages your paver patio. 
However, a power washer is straightforward to use. If you fail to remove moss utilizing a power washer, then it's likely stubborn and older. 
4. Vinegar
Vinegar is another environmentally friendly option that you can employ in place of boiling water. Many homeowners use vinegar to get rid of their weeds as an alternative to chemicals.
Vinegar solution won't be assertive at times to remove stubborn moss. However, you can try it out before moving to another option. 
Create a 1:1 ratio of vinegar and water with a spray bottle to develop a powerful moss-killing spray. Spray the vinegar solution on your moss uniformly to remove it. 
We recommend that you allow the vinegar solution to soak the moss for almost 15-minutes before you start scrubbing your surface. You can then apply a stiff brush to clean the moss and see whether it'll wipe away. 
If vinegar doesn't work as expected, your moss challenges might be more severe. Using chemicals could present another viable option. 
5. Baking Soda
Baking soda is also a reputable option if you want to clean and remove things from your paver patio. It's a good solution if you're working on moss that hasn't been there for a long time. 
To use baking soda effectively, sprinkle it on your paver patio surface and allow it to settle there overnight. Early in the morning, use a broom or stiff brush to remove and scrub baking soda and remove moss. 
If baking soda doesn't work effectively, then the moss issue is severe, and you might have to resort to other options. The chemical option would be the perfect solution to consider in such a situation. People love baking soda because it's cheap. 
6. Bleach
Bleach is another popular approach to removing moss from your paver patio. The challenge with bleach is that it could harm plants, is very powerful, and smells terrible. 
If you can manage to keep your bleach on the paver patio long enough, it can effectively remove moss from the surface with ease. Just pour your bleach on the moss and scrub it away using a stiff brush. 
If you settle on using bleach, remember to use a face mask. When using bleach, you must also keep pets and children away from the paver patio. 
7. Commercial Moss-Removing Solutions
There are various commercial moss-removing solutions that you can use to get rid of moss on your paver patio. You'll have to treat the deck with the mixtures before cleaning the surface with water and soap. 
Even though this option is the most expensive, it is also very effective. Professionals recommend it if you have stubborn moss on your surface. However, it isn't environmentally friendly since the solutions contain harmful chemicals. 
It would be best to read the instructions well before applying the products. Note that solutions can be harmful to pets, plants, and humans. 
What Kills Moss on Patios?
Unlike plants, moss doesn't have roots to get water or nutrients. They, therefore, rely on constant moisture from the environment to grow and survive. You'll consequently require competent chemicals to kill moss from your paver patio. 
Even though there are several products available on the market, we'll highlight the most effective products to consider: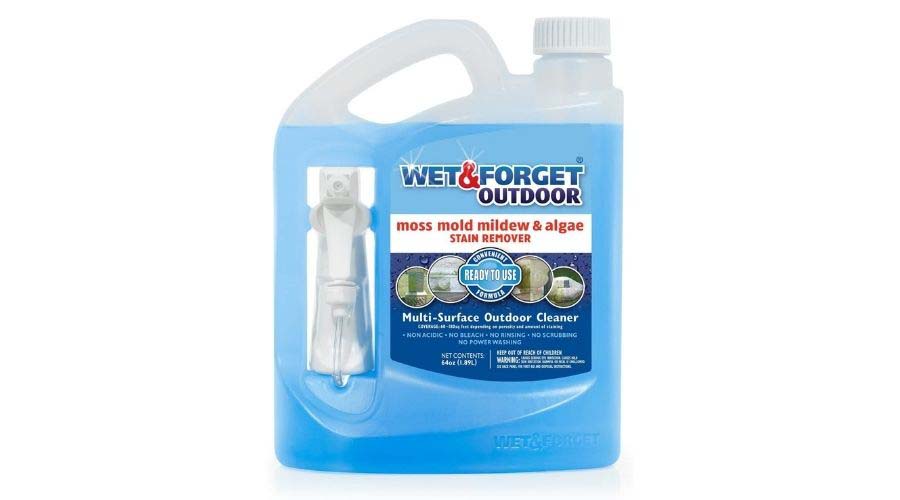 1. Wet & Forget Mold Killer
If you're after a product with guaranteed moss removal, then the wet & forget mold killer is the ideal solution for you. We recommend this product as our best pick on the list. 
The product is available in a 5-liter bottle that can produce at least 30 liters of product to work on a paver patio surface of 300m². When you apply it with a pump-up garden sprayer, it'll also remove algae, lichen, and mold effectively. 
Unlike other moss removal approaches, you won't have to use a scrub or jet wash after applying the product. The product is also made without bleach or acid and thus safe for use without causing damage to plants, animals, and humans. 
You can apply the product on different surfaces, including pavements, patios, glass, wooden decks, and roofs. Even though wet & forget killer might take weeks or months to kick into effect, it is durable and might take a year for reapplication. 
If you're seeking a product that is free from nasty and abrasive chemicals, this is the best option you have. 
| Pros | Cons |
| --- | --- |
| The product is simple to use: You need to spray it on the surface and allow it to dry.  | The product won't offer instant results. It can take several weeks or months to start killing moss.  |
| Available in a 5-liter bottle that can make a 30-liter solution to cover almost 300m². | |
| It's non-acidic, non-caustic, and has no bleach. | |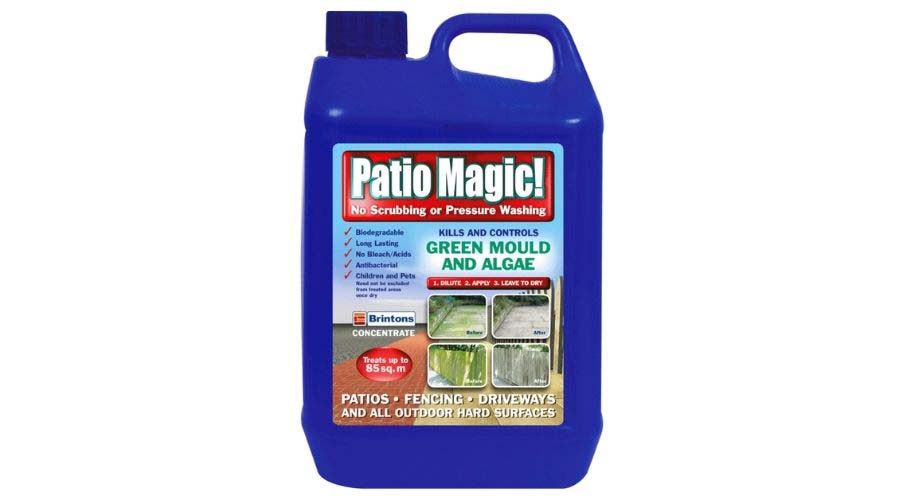 2. Patio Magic! Cleaner
The product stands out thanks to killing moss without requiring power washing. It's also affordable compared to other products on the market but still effective in killing moss on different surfaces. You can use it in both outdoor and indoor areas. 
The product is available in a 2.5-liter antibacterial solution that you can apply on an area of about 85m². After using the product, you'll observe changes between 2-4 days. 
The patio magic solution is ready to use without dilution, unlike other available products. It, therefore, makes the elimination of moss easier than you thought. Just apply the product and allow it to dry. 
You can also use it to control lichens, and the process will take two weeks to 6 months to take effect. Even though the solution won't stain, we recommend testing it on a small area before using it. 
The product is perfect on various surfaces, including conservatories, garden furniture, greenhouses, paved areas, driveways, walls, and patios. 
| Pros | Cons |
| --- | --- |
| The product is antibacterial and has a ready-to-use formula. | It covers a smaller surface compared to other reputable products on the market. |
| It offers quick results within 2-4 days. | |
| There is no need for washing or scrubbing the surface after application.  | |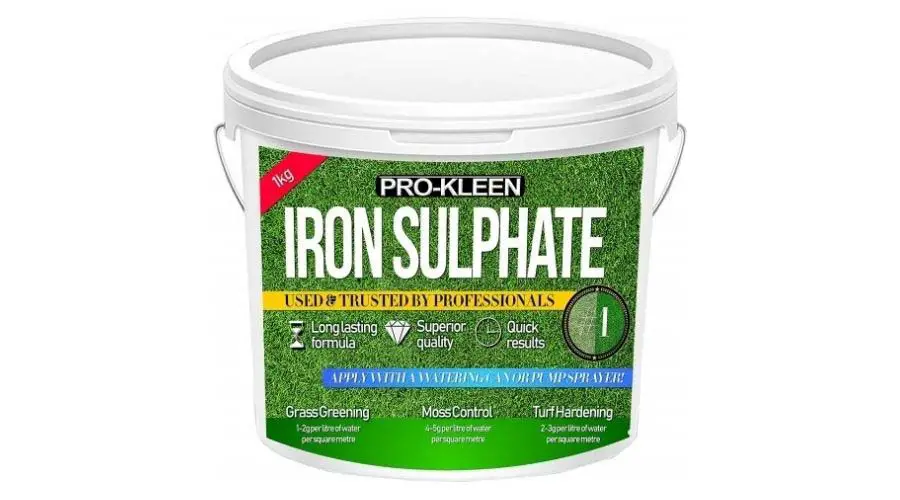 3. Pro Kleen Iron Sulphate
The product contains iron sulfate and has the full backing of professionals to kill moss effectively and quickly. Iron is a critical component used in products for killing moss. 
The product boasts a potent formula that you can apply with minimal effort. It sets itself apart from other products, and you can use it either dry or wet. After application, it will start working within two days. 
You don't have to worry about any neighboring plants. For instance, it encourages the healthy growth of grass, thus making it ideal for healthy lawns. 
The product is 2.5 kg and can treat at least 2,500m², offering value for money. You should mix it with water and apply the resulting solution on your paver patio. After spraying, allow it enough time to dry. 
You should expect quick and effective performance without compromising the health of your garden lawns or plants.
| Pros | Cons |
| --- | --- |
| You can apply the product on your surface as it is. | You might need to calculate your ratios if you plan to use the product as a liquid solution.  |
| It has a 2-in-1 formula that promotes the health of your garden lawn. | |
| It offers quick results by clearing moss within 2-4 days. | |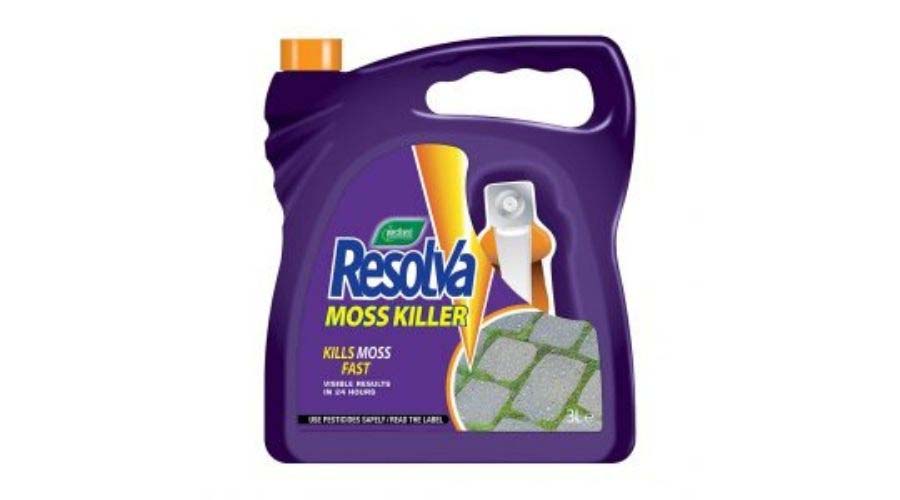 4. Resolva Moss Killer 
Resolva is one product that offers effective performance just a few hours after application. You'll notice results about 2-4 hours after application. It's also among the most affordable moss killers on the market. 
The product comes with a spray tool, thus eliminating the need to purchase a separate piece of spraying equipment. It's also ready-mixed, has a non-staining formula, and reduces fuss. You can use it in outdoor areas, patios, and paths. 
However, it contains acid as one of the active ingredients, thus producing an unpleasant pungent smell. If you want to get adequate performance, stick to the instructions on the container. 
| Pros | Cons |
| --- | --- |
| You can use the product across various permeable surfaces. | The product has acid, thus producing a pungent smell.  |
| It contains a non-staining formula. | The trigger spray tool that the product comes with might cause physical strain when you use it over time. |
| Upon using the product, you'll get excellent results within 2-4 hours. | |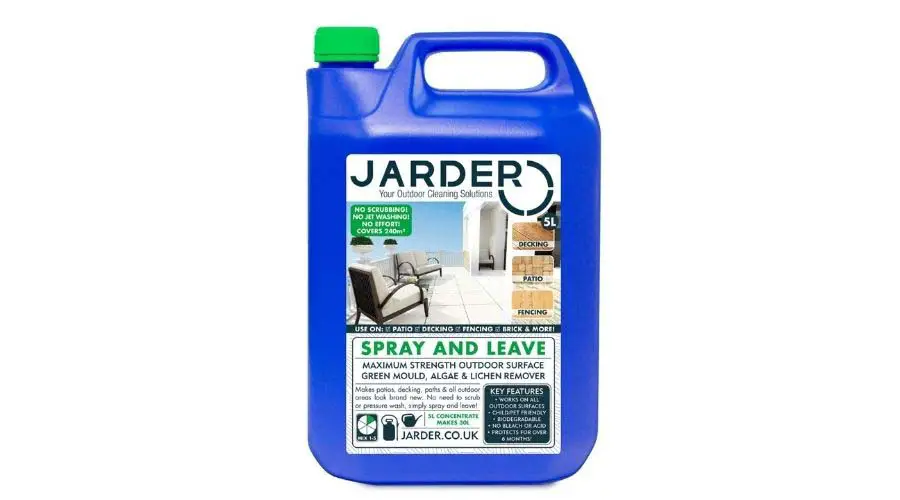 5. Garden Spray & Leave
The Jarder Spray & Leave product requires minimal effort and is easy to apply compared to other products on the market. The product can make at least 30-liters and treat up to 240m². 
There is no need to clean or scrub the surface after applying the product. You should apply the solution and give it time to dry. You can also use the product to remove lichen and mold. 
You can apply garden Spray & Leave on all types of surfaces. It's also biodegradable, meaning that you can use it safely around pets and other plants. 
After treating moss with the product, expect it to disappear within 2-3 days. It's therefore among the fastest moss killers on the market. You don't need power washing to remove moss using this product. 
| Pros | Cons |
| --- | --- |
| You'll notice results within 2-3 days of application, thanks to its incredible strength.  | The product isn't effective on wooden decked surfaces. |
| The product covers a large area of about 240m². | |
| It works well without the need for scrubbing or power washing.  | |
Is Moss Between Pavers Bad?
The best answer to this question is 'no' and 'yes.' It mainly depends on your aesthetic preferences. Even though there are people who consider the growth of moss between pavers annoying, there are others who love the rustic feel that moss adds to their modern patios. 
Nowadays, people even take the necessary steps to boost the growth of moss between their pavers. 
Can You Boost the Growth of Moss Between Pavers
It is easy to boost the growth of moss between your pavers. You need to ensure that the soil between your pavers is acidic and moist and the area is adequately shaded. 
We recommend watering the soil between your pavers to increase the moisture content. There is also the need to apply acidifiers such as aluminum sulfate and sulfur. The desirable pH for the growth of moss is 5-5.5. 
You can also buy moss that thrives between pavers, including rock cap moss, Irish moss, cushion moss, and hair cap moss. 
Growing Moss Between Patio Pavers
1. Weed Spaces Between Pavers
The first step is to get unwanted growth of weeds between the pavers. It would help if you uprooted the weeds by hand.
2. Dig a Trench for Planting
After removing weeds, extract about ½-inch of sand or soil from the spaces between your pavers. Achieve this by using a small landscaping tool. 
3. Prepare Spaces Between Your Pavers
Apply about ½ an inch of garden soil in the trenches you dug. At this point, rinse the pavers. Irrigation ensures that your soil is adequately moist. 
4. Find the Moss
It's now time to plant the moss. However, ensure that you get quality moss. The best option is to buy moss from a local plant nursery or commercial landscaping supplies business. 
If you can't locate a place to purchase moss, you can get it from your compound. 
Remember, moss thrives in shaded areas. Use a shovel to collect moss. 
5. Plant the Moss
At this point, you should proceed to plant your moss. If you don't want to grow the moss immediately, keep it in a shaded area. 
When planting, press the moss firmly in the soil. 
6. Water the Moss 
Finish the process by watering the moss immediately after planting to create a conducive environment for growth. Keep watering for at least 21 to 35 days. However, avoid overwatering the moss. 
Conclusion
As we have seen, there are several approaches you can employ to remove moss from your paver patios, such as using sunlight, boiling water, vinegar, bleach, and baking soda. Most of these approaches are natural and environment friendly. 
However, there are also commercial products that you can purchase and use to kill moss. You can select from any of the ones we have recommended above. Select an affordable and effective product. 
Ensure that you observe safety guidelines, especially when using a commercial product near pets, plants, and children. 
If you decide to grow moss between your pavers, ensure you stick by the types stated above. Consult a professional where possible for better results. 
Sources