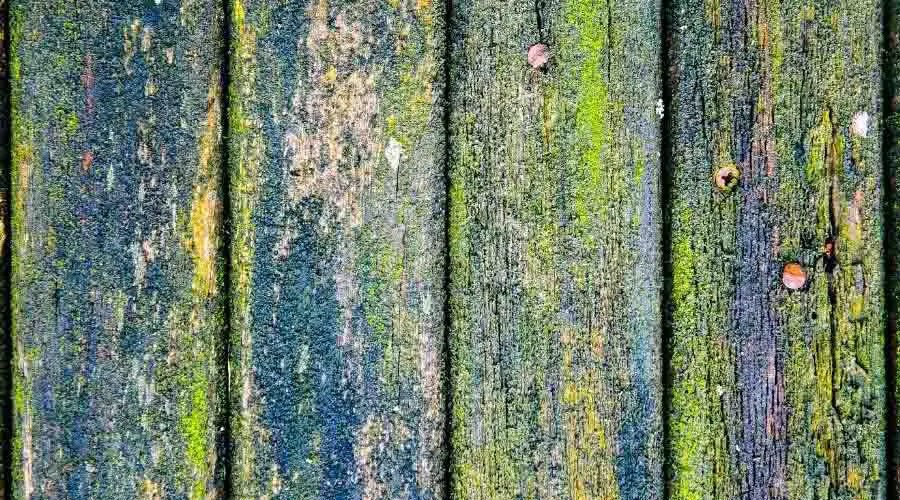 When you venture out on your deck and find that a green film has taken over your favorite relaxation spot, you've got a mold and algae issue. Moisture trapped in the wood's pores has begun to grow fungi that are understandably alarming to some homeowners.
At first glance, your green deck may seem like something that needs professional attention, but you can handle this issue independently in many cases. Here is how:

To remove green algae and mold, rinse off your deck to clear it off as much as you can. The next step would depend on how much mold and algae were left.
You can use everyday household items such a vinegar, oxygen bleach, and baking soda. Using a pressure washer or a deck cleaner is highly effective as well. Exposure to the sun can also prevent algae and mold from growing, giving your deck a chance to dry out.
Other ways to remove green algae are by:
Removing patches using hydrogen peroxide

Find the tea tree oil
Scrub the surface with borax
Squeeze lemons
Grapefruit seed extract
Although it is unsightly, your fungi problem does have quite a few quick fixes that you can perform in a day. The sooner you identify and handle it, the easier it'll be. You may consider finding ways to allow your deck to receive more sunlight in the future.
Luckily, there are many ways to return your deck to its former glory with easily attainable items. So set aside a morning or afternoon to properly give your deck the treatment it needs.
How to Remove Algae & Mold from Your Deck
Below are 11 ways you can remove the green algae and mold from your deck: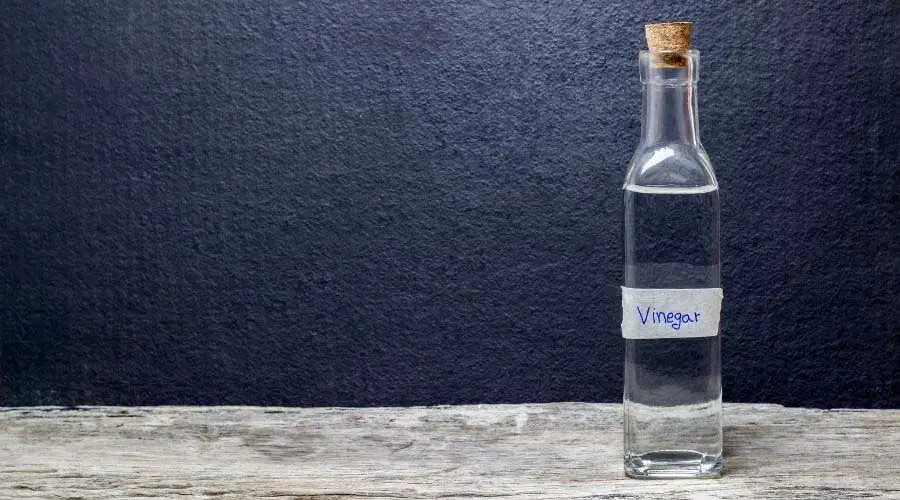 1. Wash it with White Distilled Vinegar
One of the most popular ways to eliminate the green tint plaguing your deck is with white distilled vinegar. In addition to helping your deck steer clear of turning green, it's 82% effective at destroying mold and algae.
White distilled vinegar can handle regular cases of this issue relatively quickly. Still, most prominent matters resulting from flooding other instances of extreme moisture may be best handled by a professional.
To prepare your deck for cleaning, combine a gallon of water with 1 cup of white distilled vinegar. You'll then need something to scrub your deck. For example, a brush, broom, or anything you could use that wouldn't damage the wood of your deck. 
Then, dip your brush in the mixture and scrub the deck clean while moving along the wood grain. After you've finished, rinse the deck once more and repeat as necessary. Finally, you'll let the deck air dry and inspect it to ensure that you've removed all of the algae and mold.
2. Use Oxygen Bleach
Because mold and algae are organisms, the chemicals found in bleach are perfect for eliminating how they spread.
However, it's important to note that while bleach is a viable solution to your fungi problem, chlorine and liquid bleach can damage your wood. That's why oxygen bleach is recommended. It is a biodegradable and non-toxic solution.
Although you can use oxygen bleach on your deck while the surface is wet, if you want to take advantage of its profound cleaning effect, you should wait until your deck is dry before cleaning.
However, this cleaning process works best on a day with mild temperatures. That's because hotter days can prematurely dry your deck, making the bleach less effective. So, if you choose to rinse your deck beforehand, allow plenty of time for it to dry on a mild day thoroughly.
The process for cleaning your deck with oxygen bleach is simple. 
Combine the bleach with hot water
Stir until the bleach dissolves
Mop the bleach onto the deck
Let it soak
Soon after you mop the deck, you'll see the solution begin to foam. That's a sign that the oxygen bleach is working its magic on that green deck of yours.
Let it sit for at least ten minutes, then scrub the deck with a brush. After that, rinse with clear water, and you're all done.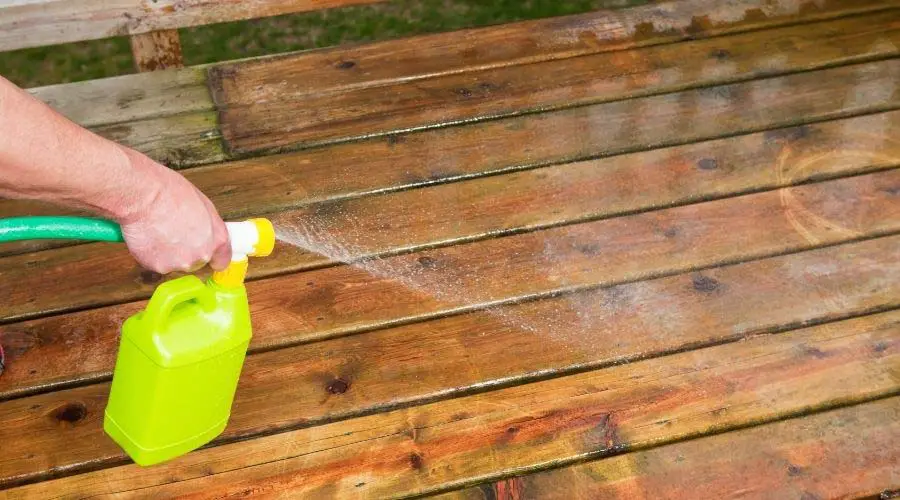 3. Use a Deck Cleaner
Deck cleaners are highly efficient in removing algae/mold and loosening dirt and other debris that will stick onto your deck.
In addition, some cleaners include bleach which will brighten its color by raising the pH balance of the wood. If you choose to hand clean with a deck cleaner, be sure to wear gloves.
You'll notice a wide range of deck cleaners you can use to get rid of your green deck. The best cleaners, like Restore-A-Deck, contain both a cleaning and deck brightening powder. This cleaner includes a two-step process where you prepare two buckets of water and pour the powder into each.
After your cleaning solution has dissolved into the water, you will begin spreading it over your deck. You can use a broom, brush, mop, or even a towel; make sure you reach all areas that need mold and algae removal. If you plan to use a pump-up garden sprayer, you can use a paint sprayer sock to avoid clogging the sprayer tip.
When the deck cleaner is applied, you'll let the solution sit for 15-30 minutes, reapplying the cleaner if it begins to dry. Then you'll scrub the deck and rinse away the remains.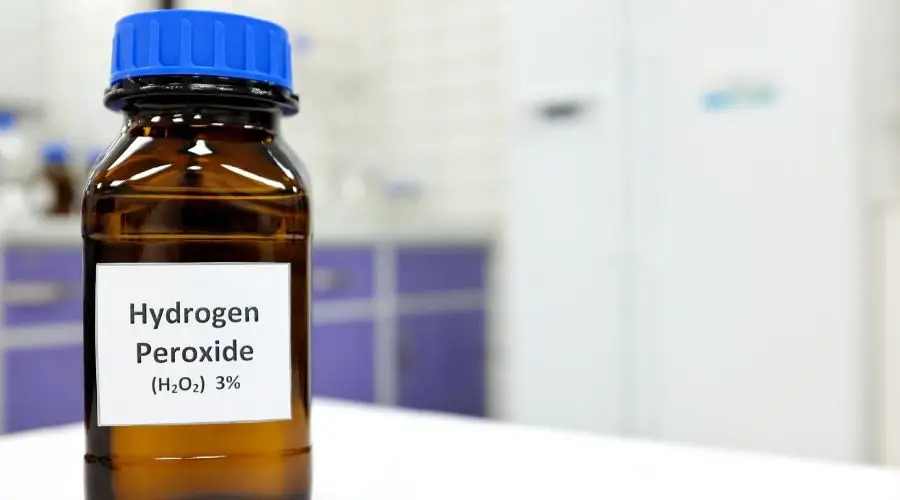 4. Remove Patches Using Hydrogen Peroxide
You can also use one of the main chemicals responsible for the cleaning power of oxygen bleach individually to create similar results. Liquid hydrogen peroxide is excellent for smaller patches of algae and mold, although you can use it to clean the entire deck. 
The process for cleaning your deck with the chemical is similar to cleaning with oxygen bleach. However, it requires a less hands-on approach when applying it to the deck due to the concentrated chemical.
To start, fill a spray bottle with a mixture that is one part 3% hydrogen peroxide and one part water. Next, spray the deck or affected area and let it sit for 10 minutes.
Afterward, you'll scrub and rinse the deck with fresh water. You can also use a sponge to clean off smaller areas in place of rinsing.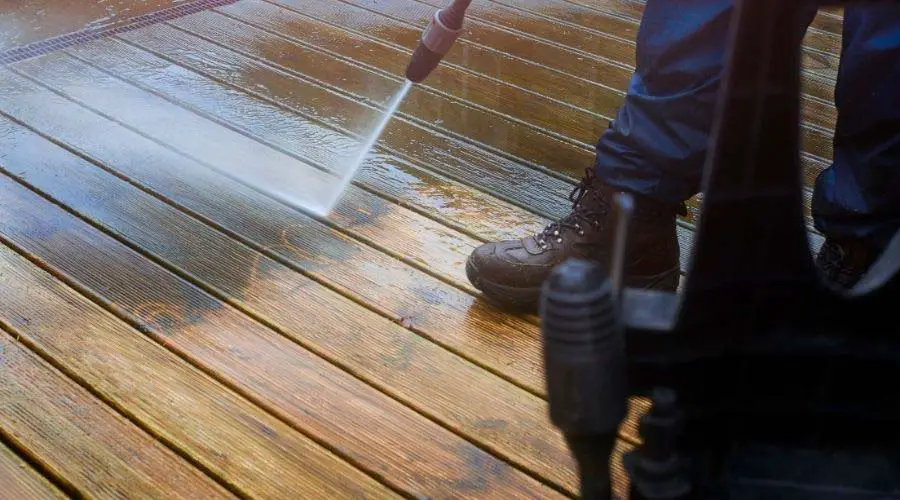 5. Pressure Washing
Pressure washing is a method of cleaning that skips the step of scrubbing that most other methods require. When using a pressure washer, be aware that too much pressure can damage your wood, especially throughout multiple cleanings. 800 to 1,000 psi is the range that will clean the mold and algae off your deck thoroughly without causing damage.
The other benefits you'll gain while removing the green film from your deck include removing old stains, peeling paint, and discoloration. It'll also allow you to clean more deeply as the pressure washer opens the pores in the wood.
Before you begin cleaning, there are a few safety precautions that will help you avoid some of the pitfalls associated with washing your deck. Begin with saturating the soil around the area and wetting the plants to reduce the damage caused by the detergent you use.
Once you're ready to clean, select a low-pressure nozzle for your pressure washer (usually black) and begin washing your deck with a mixture of water and mold/algae removal concentrate poured into your detergent tank. 
Then, you will proceed with the standard recommended steps of pressure washing your deck.
Wash from bottom to top in horizontal strokes
Let it soak for up to ten minutes
Switch to a white or yellow nozzle
Rinse from top to bottom in horizontal strokes
When cleaning with a pressure washer, there are some things you'll have to take into account. For instance, some decks may not withstand the pressure of a yellow nozzle, so be careful in choosing which nozzle to use.
Also, if you have access to a hot water pressure washer, it's the best choice to deal with mold and algae, although cold water will do just fine.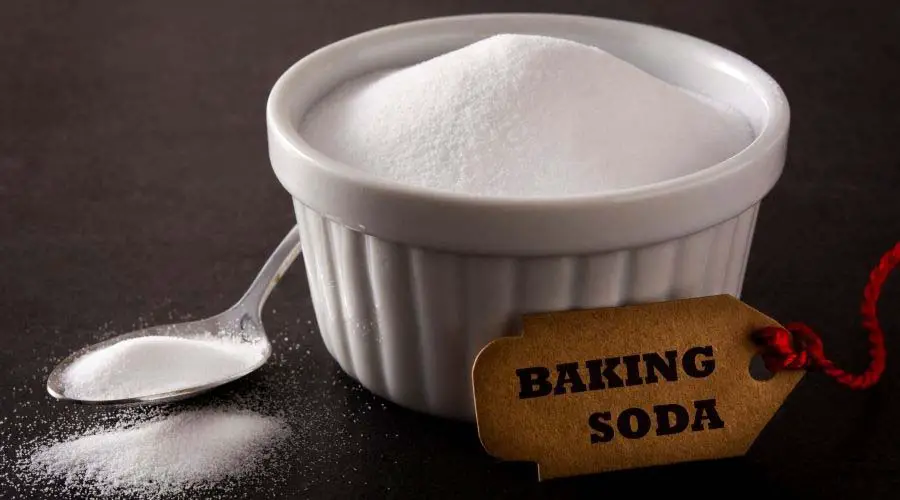 6. Scrub with Baking Soda
Now that you know some of the most influential and popular ways to rid your deck of mold and algae, you have enough knowledge to get to work.
However, other ways may be more convenient to some. Homeowners don't always have the time or resources to shop for products or purchase a pressure washer. Luckily, you can use methods that'll return your deck to every day using ingredients you may already have in your home.
A typical household ingredient you likely have in your house right now is baking soda. Not only is it environmentally safe, but it's also excellent at scraping off stains and other messes that would otherwise be a tough job.
First, you'll want to make sure that your deck is completely cleared of leaves, dirt, and other debris before you begin. Then add a cup of baking soda to a gallon of warm water, scrub the deck and rinse it with a water hose.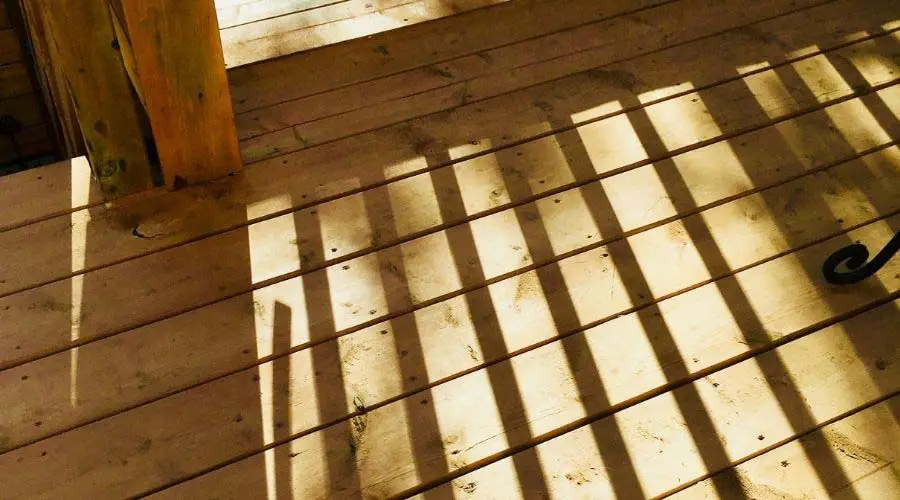 7. Expose Your Deck to Sunlight
Sunlight is not only an excellent preventative for moisture accumulation on your deck; it's also a great eliminator of mold in its early stages. The UV rays from a bit of sunlight can work wonders in the warm months, attacking fungi and keeping your deck dry.
You may ask yourself how you're going to let the sun onto your deck if it hasn't done so already. If possible, try to remove any objects in your yard that will block the sun from reaching your deck. 
Trees and bushes are the two main obstructions that'll keep sunlight out, although there are a few other remedies that you might not have considered. Parking your truck or van in a different spot, for instance, could highly benefit at least a partial area of your deck.
Even if you can only give your deck a moderate amount of sunlight, it'll be worth the time saved the next time you have to clean it. In addition, the sun may hit your deck at angles you haven't noticed, if only for a moment. Every little bit helps.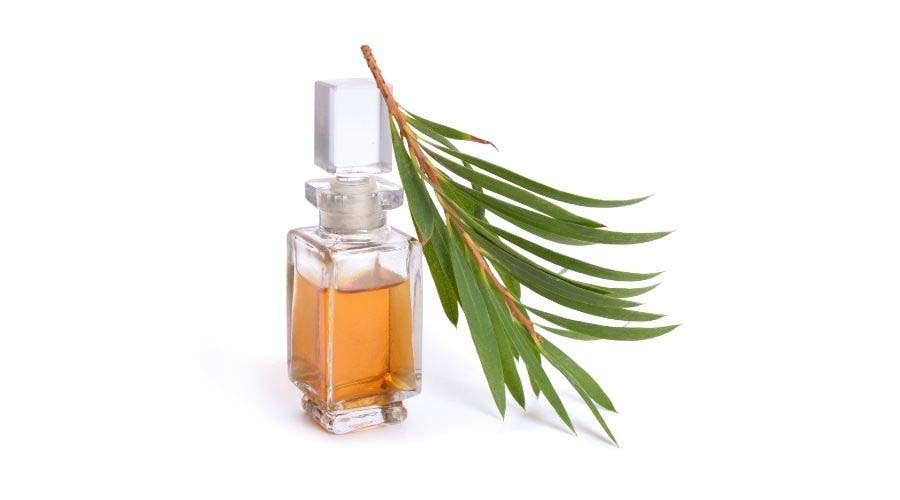 8. Find the Tea Tree Oil
You may have a collection of essential oils around the house. This specific one has the added benefit of being an antifungal solution effective on more minor spots.
When applied directly to a cloth or sprayed onto the moldy areas, it only takes one teaspoon per 1 cup of water to clean your deck.
9. Scrub with Borax
Borax is another potential solution to your green deck that you may have lying somewhere around the house. It has a higher Ph level than baking soda and is relatively affordable. 
When you're ready to clean your deck, create a bucket of 1 cup of borax per gallon of water you're going to use. Then, scrub the affected area until the mold and algae are gone using a brush.
Wipe away any wet spots and let the deck dry when you're done. At this stage, feel free to let the borax stay on the deck and continue to work its magic instead of rinsing it off.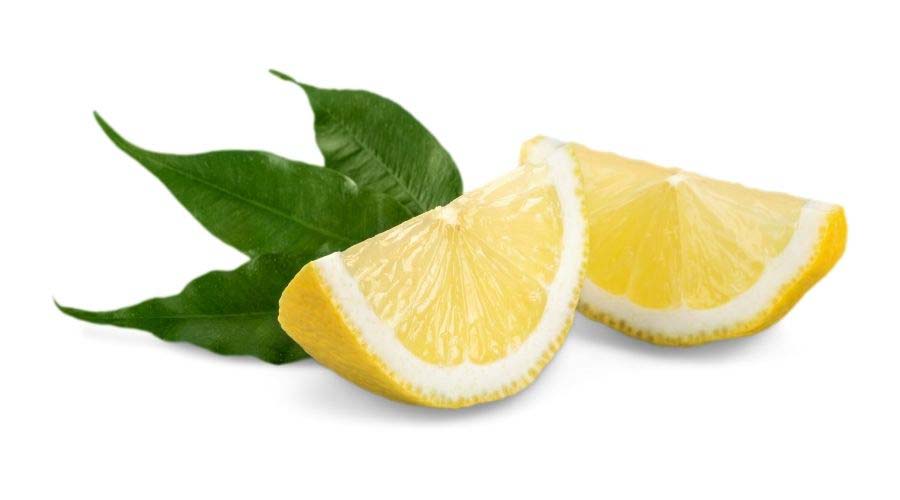 10. Squeeze Lemons
An issue some homeowners have with many cleaning products is the potential harm they could do to the little ones in your home. Fortunately, some solutions to your deck issue are easily accessible and safe around pets and children.
Lemon juice, for example, is excellent for removing mold and algae in smaller quantities. To clear away those unsightly patches, squeeze a few lemons and pour the liquid on the specific area.

After letting it sit for five minutes, wipe or scrub the area with a moist towel or brush. It would help if you used lemon juice in light quantities to avoid the slight chance of brightening the color of your deck. 
11. Grapefruit Seed Extract
The grapefruit seed extract is another natural substitute for traditional cleaners that is great for minor cases of mold and algae. To take advantage of this treatment:
Add 1-ounce drop per 1 cup of water into a spray bottle. Shake the bottle and spray the solution onto the area of your deck that needs care. Allow the mixture to sit for a few minutes to break up the fungi, then scrub the spot away.
Enjoy Your Deck
Now that you have all the tools you need to revitalize your deck, you can finally be rid of that eyesore. Be sure to use all of the safety precautions, and don't hesitate to call a professional if it looks like the mold and algae have gotten deep into the wood. Otherwise, enjoy your deck and relax for the rest of the day. You've earned it.
Sources