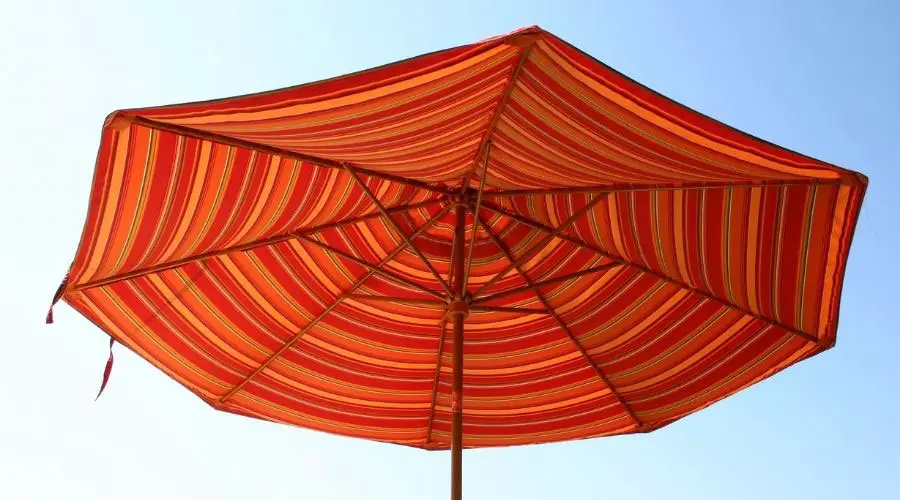 Has your patio umbrella seen better days, and do you feel it's time to say goodbye? Instead of kicking your old umbrella to the curb, why not consider repurposing the frame?
There are many practical, creative ways to repurpose a patio umbrella frame. By repurposing the structure, you are not only creating a new, helpful object for your home, but you are also keeping another item out of the landfill. 
If you're looking to breathe new life into your old patio umbrella frame, check out these 15 ideas for inspiration.
What are Patio Umbrella Frames Made of?
Patio umbrella frames come from one of three materials; wood, aluminum, or fiberglass. Each material has its advantages and disadvantages when it comes to its weight, strength, and durability.
Check out our quick reference chart to see which characteristics your particular frame has before deciding on your repurposing project.
Frame Type
Characteristics
Wood
– Typically made from teak, bamboo, eucalyptus
– Often treated with stain for weather resistance
– Susceptible to rot and insects
Aluminum
– Lightweight
– Durable
– Resistant to rust when powder-coated
Fiberglass
– Flexible
– Lightweight
– Least susceptible to wind breakage, insects, or rot
What are the Parts of a Patio Umbrella?
It will be easier to create something new from your old patio umbrella if you are familiar with its parts. Here is a basic diagram for your reference.
15 Ideas to Repurpose a Patio Umbrella Frame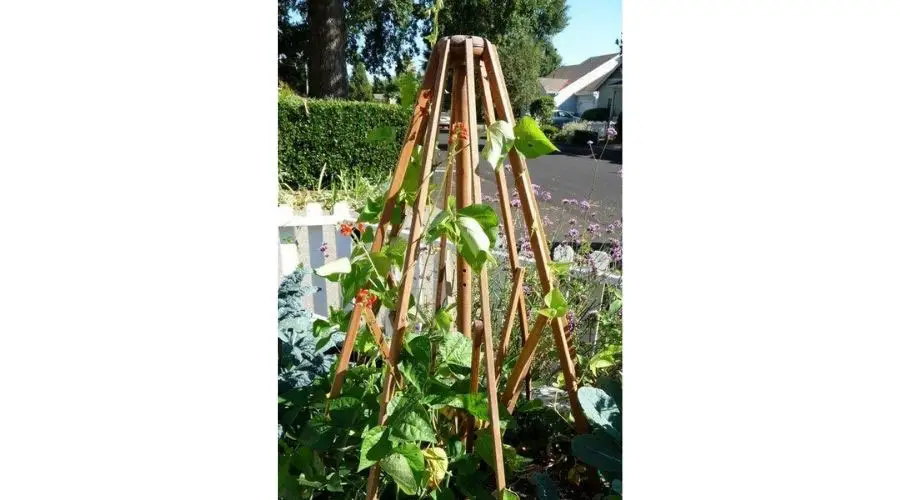 1. Wood Garden Trellis
One of the easiest and quickest transformations for your old patio umbrella frame is to turn it into a trellis for your garden.
Open the frame part-way and insert the central pole into the ground. Depending on how long the ribs of the umbrella are, you may be able to insert those into the environment as well.
In the example pictured above, this wood frame makes a sturdy and beautiful addition to the garden. 
If you are using a wood frame for this project, make sure the surface of the wood will withstand the elements. 
You may need to apply a coat of wood sealer to your frame. After doing so, be sure the frame has time to dry and cure completely to avoid unnecessary leaching of any chemicals into the soil. Or consider using a non-toxic wood sealer for the job.
After your frame is ready, find a spot in your garden, plant seeds around the base, and let nature do the rest.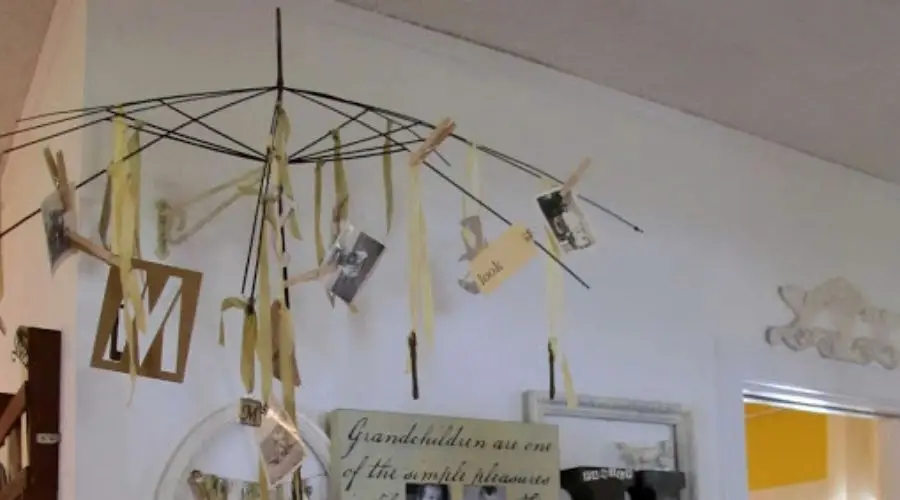 2. Indoor Mobile
Ideal for a whimsical cottage or a child's playroom, the sky's the limit when it comes to this hanging mobile idea.
After cleaning your frame, you can have fun choosing your desired finish. If you prefer a rustic look, you may want to leave the structure as is, or for a more customized look, you may decide to paint the frame in a bright color to match your decor.
Once the frame is ready for hanging, ensure you have the proper hardware for installation and support its weight.
The example pictured above features old photographs and trinkets attached to the frame with clothespins. You could do something similar or even hang themed items corresponding to the seasons or holidays.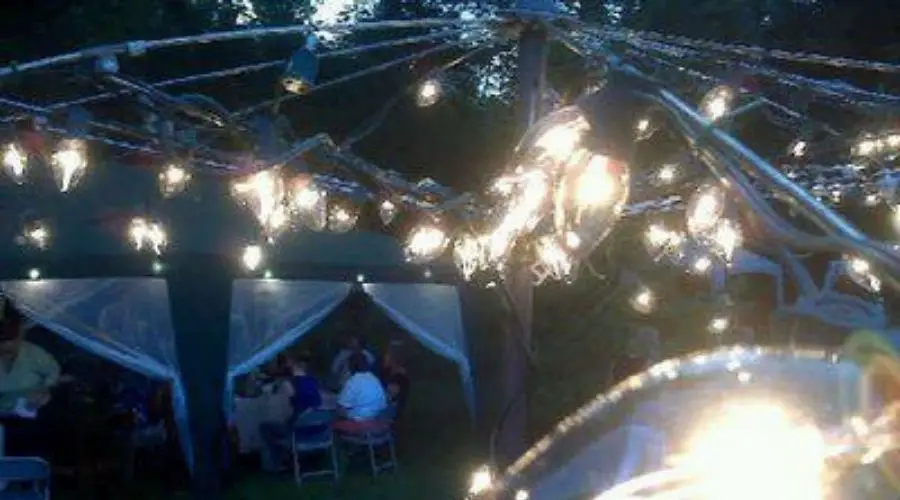 3. Outdoor Light Stand
If you're looking for a place to hang some outdoor lighting, consider using your old patio umbrella frame.
You could insert the frame into its base or place the pole into a bucket filled with decorative stones if the bottom is missing.
Strategically placed in the corner of your yard, this conversation piece will light up the night. If you can find more than one patio umbrella frame, why not create a grouping or a line of illuminated frames?
There are stylish outdoor string lights to choose from, including the famous "Edison" style lightbulbs. Painting your patio umbrella frame a light reflective color will also add sparkle to your creation.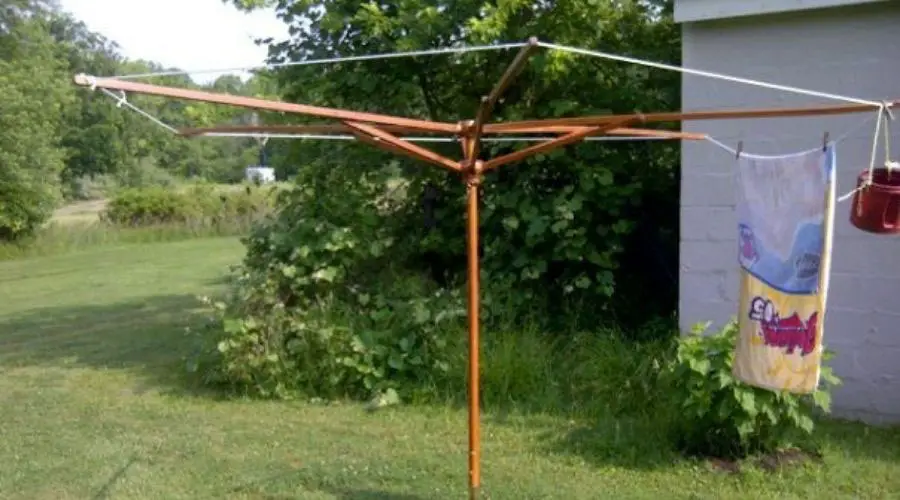 4. Clothesline
Depending on the material your patio umbrella frame is made of, you may be able to transform it into an "umbrella" clothesline.
If your frame is wood and of a substantial enough width, you should be able to drill holes through the spines and thread the line through. Clothesline is readily available at your local home improvement store.
Once you've threaded the line, you will need to anchor the pole in the ground. The best way is to encase the rod in concrete. However, you may get away with just burying the bar in the soil, depending on the ground type.
Once your clothesline is secure, you can open and close the frame at your convenience.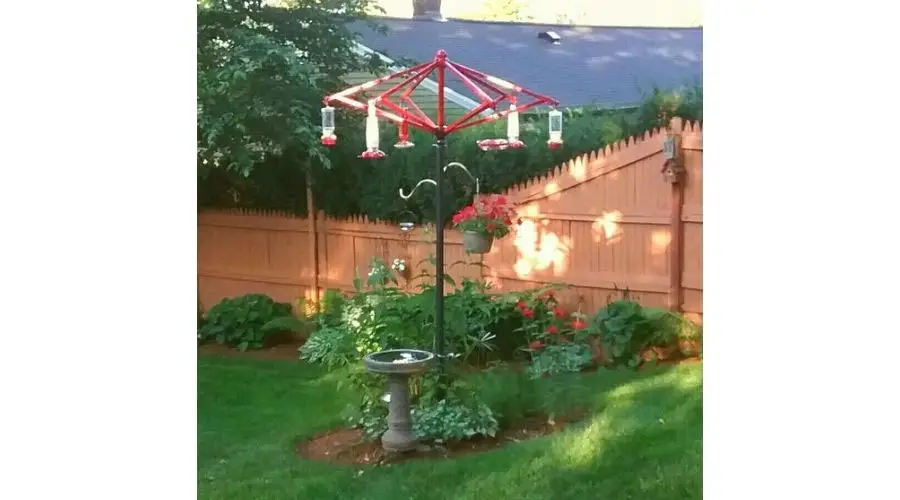 5. Hummingbird Feeder
It can be a challenge to find the perfect spot to hang your hummingbird feeder, especially if you have more than one!
The patio umbrella frame pictured above transforms into a unique home for multiple feeders. Hanging your hummingbird feeders in this way allows for easy access for refills and easy viewing of your hungry backyard guests!
The spines, painted a bright, cheerful red, are the perfect match to the colorful feeders, while the pole is a subtle dark green, blending in with the surrounding greenery. 
If this idea appeals to you, make sure to choose the right exterior paint for your frame so that it will withstand the elements and remain bright and colorful.
6. Event Decor
If you are looking for dramatic DIY event decor for a wedding or a party, consider using your old patio umbrella frame to create a table canopy like the one pictured above.
The frame could be suspended from a tree branch or stand in a base if your table has a center hole to accommodate the pole. Swaths of fabric, vines, and candles complete the look you could achieve with a modest budget.
If you would like to increase the dramatic effect, try to find multiple old patio umbrella frames. A visit to your local landfill or a wanted ad placed on the patio frame might yield great results. 
In this case, the frame is covered and will most likely not be outside for very long, making the structure's condition and its finish of little concern.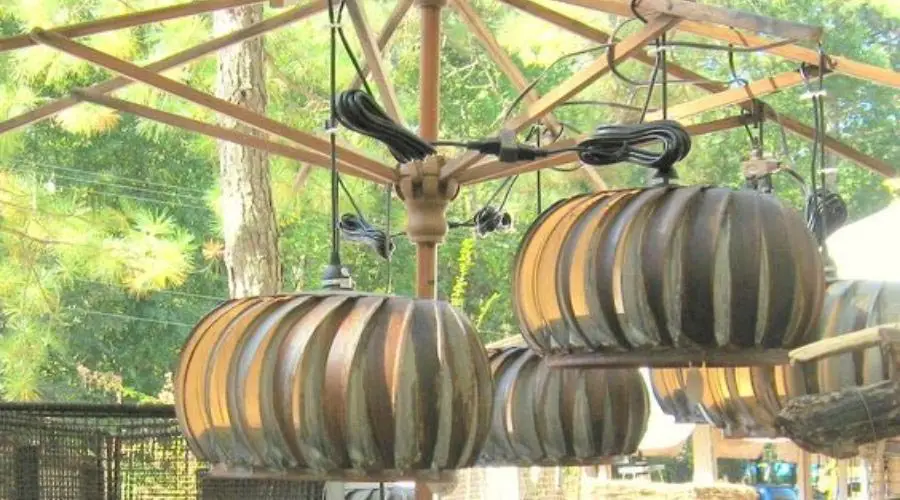 7. Retail Display
Pictured above is a unique way to display lighting fixtures. 
Perfect for a lighting or antique shop, this repurposed patio umbrella frame is the ideal way to display your breakable wares.
Easily visible to customers, these lighting fixtures can be turned on while hanging, giving the potential buyer a good idea of how they will look in their own home.
If you use an old patio umbrella frame for your shop display, be sure it is well anchored and sturdy enough to support your items and any bumps or knocks from overly curious customers.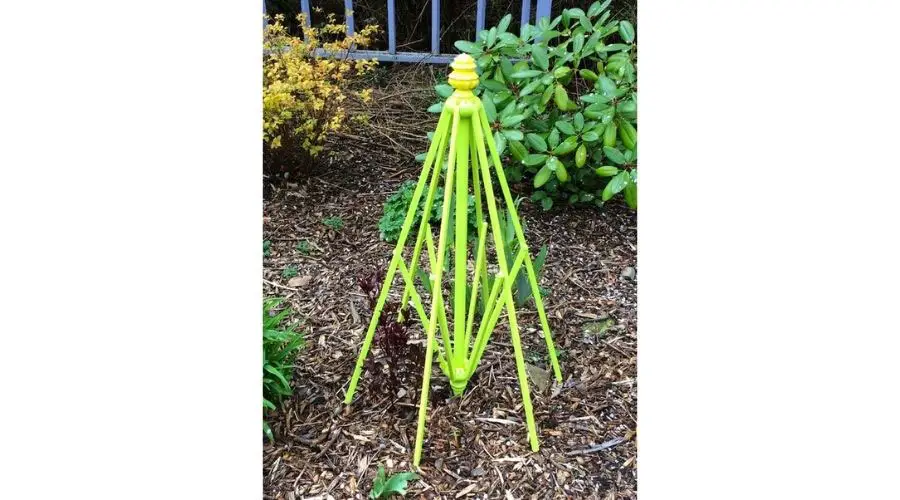 8. Neon Garden Trellis
 What can be better than a patio umbrella frame turned garden trellis? A neon green garden trellis!
Why not have fun with your repurposed frame and experiment with bright, eye-catching colors? 
Find multiple patio umbrella frames for an eye-catching garden, paint them in various colors, then plant contrasting flowers under each trellis.
Before painting your patio umbrella frame, be sure to give the surface a good sanding. Select your exterior paint (spray paint would work best for easy application) and enjoy your creation.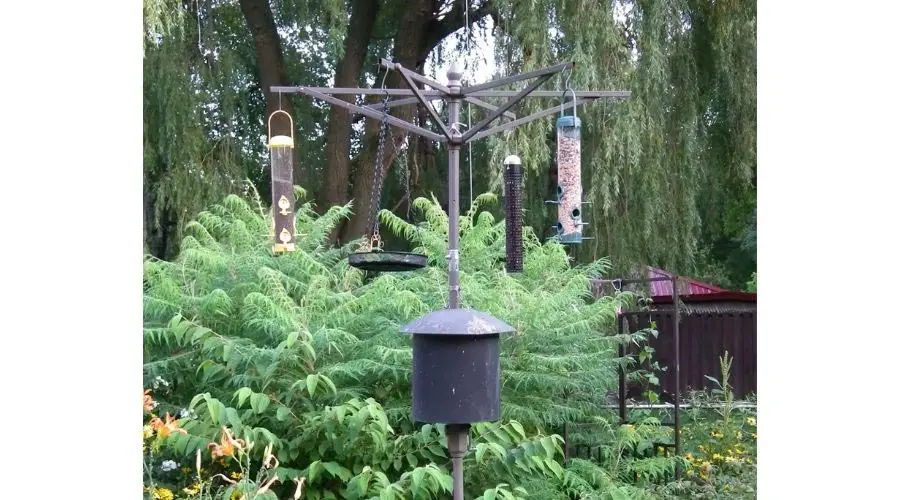 9. Squirrel-Proof Bird Feeder
Like the hummingbird feeder, this unassuming patio umbrella frame turned bird feeder would be a great addition to any yard.
This frame is ideal for hanging any bird feeder if you paint it with a shade of grey. With the addition of the squirrel baffle, which you can find at your local hardware store, this feeder is sure to be a favorite with your feathered friends.
If this idea appeals to you, ensure that your patio umbrella frame has a finish that will stand up against the elements and prevent rust and rot.
The example pictured above is set on the ground. However, the pole could be sunk into the ground and even reinforced with cement for extra strength.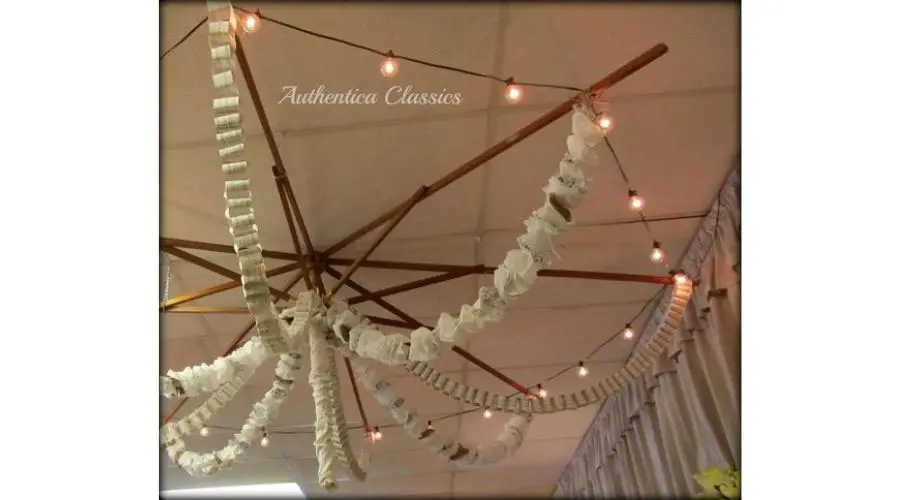 10. Indoor Ceiling Decor
Consider this idea if your old patio umbrella frame is in good condition like the one pictured above and you need some eye-catching indoor decor.
In this example, an elaborate white garland strung among the spines of the umbrella frame along with a string of vintage, white lights.
If you have more than one patio umbrella frame to be repurposed, you could add to the drama by placing multiple arrangements around your venue.
For this purpose, you will want to ensure that the frame is in good condition, perhaps giving an old aluminum or fiberglass frame a fresh coat of paint before placing it in the spotlight.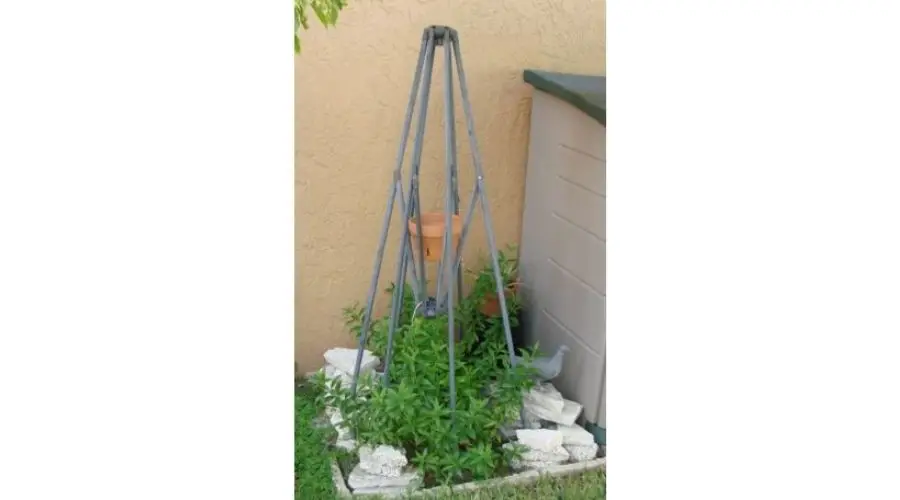 11. Garden Pot Stand
Depending on the size of your patio umbrella frame, you can use it as a stand for your favorite potted flower or plant. 
The pot stand can also support growing vines in the same position as the garden trellis mentioned previously.
You can finish the frame in any stain or color you wish and even paint your pot in matching or contrasting colors.
It is the perfect way to add height and visual interest to a low garden and if you have more than one patio umbrella frame at your disposal, consider arranging them in a group for more impact.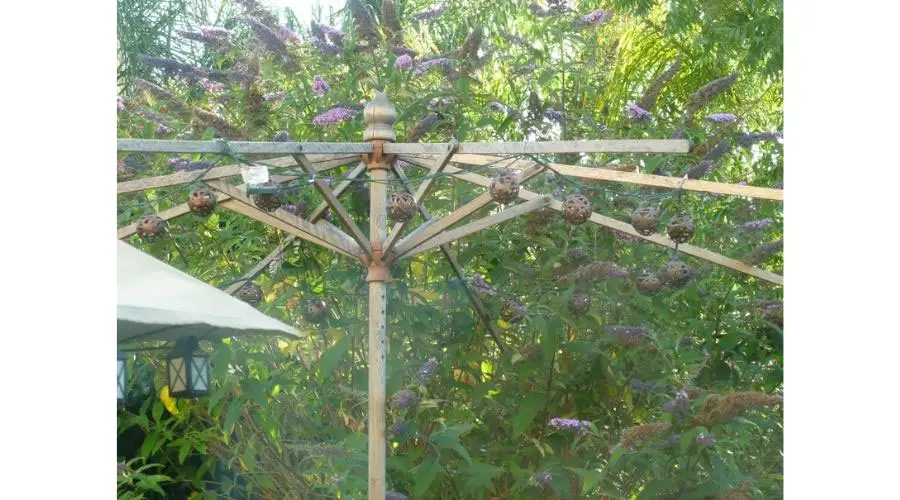 12. Rustic Outdoor Light Hanger
If you are lucky enough to have an antique, wood patio umbrella frame like the one pictured above, you will want to repurpose it. 
Already weathered by the elements, a frame like this doesn't necessarily require any paint or sealer. Its rustic charm is enough to warrant a place on your deck or in your yard.
The example pictured above features a simple string of wicker ball lights, but you could choose any type or amount of lights you wish.
If you place your patio umbrella frame near foliage, then it would beautifully illuminate your prized plants at night. 
Depending on the amount of wind exposure, you may want to consider securing the pole in the ground with some cement, or if you're going to place the frame on your deck, you could set the stick in a decorative bucket filled with stones.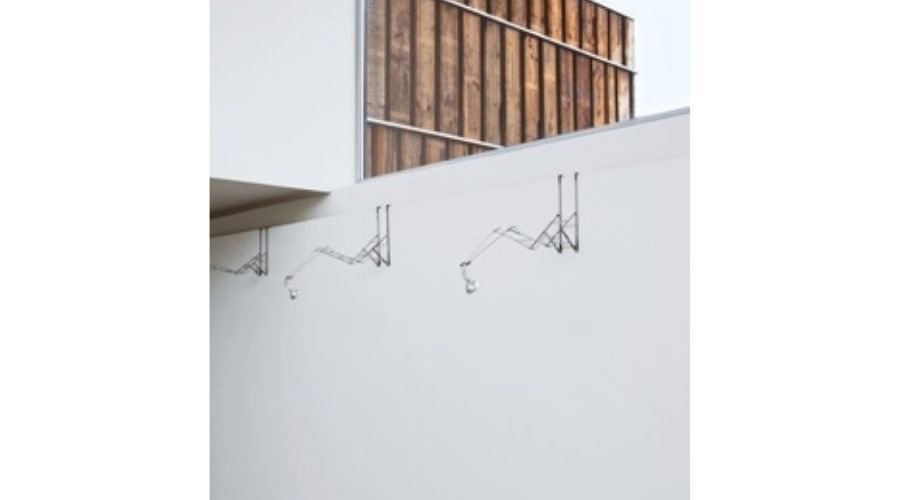 13. Halogen Lamps
For the experienced DIY'er, why not consider repurposing the ribs of your old patio umbrella for this unique lighting idea?
The ribs used in the example pictured above are most likely from a large, hand-held umbrella. However, there is no reason why the idea would not work with ribs from a patio umbrella. 
Once the umbrella frame is dismantled and selected which rib(s) you would like to use, consider what finish you would like. If you would like your lamps to have a fun, whimsical look, perhaps a bright primary color would be a good choice. 
If your patio umbrella frame has older wood or aluminum, you may want to leave the finish as is for a modern, industrial look.
You can easily find plenty of lamp-making kits on the market or online.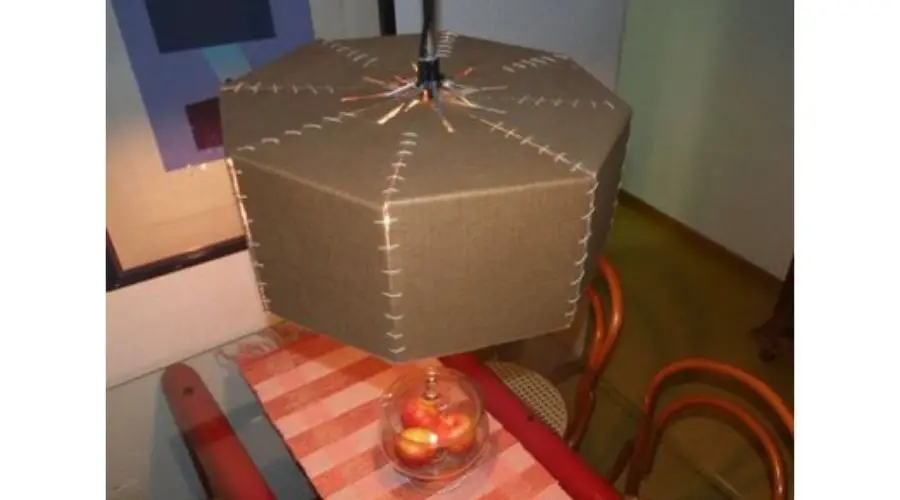 14. Cardboard Hanging Lamp
An excellent project for a smaller-sized patio umbrella frame, the cardboard lampshade pictured above is the ultimate in up-cycling previously used materials. 
This patio umbrella frame hanging lamp would be perfect in a rec room over a games table or under a covered cottage porch.
There are many types of lamp-making kits on the market, and they are easy to find at craft retailers.
This particular lampshade has been cut out of cardboard and stitched together over the frame. If plain cardboard isn't the look you are going for, consider using a different material such as a thick outdoor fabric.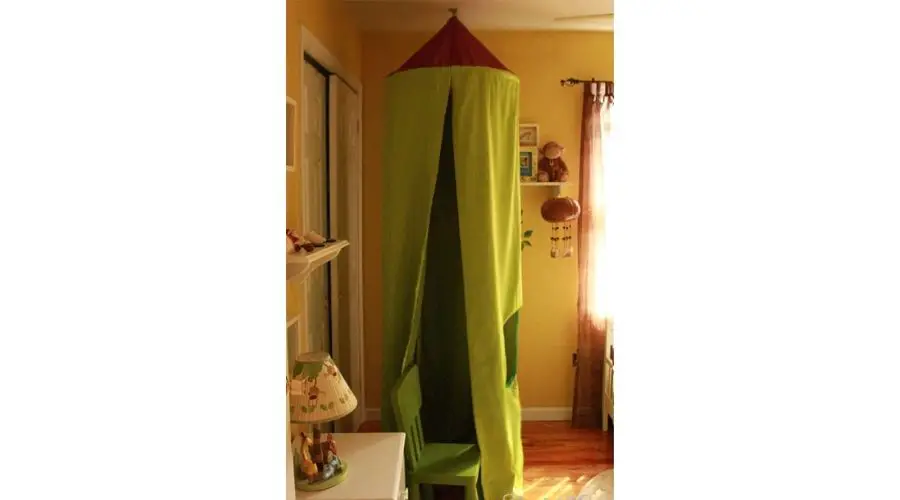 15. Play Tent
This fun creation is sure to be a hit with the kids in your life!
The children's play tent pictured above uses a regular hand-held umbrella frame, but a frame from a patio umbrella would work equally well.
An aluminum frame would be a good choice for this project, as it would be lightweight and easy to hang. 
The drapery could be as fitted and elaborate as your sewing skill allows, and for those not familiar with a sewing machine, simply draping fabric around the patio umbrella frame would suffice. You could also use weather-proof material for outdoor use.
Final Thoughts
It is always a good idea to rescue an item from going to the landfill if possible. 
You can repurpose so many of our possessions as they age. With a bit of creativity and work, we can breathe new life into old objects. 
We hope you have found some inspiration here and enjoy transforming your old frame into something creative and practical!
Sources