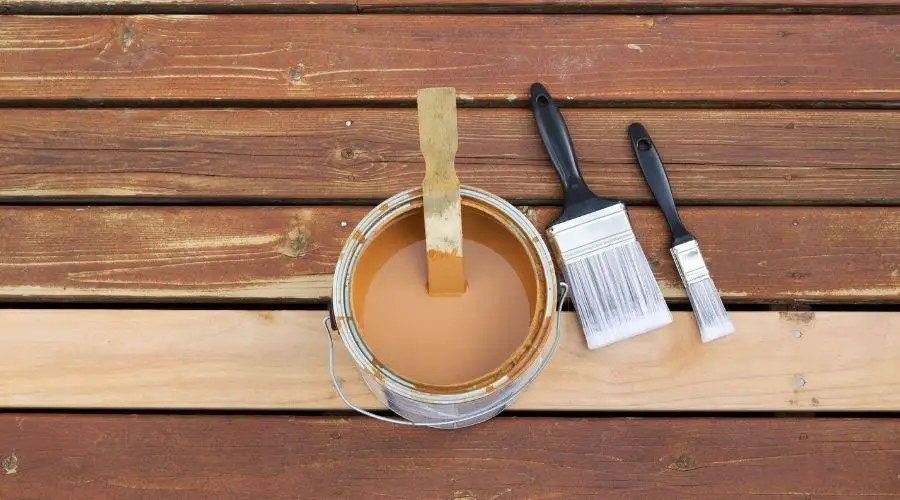 While enjoying your deck on a hot summer or crisp fall day, you may notice the finish in the wood is not what it once was. The existing finish may be peeling away or showcasing a dull, faded finish.
You may also notice the presence of mold, decay, and mildew. Now is the right time to stain your deck. But how often should you stain your deck? 
Staining your deck every 12 to 21 months is ideal, depending on the current level of water repellency, mildew, and UV ray resistance. Outside of the cosmetic appeal, the need to stain your deck is dependent on preference.
Focus on what is best for the integrity of the wood to avoid mold, decay, mildew, and warping. The rule of thumb is to stain your deck every year while working with transparent deck stain and every two years with semi-transparent stain.
When it comes to particular stains, the need to refinish your deck will vary. The amount of moisture and UV rays the wood is exposed to are top considerations. 
Solid and semi-solid stains should be applied every five years. You can either stain or paint your deck to keep it looking new and healthy. 
There are various benefits to using clear, transparent, semi-transparent, solid/semi-sloid, water-based, oil-based, and epoxy-fortified stains. Staining your deck goes beyond a great-looking finish.
Intangible factors such as prolonging the life of your deck, mildew resistance, and avoiding chips and cracking are vital considerations.

I explored the topic of staining decks a bit more, and here's what I found:
Does My Deck Need Refinishing?
The first step to staining your deck is deciding if it is necessary. Things to consider include when was the last time it was stained (if ever), what visual indications are there (fading, etc.), what type of stain is currently on the deck, and the current state of absorbency of the wood.  
You can check if it is time to stain and refinish your deck by placing water on the surface. If the water beads up and remains on the surface, this means the stain is doing its job and sealing out liquids.
If the wood absorbs the water, it needs a new layer of protection. Repeat this test across the entire deck and take note of consistent results. 
If the test shows the water beading up, giving your deck a good clean is all that's necessary unless you desire a visual change. Water repellency is a significant consideration to make when deciding what finish works best for your deck.
Wood that will resist water the most tends to be the wood that lasts the longest. It achieves that by avoiding mold, mildew, and general decay (USDA, 2001). 
Another interesting result from the USDA study on stain effectiveness is while a particular stain does well with water repellency, this does not indicate similar amounts of UV protection. Some colors that perform poorly with water repellency will not directly result in poor UV protection ratings. 
The chemicals and ingredients used in the stain you choose will differ. It is essential to research reviews of the products by customers who live in your region. Sun (UV rays) and moisture exposure are great contributors to the overall performance of any stain. 
Is Staining a Deck Worth It?
You may be interested in installing or maintaining an existing wooden deck. Featuring initial savings in materials, wood decks will require consistent maintenance to retain visual appeal and durability.

If an aesthetically beautiful deck is what you're after, staining a deck is worth it. IIt'simportant to note, though, that staining a deck is a time-consuming task that requires a dedicated amount of work. Staining your deck will not necessarily extend the life of your deck's wood. 
The choice is all about your preferences and the conditions your deck endures. Milder year-round weather both in the winter and summer months may not require staining and refinish as often. 
There are many variables involved with the need to refinish and stain your deck. Geographic location will play a significant role in how much summer heat and wear your deck experiences. 
Stain, if you apply a dedicated combination of time and effort to highlight the unique and visually appealing characteristics while protecting the surface from the elements. 
Staining will serve two primary purposes: 
Prolonging the life of the deck 
Improving the cosmetic appearance of your deck
If the wood starts to warp, rot or come apart, consider repair or replacement.
The best way to prolong the life of a wooden deck is to maintain annual routine maintenance. Staining lasts for a few years, as the fading process starts around the six-month mark. 
Routine cleaning your deck and removing built-up dirt, film, and debris is an excellent start as part of an effective maintenance schedule. 
How Long Does Stain Last on a Deck?
Choosing an acrylic (water-based stain) will last longer (3 to 5 years) than oil-based stains, which tend to fade slowly following the first year of application.
Since oil and water will not play well together, it is best not to mix them. If acrylic was used before, use it again, and vice versa. 
The amount of foot traffic is also a factor to consider when gauging how long a stain will last on a deck. The quality of the work and how long the color is allowed to soak into the wood is another. 
There is no simple universal solution to how long the stain will last or how often you should stain a deck. Blasting UV rays from the sun will expedite the fading process while consistent heavy rain wears it down.
A deck covered by a screened-in porch will enjoy its vibrant stain colors much longer than a deck that is completely exposed. 
No deck stain will last longer than 21-months (USDA, 2001). Deck stain does not permanently avoid issues like moisture penetration. Due to the water repellency dramatically reducing barrier effectiveness, wood needs to be protected to prolong a deck's life.
Choosing the Right Stain to Make Your Deck Look Great
Choosing the right deck stain largely depends on your environment and the amount of direct sunlight exposure, foot traffic, and budget allowed.
Choosing the right deck stain to make it look better depends on the color, brand, and style of the deck stain you are using. The many types of deck stains available include:
Solid stains
Semi-solid stains
Transparent stains
Semi-transparent stains
Water-based stains
Oil-based stains
Epoxy-fortified stains
Taking a deep consideration based on the pros and cons of the available stain types will only strengthen your deck's longevity, giving it the best chance to remain safe, attractive, and durable for years to come. 
We will dive deeper into the types of deck stains available. Staining your deck with a quality product will not only prolong the life but keep it looking great for extended periods. Darker stain colors will last longer, standing up to the suitability to fade lighter colors in a shorter amount of time. 
There are many types of wood available to construct your deck. Each wood type contains varying drying times before applying the first stain application.
Each deck stain type has unique characteristics and will react individually to the different stains and their manufacturers.
Type of Deck Stain
Pros
Cons
Solid Stain
– Does not permeate the wood
– Preserves the wood's natural texture
– Peeling
– Cracking
– Chipping
Semi-Solid Stain
– Brings out the texture of the wood
– Allows more opacity
– Hides surface blemishes
– Hides splits and gaps
– Has a tendency to be overapplied
Transparent Stain
– Natural finish
– Moisture protection
– Maintains the beauty of the wood
– Yearly application
– Subject to UV ray damage
Semi-Transparent Stain
– Prolongs the life of a wood deck by 4-5 years
– Retains the natural look
– Masks the natural characteristics of wood
Water-Based Stain
– Free of solvents
– Lasts for 2-3 years
– Resists UV ray damage
– May leave a slightly rough finish
Oil-Based Stain
– Can be applied on top of an existing coat of stain
– Easy application
– Long-lasting
– Strong odor
– Longer curing time
– Does not protect from mold
– Needs annual reapplication
Epoxy-Fortified Stain
– Decreases wear and tear
– Color pigments last longer
– Cannot be applied on existing stains
What Happens if You Don't Stain Your Deck?
We covered what does happen when you apply routine maintenance on your deck and what type of stain will work best. Let us look at what happens if a deck is never stained. Performing maintenance, including deck staining, is the homeowner's preference. 
Leaving the wood unattended for extended periods will offer varying consequences depending on many variables. 
First, the wood will begin to lose its color and start to fade after six months. Beyond the visual differences of not staining your deck, the wood will crack and show slight scaling and worsen over time.
Depending on annual rainfall, moisture may be introduced in the grain, causing mold, mildew, and warping issues. 
The longer your deck is left unattended, the more susceptible it is to these symptoms. The need to replace the deck will increase over time. If you plan to stain a newly installed patio, you should wait for at least 90 days before staining to allow time for the wood to dry out. 
Do not stain a deck with wood containing high moisture levels. You can check moisture levels with a moisture checker to ensure it is the right time to apply the stain. 
Conclusion 
Staining your deck is subjected to your home maintenance checklist and preferences. Depending on your geographical location, climate, and deck exposure to the elements (primarily sun exposure), staining your deck every 12-21 months is best to keep it looking great. 
With various stain options to choose from, it can seem overwhelming when first researching about it. Contacting your deck's original installer or local home improvement professional may lead to deeper insight and possible solutions for your deck. 
Caring for your deck will ultimately prolong the life of your deck and reduce the number of times it may need replacement.
Sources