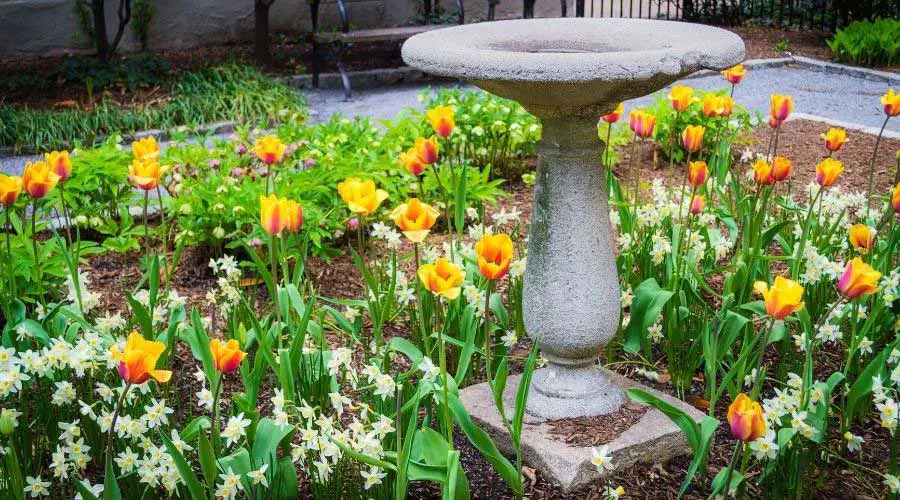 Repurposing old items is a great way to make the most use of them. Birdbaths are usually so beautiful and creatively crafted that you almost NEED to repurpose them when the time comes. 
Here are 11 ideas you can use to repurpose your old birdbaths, from the creative to the simply functional!
Planters
Centerpiece table
Decorative dish
Water fountain
Doll pool
Hanging plant
Hanging light
Mini chandelier
Hanging glass lamp
Personalized wind chime
Garden glass mushroom
Overall, there are many excellent ways to add a "wow" factor from repurposing old birdbaths. You can do this inside or outside, depending on what you prefer. Let's get into how you can repurpose your birdbath down below!
What are Birdbaths Made From?
There are quite a few materials that birdbaths have. They are typically strong and last a long time, which makes an excellent way to repurpose your birdbath in the first place.
Common bird bath materials are:
Metal
Stone
Ceramic
Fiberglass
On top of that, you'll find that the most frequent birdbath styles contain a pedestal, them hanging up somewhere (trees, porch overhangs, etc.) and on the ground.
Some many more styles and materials come in birdbaths. You will be able to incorporate any ideas you see here into your birdbath, regardless of the material. Let's take a look at some approaches now!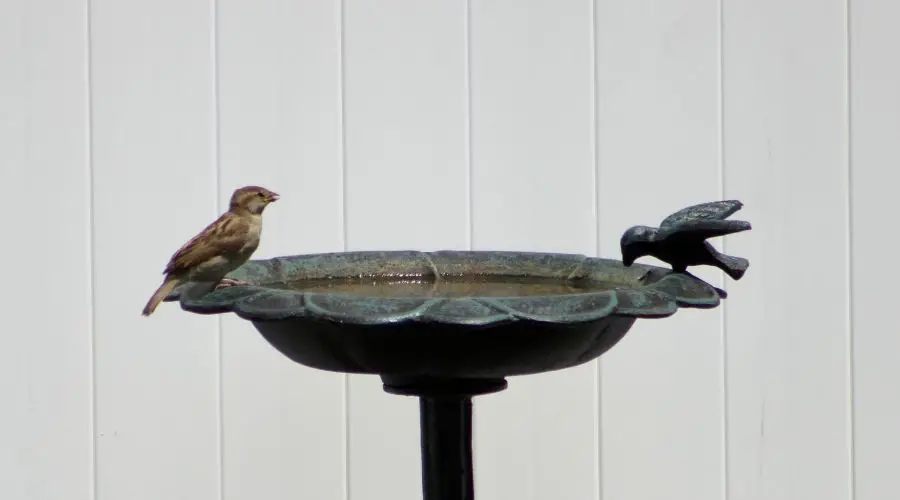 What Can I Do With an Old Bird Bath?
There are numerous reasons why it may be a good time to think about repurposing a birdbath. It might have a crack in it, causing water to leak, it is starting to look dull in the garden, or you want to upgrade into a new one for your birds to enjoy.
They consist of a feeder tray, a  bowl shape, and a stand that holds everything together. Birdbaths are made in many different types of material and styles! 
Repurposing Pedestal Birdbaths
1. Planters
Old birdbaths make the best garden planter. You can keep the birdbath as it is, "flaws" and all, or you can apply a fresh coat of paint if that is something that is your style. I put flaws in quotes because sometimes there is ethereal beauty in those flaws.
You can go two ways with planting. Either use it to display an array of flowers or plants that you can eat! Either way, since the actual feeder tray is pretty shallow, you want to be mindful of what you decide to plant. 
You can even make it into a cute herb garden since most herbs do not need much depth. Here are some examples of both:
| Flowers & Plants | Herbs & Edible Plants |
| --- | --- |
| Bulbs | Basil |
| Succulents | Oregano |
| Snake Plant | Mint |
| Roseum Plant | Spinach |
| Zinnia | Lettuce |
The coolest part about making an old birdbath into a shallow planter is you can make this an indoor or outdoor item! It will be such a great addition if you have a sunroom or a window in the living room.
I would, however, recommend that you put it indoors somewhere where you have the floor and not carpet so that if you make a mess, it would be an easy process to clean up.
You can also use these planters in the beginning stages of planting. If you want to plant something that requires more depth, the old birdbath can serve as the step before potting into a bigger pot.
2. Centerpiece Table
Another excellent piece that you could personalize would be a centerpiece table or just a decoration piece. You can fill in the feeder tray area of the pedestal birdbath with things you like, such as marbles, shells, rocks, or maybe something you collect!
You could leave that as it is as a decorative piece in your house, or you can add a glass covering on top and make it a one-of-a-kind table.
If you like having simple minimal pieces, you can use the old pedestal birdbath as a small serving table as it is! Maybe by the entranceway to hold your keys, your living room to place some packaged chocolates and nuts, and everything in between.
Many people like to tell stories in these pieces and then use them as a table for everyone and their guests to see. It could be a story about a fairy, a historical event, or a personal tale.
You can get very creative with this and find miniature pieces of just about anything at your local craft store or online.
An example to better paint what this would look like would be a story about where you were born! Suppose you live somewhere near the beach. In that case, you could have natural sand in the feeling tray and potentially a blue resin to mimic the ocean.
You can go so far as to have miniature people to show the surfers and people walking on the beach. The combinations can be endless when it comes to what you can display.
3. Decorative Dish
Now, if you have a ground birdbath, making that into a decorative dish will not be that extensive of a process. You will readily have a piece to keep on your tables inside. You can use these decorative dishes to hold candles or seasonal decorations such as scented pinecones. 
If you have a pedestal birdbath, you can still make this! There will be an additional step. If you have a screw-off birdbath (which might happen with metal birdbaths), you can disregard the bottom portion or use it for another home project.
The top, however, you can use after removing the necessary screws and patching up the base where the screw initially was.
You will only see a stand with a simple dish on top, which you can use the appropriate saw to cut through. 
An example would be transforming the ground birdbath by applying a new color or a few paint designs. Another excellent idea is something that you can use year-round.
You can glue marbles on the rim, the outside, or all over the inside. You can make each feeder tray a decorative dish into a set if you have a multi-tier birdbath!
4. Water Fountain
A water fountain sounds like a straightforward upgrade, but the effect this can have on your garden is phenomenal. You can get many different types of water fountain attachments that require minimal effort.
You can go to your local home improvement store or online to find water fountains designed explicitly for birdbaths.
Some of these water fountains are even solar-powered! You get such an excellent upgrade, and the best part is you may even get some for less than $15!
These may not look very aesthetic, but you can make up for it by adding some stones that match the color of the water fountain attachment to look more uniform.
If the water fountain attachment is black (which they tend to be), you can add black stones or marbles to match the glossiness or lack thereof. 
You might have to research this based on the product you get, but you could even add food coloring to the water for special occasions! Colored water can make it more fun and festive. 
5. Doll Pool
A doll pool is more of a fun idea! If you have kids who love to play with dolls or toys, you can designate a spot in the backyard for them. A new pretend pool can help them spend more time outdoors and have something fancy to play with their toys.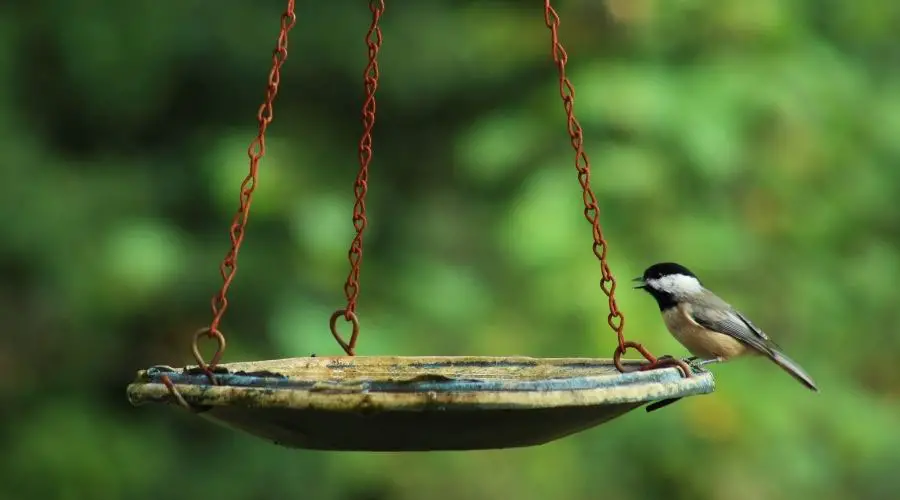 Repurposing Hanging Birdbath 
6. Hanging Plant
I think hanging plants are the single most natural way to elevate a house's look. You can hang this from a ceiling inside your home, maybe above an island, or by the window if you have a window nook.
The best part is that you have so many different plants to choose from, as each of them adds a unique look. If you grow it big enough, it might cover enough of the feeder tray where it looks like the plant is floating! There are:
Sedum morganianum
Dischidia nummularia
Tillandsia
The first two plants listed above actually hang down from wherever you hang them. These plants also have various names, but any hanging plant that does well in shallow pots can be something you choose.
If you decide to go with a hanging plant that does not strive in shallow pots, you might have to keep switching it out, which is entirely up to you. 
7. Hanging Lights
This piece will have your guests asking where and how you got it. Similar to the hanging plant, but imagine the plants being lights instead, draping down. You will fix the hanging birdbath on the ceiling where light could be a good addition.
Inside of that, you will have the lights of your choice, preferably battery operated. That way, the battery part of the lights can rest in the feeder tray, away from everyone's sight.
The lights will drape down at the length of your comfort. This is such a unique way to bring light and decoration to any room.
It can look charming near a corner where underneath, you may have a table. Or, if you are having a party, the hanging lights can be right above where you serve either drinks or appetizers to set a welcoming mood. 
8. Mini-Chandelier
A mini-chandelier is fantastic to have during movie nights, dinner parties, or a small intimate get-together.
You can hang this as you usually would for any hanging item, and instead of placing a real candle, you can opt for a battery-operated light. This way, you can be safe, and battery-operated lights come in so many different types of colors too. 
If you want to spice things up, you can add a multi-color disco ball light that can light up the whole room. The best part about this is that you can change the light and personalize each event with every occasion. 
9. Hanging Glass Lamp
This hanging lamp is a spinoff on the mini chandelier above. Instead of keeping the birdbath in the original stance, we will take the chains and put it through the other way.
That way, the feeding tray of the birdbath is now facing upside down. If you want a bulb attached to it, you will have to drill a hole at the center of the feeding tray. That way, you can effortlessly pass the bulb wire through.
10. Personalized Wind Chime
Having a personal wind chime could be an excellent way to add your touch to the outdoors. By making the feeding tray upside down, you can attach chains that have your knick-knacks on them.
Maybe a lock, a coin, and some unique souvenir you got from your favorite vacation spot. You can add as many as the area of your feeder tray can hold.
The chains can be attached by glue if it is a glass or metal birdbath. But if the birdbath is a material that you can drill into, you might consider drilling small hooks so that the chains can hang on the hooks.
This way, if there is a new souvenir you want to add, it will not be a huge hassle to switch it out later on. 
11. Garden Glass Mushroom
If you have a glass hanging birdbath, you can take all the chains or the hanging part of the hanging bird bath off. That leaves you just with the glass portion of the birdbath.
The only extra material you will need is an old or new glass vase. What you can do is keep the vase standing up, and make the birdbath upside down and glue it in the respective places.
Voila, you have a glass garden mushroom! If your mushroom top lacks color, you can also use some glass paint to spruce it up.
If you want to make it a set, you can purchase extra pieces to match it. You can place this on the ground of your garden, and it will add so much more garden vibes to your space.
If you come up with other fun shapes, you can incorporate them into your garden as well!
Additional Materials
As you saw above, you can do a lot without any extra materials. Still, to make the most of your repurpose journey, you may want to invest in a couple more materials to ensure you are using everything up to the best of your ability. 
Here are some things you might need depending on your project:
Plants
Flowers
Glass Paint
Paint
Paintbrushes
Stones
Marbles
Glue
Chains
Etc. 
Final Thoughts
The possibilities are endless. You may also find that you have other things you want to repurpose. You can combine that with the birdbath to make something even more incredible!
Please take a look around you, whether it is in nature or in your garage. Inspiration is everywhere, and it is never a bad idea to repurpose!
Sources