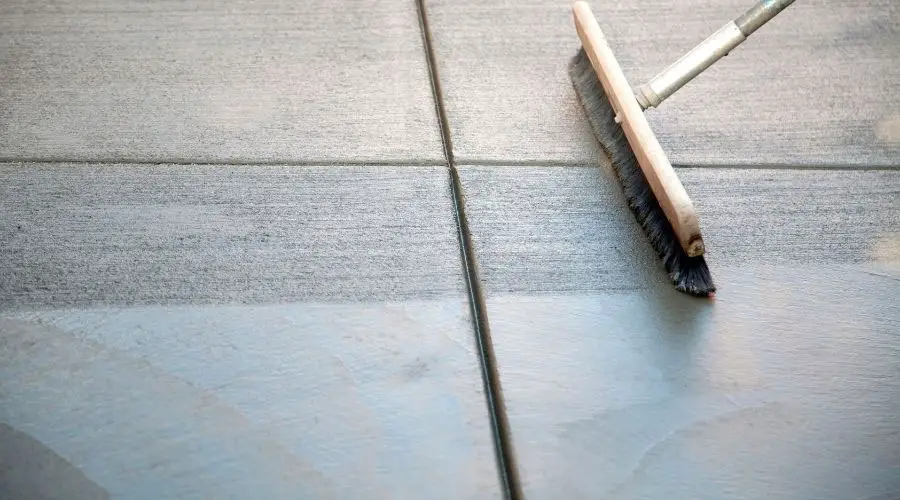 Keeping your concrete patio clean creates a good hangout space that's aesthetically pleasing to your friends and family. But how do you clean the concrete deck to keep it in the best condition possible? 
There are many ways you can keep your concrete clean, ranging from natural approaches to purchasing the best cleaners that do the job well. Here are some of the best cleaners for your patio today:
Ultima-Plus XP Green Mould & Algae Remover
Jeyes Patio & Decking Power
Wet & Forget Rapid
GP66 Green Miracle
30 Seconds Spray & Walk Away
Skout's Honor Professional Strength
Here, we consider the best ways to clean concrete patios and the more reliable patio cleaners to use. 
How Can I Make Concrete White Again?
There are several approaches that you can employ to make your concrete patio white and clean again. Let's go through them below:
1. Getting Rid of Loose Debris
Your patio might be dirty due to loose debris and dirt. In such a case, sweep and spray the debris away. Sweeping and spraying is an exercise that you should do regularly. 
You can only consider this option when the debris is loose and hasn't ingratiated into the concrete patio. However, if grime and dirt build up on your concrete patio, you can consider cleaning solutions. 
For instance, fungal growth requires you to use commercial cleaners. However, this may affect nearby plants, the patio looks or cause health issues if you breathe it in.
2. Using Vinegar
Vinegar is a natural ingredient and the safest option to use both on your concrete patio and in your home. Here, you need to mix vinegar with a 1:1 ratio to eliminate stains on any surface. 
While cleaning a concrete patio, go for heavily soiled areas using something stiffer like a scrub brush or hard-bristle broom. 
If you realize that the stain isn't coming out, spray the concrete surface with undiluted vinegar and give it about 10 minutes. When the vinegar settles, you can again scrub the surface. This way, you're able to remove tough stains with ease.
3. Using Bleach
When dealing with sticky points of grime or adamant stains, using bleach should be your last resort. Remember that bleach is a hazardous and potent chemical and should be kept away from children or pets for safety. 
It would be wise to take protective measures while applying bleach, including wearing a mask and gloves. It will protect you from inhaling any fumes. 
Mix your bleach with an equal amount of water, and then put your solution in a spray bottle to prevent the accumulation of bleach in a specific area. Spray the mix on your affected area and give it about 10 minutes. 
Avoid spraying a lot of bleach solution to prevent it from flowing to the adjacent flowers or grass. After 10 minutes, use a brush to scrub the stain from the concrete patio. 
Bleach is also a practical approach to removing mold from patio pavers and stone. You can even apply the solution to kill some unwanted plants and weeds. 
4. Using Baking Soda
Baking soda is another natural and environmentally-friendly solution for cleaning your concrete patio. If you notice a soiled hardscape, mix a cup of baking soda into a gallon of water to make a natural cleaning solution. For a more robust solution, add about ⅛ of liquid dish detergent. 
Once you create this blend, you will spray it on your concrete patio where the stains are. Allow it to settle for roughly 20 minutes. Having the solution settle allows the baking soda to break down dirt and grime. You can then give your concrete patio a thorough scrub. 
5. Using Muriatic Acid
Muriatic acid is excellent when it comes to getting out difficult stains, especially on concrete patios. You can use the material to remove rust or dried grout. 
Just as with bleach, you should take caution since muriatic acid is a highly toxic chemical. Ensure you wear protective eyewear and gloves while using the acid. You should also follow the manufacturer's instructions. 
When you use muriatic acid the intended way, you should get a powerful cleaning solution that removes any stain on your concrete patio. 
6. Using Trisodium Phosphate
It would be best to mix trisodium phosphate (TSP) with water to clean efficiently. After getting the solvent, scrub it on your stained surface using a thick bristle brush or nylon brush.
Trisodium phosphate is available in most home improvement stores. With the right ingredients and tools, cleaning a concrete patio is likely a very straightforward process.  
What is the Most Effective Patio Cleaner?
An effective patio cleaner offers effective performance in an eco-friendly manner. There are so many such products on the market that you can select from. 
Below are some of the most effective patio cleaners to consider:
Cleaner
Size & Coverage
Pros
Cons
Ultima-Plus XP Green Mould & Algae Remover Patio Cleaner
5-liter bottle – 200 square meters
– Acid-free
– Doesn't need to be scrubbed or brushed on the surface
– Prevents algae and mold growth up to 6 months
– Needs to be diluted before using
Jeyes Patio & Decking Power Outdoor Cleaner
2-liter bottle – 180 square meters
– Can also serve as a disinfectant
– Dissolves dirt, algae, mildew, and mold
– Needs rinsing after waiting for it to dissolve
Wet & Forget Rapid With Sniper Nozzle
2-liter bottle – 200 square meters
– Ready-to-use
– Easy and quick spraying
– Can access hard to reach areas
– Expensive
GP66 Green Miracle Patio Cleaner
32-ounce bottle – makes 64 bottles of 16-ounce cleaners
– Extra-strong formula
– 16 times more concentrated than most cleaners
– Non-toxic
– Safe on any surface
– Not ready-to-use
30 Seconds Spray & Walk Away Cleaner
48-ounce bottle – 750-2250 square feet
– Does not require rinsing
– Stays on the concrete patio for lengthier periods
– Bleach and phosphate-free
– May require subsequent sprays for heavy spots of algae
Skout's Honor Professional Strength Patio Cleaner
1-gallon bottle
– Cleans urine stains left by pets
– No harsh chemicals
– Neutralizes odor
– May not be as effective for other patio surfaces not made of concrete
1. Ultima-Plus XP Green Mould & Algae Remover Patio Cleaner
This patio cleaner is the perfect solution, especially if you want to work in a large area. It comes as a 5-liter solution and is acid-free. The 5 liters can cover up to 200 meters square. 
However, it would help if you diluted this patio cleaner before you use it. After application, you don't need to scrub the product with any brush. The spray is designed by spraying it down and then leaving it on its own for a few days.
The patio cleaner can also help you prevent algae and moss growth for up to 6 months. It, therefore, offers excellent value for money. 
2. Jeyes Patio & Decking Power Outdoor Cleaner
The product is a multipurpose patio cleaner that also disinfects. The product comes in sizes of 2 liters. Before using this product, you should first dilute it, apply it, and dry it. It has a coverage of 180m2. However, the product isn't acid-free. 
Apart from cleaning patios and removing grime, you can also use it for hygienic purposes since it kills almost 99.9% of germs. 
After you have diluted the product, it'll work to dissolve dirt, algae, mildew, and mold without you having to scrub it. However, you'll have to rinse it after it has disbanded for a few hours. 
If you're seeking a patio cleaner that is ready to use, this is the perfect product for you to consider. To use this patio cleaner, attach a hosepipe for easy and quick spraying. 
It comes in sizes of 2 liters and boasts coverage of 200m2.   
You can finish spraying this patio cleaner within 10 minutes just by using its fan nozzle. Since it can spray up to 8 meters, it's easier to access hard to get areas. 
Another benefit of this product is that it's easy to use, and you don't need a separate garden sprayer to apply the cleaner. The only challenge is that the cleaner is more expensive than other products. 
The GP66 Green Miracle cleaner can remove even the toughest grease and dirt thanks to its extra-strong formula. It's, in fact, sixteen times more concentrated than some of the available cleaners. 
It's mainly available in a 32-ounce bottle that can do a great job. 
It's developed with an efficient ingredient that you can use on almost anything outside and inside your house. The cleaner is safe on any surface, including vinyl, stone, or even sensitive wood. 
Regardless of how your concrete patio looks, this product can restore its look to brand new. It's NSF approved, thus non-toxic, and very safe for use around the house. 
The best part of this patio cleaner is that it won't require rinsing with fresh water. The mix in the product allows you to apply it and leave it to dry. 
The cleaner is very efficient and stays on the concrete patio surface for more extended periods. It's also known for eliminating a variety of problems, including moss and lichen. 
A 48-ounce bottle is highly potent and can clean between 750 to 2250 square feet. Since the product is bleach and phosphate-free, you can apply it safely on almost all types of surfaces, including vinyl and wood.
Its neutral pH enables it to do thorough cleaning without discoloration and making changes on the concrete patio. What's more, is that it leaves behind a protective residue that prevents slipping and improves traction. 
If you're seeking a pet-free concrete patio, Skout's Honor Professional Strength cleaner is the best option for you. You can use this cleaner to clean any urine stain left by a pet. The product also neutralizes any possible odors.
This patio clean is entirely biodegradable and has no harsh chemicals. It's also effective on surfaces such as concrete, artificial turf, and stone. 
Its efficiency can attribute to two active ingredients; BioKore and molecular deodorizer. BioKore is mainly involved in removing stains while molecular deodorizer neutralizes odor molecules. 
Will Baking Soda & Vinegar Clean Concrete?
As we have seen above, you can effectively use baking soda and vinegar to clean concrete patios. They are the best options if you're seeking natural cleaners.
Even though you can still use detergent and bleach, they can be toxic to plants in your garden. If you're cleaning your sidewalk or concrete patio and are worried about plant life, vinegar and baking are your go-to solutions. 
To use baking soda and vinegar:
Fill your spray bottle with water and an equal amount of any of the two.
Add some liquid dish detergent.
Spray your mixture on a concrete patio and allow it to settle for about 30 minutes. 
Finally, scrub and rinse the concrete. 
Considerations When Buying a Concrete Patio Cleaner
When looking for a concrete patio cleaner, choose an environmentally friendly solution that will get the job done. With this in mind, the most reliable patio cleaner doesn't have abrasive chemicals. 
Below are factors you must consider when selecting a patio cleaner: 
1. The Cleaning Surface
The surface you are cleaning is the most critical factor to consider while purchasing a patio cleaner. Always have your surface in mind, and remember that there are specific patio cleaners for block paving, wood, concrete, and limestone. Always go for a product that is ideal for your surface. 
Different surfaces react differently to certain cleaners, with some even getting damaged when exposed to cleaners that aren't designed for them. For instance, using a bleach cleaner on wood will likely damage it. 
Never apply a cleaner that contains sodium hydroxide on uncoated surfaces. 
2. Cleaning Procedure
Each cleaner comes with a recommended cleaning procedure that is unique depending on the available active ingredients. 
There are patio cleaners that offer immediate results while others that take longer. Some cleaners require rinsing after application, while others can be applied and left to dry. 
There are "spray and leave" cleaners that don't require any scrubbing after application. The chemicals in such cleaners will do all the work. They are also safe when left on the concrete patio surface. 
We recommend that you buy a cleaner that won't require manual cleaning and offers results almost immediately. 
2. The Area of Coverage
The area of coverage involves the surface that you seek to clean with a bottle of the product. Apart from the concentration of the cleaner, it will also depend on how dirty your concrete patio surface is. What that means is the messier the surface, the more of the cleaner you'll require. 
Depending on the product that you purchase, some products come with a denser formula compared to others. A thick solution presents a smaller area coverage than a thin one. However, the effect is potent.
Some cleaners are highly concentrated, and you can dilute them before use. Thinning the solution out enables you to choose between a more robust solution for in-depth cleaning or a thinner cleaner for a larger area. 
Diluting a patio cleaner will translate into a larger area of coverage. For instance, 5 liters of cleaner concentrate can manage a range of about 4,300 square feet. While diluting the cleaner, follow the instructions keenly for both efficiency and safety reasons. 
3. Abrasive Substances
It would be best if you were very cautious with cleaners that have harsh chemicals or abrasive substances. You'll be surprised to learn that there are cleaning products that have caustic or acidic chemicals. Such cleaners are developed for deep cleaning functions and could damage delicate materials. 
For instance, using abrasive substances on natural patios made from wood could translate into permanent damage. 
A patio cleaner with caustic chemicals and abrasive substances isn't pet or child-friendly. While applying these types of cleaners on stubborn stains, ensure you take precautions to protect yourself from inhaling or getting in contact with them. 
4. Environmentally Friendly Formula
There is no hiding that patio cleaners employ potent substances to do their job. It would be, therefore, essential to check whether or not they're safe for the environment. 
Since patios are in an outside environment, animals can quickly get through. Applying a pet-friendly patio means that animals won't get any harm from getting in contact with it. It'll also be safe for the environment. 
It would be wise to be cautious whether or not the cleaner will run off from the patio into the garden and plants. An environmentally safe product won't damage the soil underneath or kill plants in your garden. 
Conclusion
Keeping your concrete patio clean is necessary for creating a good hangout space for your friends and family. You can follow any of the approaches recommended above if you want your cleaning exercise to be straightforward. 
As we have highlighted, you can use vinegar and baking soda if you're after a natural solution. Otherwise, you can use any of the six products that we have recommended. All of the products offer effective results at an affordable rate. 
Remember, there are different factors you must consider before purchasing the perfect cleaner. Always follow the instructions on mixing and applying the cleaners to prevent causing harm to both plants and humans. 
References: